The Sawyer Mini Water Filter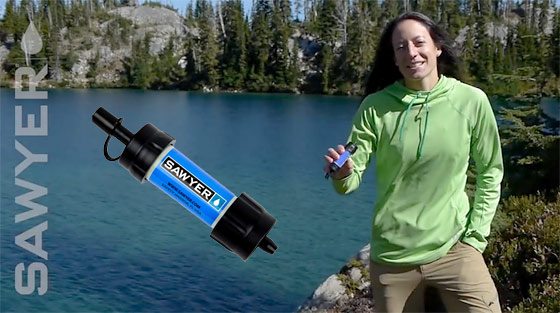 'Sawyer', developers of point-of-use water filters including the 'Sawyer Mini Water Filter', have been developing products for the outdoor industry since 1984, and the Sawyer Mini Water Filter is their most popular filter product – and for good reason…
The Best Mini Water Filter
The 'best' is always subjective, however given its very reasonable price-point, I do believe this may be the best 'mini' style portable water filter for the money.
Here's why…
Sawyer Mini Water Filter (Benefits)

1. Certified for 0.1 ABSOLUTE microns. That means there is NO pore size larger than 0.1.
2. Removes 7 log (99.99999%) of all bacteria (like salmonella) as well as other harmful bacteria which causes cholera, and E. coli.
3. Removes 6 log (99.9999%) of all protozoa such as giardia and cryptosporidium.
4. Weighs only 2 ounces!
5. Filters up to 100,000 gallons! It's able to do this by way of a simple back-flushing process.
6. Versatility. Drink directly from the Mini, or attach it to Sawyer Squeeze Pouches, or attach it to the top of almost any bottled water container.
7. The price. Incredible value.
How The Sawyer Mini Water Filter Works
The water filtration uses technology adapted from kidney dialysis filters. The Sawyer Hollow Fiber Membrane Filters are composed of tiny "U" shaped micro tubes that allow water to enter into their core through tiny micro pores on the side walls of the tubes. The pores are so small that no bacteria such as E. Coli, cholera, or typhoid can pass through.
How To Back Flush The Sawyer Mini
To maximize the effectiveness and longevity of the Sawyer Mini filter, it is recommended to back flush your filter after each outing. The fibers are very robust so they say (Sawyer) to be FORCEFUL in your back flush process.
When using the syringe (the supplied cleaner-plunger) do not be gentle, it will only form paths of least resistance instead of blowing out the particulates that may be trapped in your filter.

NOTES:
Initial Wetting: Be sure to slowly squeeze the water through the filter, giving the filter fibers time to fully saturate. The initial flow rate may seem slow but will increase as fibers become wetted which usually takes approximately one Liter of water.
Flow rates vary depending on how clean the filter is and how well you cleaned the filter.

Related: LifeStraw Review – 10 Benefits – And The Newer 'LifeStraw Go'

Any of you own the Sawyer Mini? Let us know what you think about it…