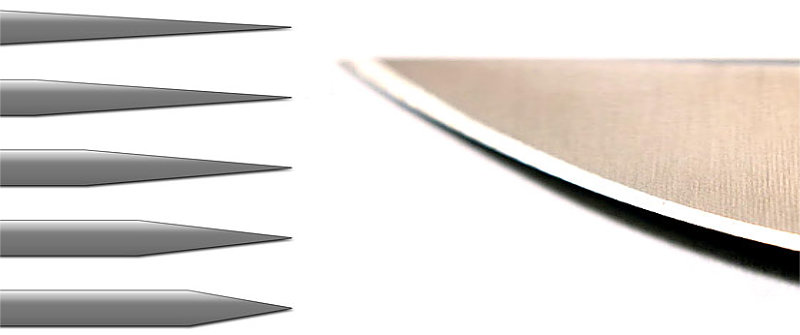 The secret to sharpening a knife to its sharpest possible edge is to maintain consistency of angle while drawing the blade across an abrasive surface.
It's all about the proper angle (degrees) and keeping it the same while sharpening (and of course, the materials of the abrasive sharpening surface).
An important prep item for the preparedness-minded is a knife sharpener. Considering that most everyone has at least a pocket knife (and likely additional knives), the question is, how many people have a proper knife sharpener to maintain a very good cutting edge?
Do you know the proper angle to sharpen your knife? Did you know that dependent upon manufacturer and model that knives having different bevel angles?
What is the best angle to sharpen your knife?
Here's more information…
Every time that you sharpen a knife, you are removing metal from the blade. The key to restoring a sharp cutting edge is to use an adjustable knife sharpener (unless you are very skilled) which is set to the same angle as your knife edge. An alternative is having a fixed angle knife sharpener that is the same (degrees) as your knife's bevel angle.
How do you know which angle to use? I have found a partial list (below) with some references. However you might contact your knife manufacturer to discover the angle used on your particular knife model blade.
With that said, here are some general guidelines.
Common Sharpening Angles (degrees per side):
Pocket Knives – 20
Hunting Knives – 22
Euro/American Kitchen Knives – 20
Asian Edge Kitchen Knives – 16
Fillet Knives – 16
Tactical Knives – 23
Custom Knives – Varies by Designer

Smith's 50264 Adjustable Manual Knife Sharpener
Lansky PS-MED01 BladeMedic (Fixed 22.5 degree)
Sharpening Abrasives
Types of sharpening abrasive materials include Diamond, Carbides, Ceramics, Arkansas Stones, and Synthetics. Each have their own unique characteristics and sharpening capabilities.
Diamonds: Because diamonds are the hardest substance known to man, diamond abrasive sharpeners are fast, durable, and very effective. They are very aggressive and remove metal quickly. Premium diamond sharpening surfaces are characterized by a (interrupted) surface that collects and hold the metal filings that ordinarily build-up. This allows sharpening with or without honing solution. Excellent for use on very hard tools or stainless steel. Diamond stones always remain flat, as opposed to Natural Arkansas and Synthetic stones which wear down with use. They come in multiple grits.
Carbides: very aggressive; removes metal quickly; great for quickly restoring a good working edge in 3 or 4 strokes.
Ceramics: removes very little metal; excellent for finishing and maintaining a sharp edge. Can come in different grits, colors, or shapes.
Arkansas Stones: Arkansas stones are genuine silica "novaculite," indigenous to Arkansas. They remove the least amount of metal while polishing your edge to razor sharpness; No other sharpener can perform both these tasks simultaneously. They are the best abrasive for honing and polishing an edge to razor sharpness and are known as "the world's finest finishing stone."
Synthetic: man-made stone; great for quick edge setting as well as final finishing. They also come in multiple grits, colors, or shapes.
Knife Sharpening Angles by Manufacturer & Brand
(degrees per side):
Chef's knife:
Global – 17
Shun – 16
Wusthof – 14
Zwilling Henckel/Cronidur – 12.5
All other Zwilling Henckel – 15
Serrated Knife:
All Brands – Manual Sharpening; Serrated Slot ONLY
Santoku Knife:
Global – 17
Shun – 16
Wusthof – 11
Zwilling Henckel/Cronidur – 12.5
All other Zwilling Henckel – 15
Paring Knife:
Global – 17
Shun – 16
Wusthof – 14
Zwilling Henckel/Cronidur – 12.5
All other Zwilling Henckel – 15
Utility knife:
Global – 17
Shun – 16
Wusthof – 14
Zwilling Henckel/Cronidur – 12.5
All other Zwilling Henckel – 15
Boning Knife:
Global – 17
Shun – 16
Wusthof – 18
Zwilling Henckel/Cronidur – 12.5
All other Zwilling Henckel – 15
Everyday Pocket Knives/Multi-Tools:
Al Mar – 20
Benchmade – 18-20
Blade-Tech – 20-22
Boker USA – 20-22
Buck – 13-16
Camillus – 23
Case – 19-22
Cold Steel – 23-25
Columbia River (CRKT) – 17-22.5(depending on designer)
KA-BAR – Listed on their website on a per knife basis, but generally 15 degrees per side
Kershaw – 20-22
Knives of Alaska – 18-20
Outdoor Edge – 20
SOG – 22 for flat grinds; 18-20 for hollow grinds
Spyderco – 20
Victorinox – 15-20
Winchester – Suggest using Smith's recommended angle for knife type
Hunting/Outdoor – Fixed Blade:
Al Mar – 20
Benchmade – 18-20
Blade-Tech – 20-22
Boker USA – 20-22
Buck – 13-16
Camillus – 23
Case – 19-22
Cold Steel – 23-25
Columbia River (CRKT) – 17-22.5(depending on designer)
KA-BAR – Listed on their website on a per knife basis, but generally 20 degrees per side
Kershaw – 20-22
Knives of Alaska – 18-20
Outdoor Edge – 20
SOG – 22 for flat grinds; 18-20 for hollow grinds
Spyderco – 20
Winchester – Suggest using Smith's recommended angle for knife type
Hunting/Outdoor – Folder:
Al Mar – 20
Benchmade – 18-20
Blade-Tech – 20-22
Boker USA – 20-22
Buck – 13-16
Camillus – 23
Case – 19-22
Cold Steel – 23-25
Columbia River (CRKT) – 17-22.5(depending on designer)
KA-BAR – Listed on their website on a per knife basis, but generally 15 degrees per side
Kershaw – 20-22
Knives of Alaska – 18-20
Outdoor Edge – 20
SOG – 22 for flat grinds; 18-20 for hollow grinds
Spyderco – 20
Winchester – Suggest using Smith's recommended angle for knife type
Fillet Knives:
All Brands – 15-16
Tactical Knives:
Al Mar – 20
Benchmade – 18-20
Blade-Tech – 20-22
Boker USA – 20-22
Buck – 13-16
Camillus – 23
Case – 19-22
Cold Steel – 23-25
Columbia River (CRKT) – 17-22.5(depending on designer)
KA-BAR – Listed on their website on a per knife basis, but generally 15 degrees per side
Kershaw – 20-22
Mil-Tac – Generally 25 for Folders and 30 for Fixed Blades
SOG – 22 for flat grinds; 18-20 for hollow grinds
Spyderco – 20
Surefire – 28
Custom Knives:
A.G. Russell – 15
Chris Reeves – 18-20
William Henry – 17-22

List source: Smith's