Small Pocket Knives Under 3″ and Less Than $25
Small pocket knives. A mini knife. Some call them ultralight knives. They are very popular everyday carry knives. Why? Well, they are easy to carry, non-obtrusive, and get the job done…most jobs anyway.
One that's sharp enough to do the basic things one requires of a knife, but is small enough and light enough that you forget it's there till you need to use it.
They're a great little trusty tool for a multitude of convenient uses. Bigger isn't always better!
You probably carry that one particular (favorite) special little knife because…it's small, and it's not unwieldy to use and carry. And, you just simply like it!
It fits easily in your pocket, or clips to your pocket without being a nuisance, while still getting most cutting jobs done!
So, what is the best small pocket knife to carry?
Here are some more thoughts on this practical little tool. And lets find out which one is YOUR favorite in the category of small pocket knives too…
We all might have a slightly different opinion of "small" when it comes to pocket knives. They make some REALLY SMALL knives.
Most pocket knives have a 3.25″ to 3.75″ blade length. There are lots available in that blade length range nowadays. Why? There's a wide range of laws and legality issues when knife blades reach longer than a certain length.
But there are some very nice small knives under 3″ too.

First,
Common Uses For Small Pocket Knives
THE most common use for my own small knife is opening cardboard boxes. Can you say, "Amazon Prime" – Free Shipping? (haha).
Other uses might include:
– Slicing through the foil that caps the cork on a bottle of wine
– Opening boxes or various mail packages
– Opening a bag of feed
– While fishing, cutting line
– While camping, cutting cordage, string
– Fire making, shaving tinder
– Scraping gum off your shoe (gross)
– While eating, cutting, peeling
– Splinter
– Hangnail
– Building a shelter
The many uses for a pocket knife are seemingly limitless as well as personal.
Plain Edge, Serrated, or Both
I very much like the plain edge blade as opposed to a serrated edge.
I do have both types. And some that are plain edge near the tip portion and serrated near the handle.
For me, my primary tasks do not require a sawing motion (with serrated). A plain edge works best for most tasks, at least for me…
What's your opinion on that?
Small Pocket Knives [What to Look For]
Largely it's a matter of opinion. There are lots of little details and specifications to consider. But let's keep it simple. There are a few key considerations.
1. Blade Edge: Like I mentioned above, plain edge or serrated.
2. The Handle Ergonomics: The nice thing is they're making small knives with large enough handles ergonomically designed to fit well with your grip. Your own opinion and 'hand' will vary.
3. Blade Length: This will depend on your uses and comfort level for EDC.
4. Overall Size: How big is it, how long is it when the blade is closed?
5. Pocket Clip: The placement and orientation of the pocket clip will determine how it 'rides' on your pants. Different preferences for different people…
6. Blade Shape: I happen to like the Drop Point design (Wikipedia). The Clip Point and Tanto are also popular.
Popular Small Pocket Knives Under 3 Inches Blade Length
There are plenty of durable good brand pocket knives. Some of them can get fairly expensive. However, which small pocket knives are popular under $25? Lets have a look at some that are under 3″ length.
I'm going to show you two Gerber knives, One Kershaw, and one CRKT. All great little small pocket knives.
Gerber Small Pocket Knives
I purchased the following Gerber – many, many years ago. Eventually I lost it. But I bought another. Love this knife… It's an ultralight, but is fine for most everyday tasks. Made in the USA (Portland).
GERBER LST Ultralight
(view on amzn)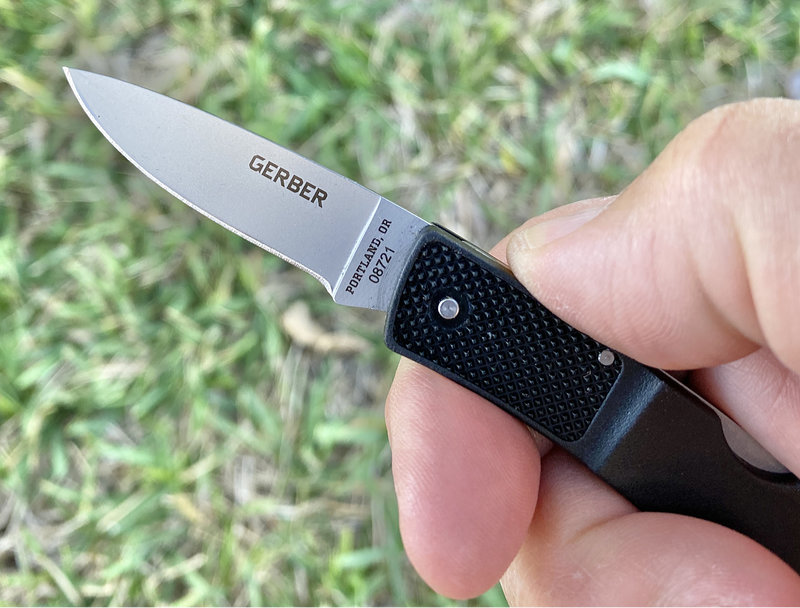 This was the knife that put Pete Gerber on the map, and it's easy to see why. This was the original Gerber knife with its blade designed by Blackie Collins. It's been around for years and when you get one it's easy to see why.
The Gerber shown above does not have a pocket clip. That's fine with me, given its small size. I just drop it in my pocket. However, the most popular Gerber brand small pocket knife with a clip (under 3″ and under $25) is this one…
Gerber Paraframe
(amzn)

Kershaw
Kershaw, another respectable brand, has a nice little small pocket knife. The Spoke.
Kershaw Spoke
(amzn)

Those of you familiar with Kershaw's assisted open "flip" knives know what to expect here. One of the things I appreciated about this knife right out of the gate is the attention they took to make the toggle into a finger guard when the blade is open. It does have a pocket clip.
CRKT
The CRKT Squid. If you are looking for a small, tough, affordable and comfortable EDC knife, this is another great choice.
CRKT Squid
(amzn)

All heavy steel (aluminum back spacer/lanyard hole) build makes for a solid knife. The rounded edges and streamline folding blade makes for a comfortable knife in the hand or your pocket as well.
[ Read: The Secret To Sharpening A Knife ]
[ Read: The Best Knife for Batoning Wood ]