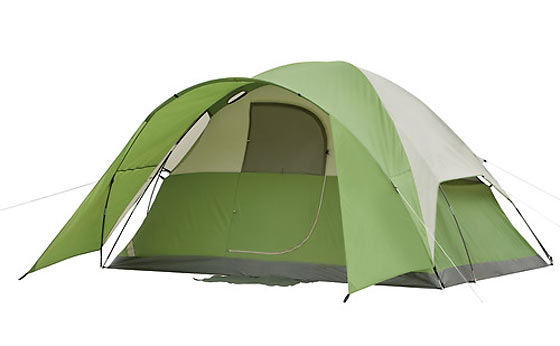 If you ever need to evacuate or bug-out from your home, and if you are unable to obtain shelter (e.g. your options are limited or shelters are full or unavailable, etc.), then camping gear (a tent) can make a huge difference in your circumstance while temporarily mobile.


A tent is your shelter from the elements.
Apart from building your own primitive shelter from available resources, at a minimum you could buy an inexpensive dome tent which are available from major discount stores or online.
A basic low-cost dome tent will do an adequate job when the weather is not severe or very windy – and will keep you dry and reasonably protected.
Specialty back-country and camping stores will also have better tents, more suited for worse weather conditions or longer term use. Different shapes, sizes, and purposes. There are even four-season tents which will hold up under significant wind and snow loads.
Expedition type tents are also available which will hold together under strong wind conditions – although typically are smaller and have little headroom compared with other tents.
After a few seasons in the sun, most synthetic type tents will lose some of their strength and may begin to shred. Consider UV-protection products which can be applied to the tent material to lengthen it's life in the sun.
There are so many brands, types, and styles of tents out there – each with their own pros and cons based on their intended purposes – that it's difficult to capture it all in one place. Having said that though, I bring up the subject only to encourage you to give it some thought.
Think about your use-case scenario. Do you need a light-weight tent that you can pack with you on the trail? Or perhaps a heavier tent which would be adequate for the trunk of your vehicle? Big? Small? Short term or long term use?
Some of the types of tents include the ridge tent, dome tent, geodesic tent, instant quick-pitch tent, the large family tent, frame tent, and the tepee…
What are your thoughts or experiences with tents?
Any advice as to what others should look out for?
What are your recommendations for brands, etc.?