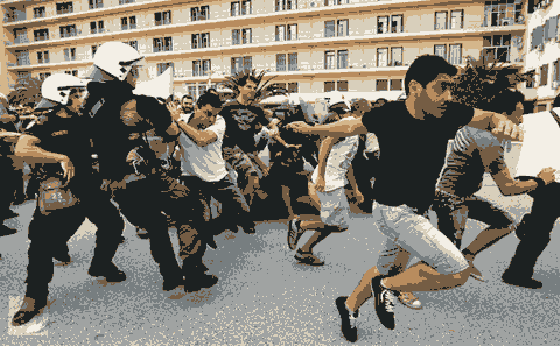 Here are a few ideas of how to escape a riot, should you ever get caught up in one.


Stay calm and keep your emotions in check. Riots coincide with intense emotions that boil to the surface, but if you want to survive one you would be better off keeping your own emotions in check. In the heat of the moment, your adrenaline and survival instincts will kick in, but try to think rationally and pursue safety in a methodical manner.
Avoid confrontation. Keep your head down, while at the same time looking for safe exit.
Walk. Don't run. Don't stop. If you run or go too quickly, you might attract unwanted attention.
Get inside and stay there. Typically riots happen in the streets, or somewhere outside. Being inside, especially in a large and sturdy structure, can be good protection to wait it out.
Keep your doors and windows locked. Don't watch the riot from windows or porches. Move to inside rooms, where the danger of being hit by stones, bullets, or other is minimized. Try to find at least two possible exits in case you need to evacuate the building in a hurry.
Stay on the sidelines. If you're caught up in a riot, don't take sides. Try to look as inconspicuous as possible, and slowly and carefully move to the outside of the mob. Stay close to walls or other protective barriers if possible but try to avoid bottlenecks. These are areas where the crowd can be squashed into a tight place, such as tunnels, pillars, high fences and walls that go on for a long way.
If you're caught up in a car, stay calm. Remain inside the car unless your car becomes a focus for the riot, in which case it risks being torched, smashed or rolled over. Calmly and swiftly leave it behind and get to safety if that happens. If people seem to block your escape route; honk your horn, and carefully drive through or around them at a moderate speed, and they should get out of the way. Driving towards police lines can be interpreted by the police as a preparation to use the car as a weapon against them. DON'T DO IT.
Move away from the riot. The more time you spend in the midst of a riot, the greater your chance of being injured or killed. That said, in most circumstances it's better to move out of a riot slowly. It can also be dangerous to move against a crowd, so go with the flow until you are able to escape into a doorway or up a side street or alley. Think of crowd movement like currents in the ocean. In a large riot, the crowd in the middle will be moving faster than the people on the perimeters. As such, if you find yourself in the middle, you should not try to move in a different direction, but follow the flow and slowly make your way to the outside. This requires patience in order to work properly.
Watch your footing in a mob situation. If you stumble and fall to the ground you're likely to be trampled. This is especially dangerous in stadiums and other enclosed areas, where many unfortunate victims have been crushed to death. If you fall down, pull yourself up into a ball. Protect your face, ears and internal organs. In this position you are a smaller object that can be avoided. You will receive less damage if you are stepped on. If others trip on you they will help create a larger "pile" that rioters will avoid.