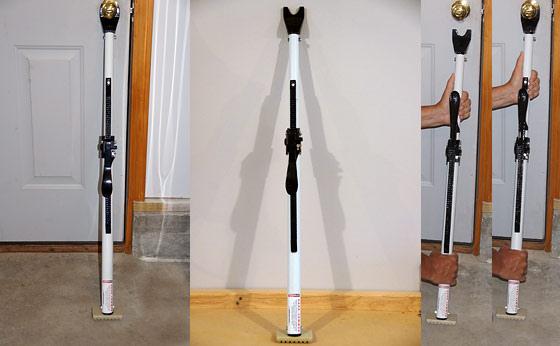 The Buddy Bar door jammer is one of the best deterrents to assure a burglar-resistant door. Here's why, and a review of the Buddy Bar Door Jammer:

For a number of years I have owned a 'Master Lock' Security Bar (linked at the bottom) which also works quite well. However,
The first difference that I noticed with the Buddy Bar door jammer is its heft and weight.
It is HEAVY DUTY!

A door jammer is basically a bar that wedges beneath your doorknob and extends to the floor inside your home. It provides a resistant force when someone tries to open the door from the other side.
Why is the Buddy Bar better than other door security bars?
Exceptionally Heavy Duty
The Buddy Bar is made of heavy gauge steel (rather than aluminum) and weighs more. I weighed it to be 7 pounds, 12 ounces. Whereas my other door security bar weighs 2 pounds. So the Buddy Bar is four times heavier! When someone is trying to bash in your door, it matters…
Large Footprint Floor Pad
A heavy duty rubber pad 'sticks' (wedges) strongly to the floor. It has a significant and a much larger footprint that eliminates slippage on the floor.
Heavy Duty Bar Adjuster
Very heavy duty adjustable length / latch. Although competing door security bars do adjust to an extent, the Buddy Bar method utilizes a very heavy duty mechanism which simply will not slip.
BuddyBar (Buddy Bar) Real World Use
1. When using the adjustment lever for the first time and setting the initial length to wedge between doorknob and floor, don't force it too tight under the handle. Too much force could actually damage your doorknob.
2. To set the length, I simply approximated the distance between the door knob and about a foot away from the door at the bottom. Then I set it (latched it) without being under the doorknob. From that point on when I wish to use it – I lightly slip it underneath the doorknob (snug, but not too tight) and let it find its natural (pre-adjusted)distance to the floor.

So with that said, this door security bar is a simple but effective home security tool which will deter or prevent your door from being opened. Short of using a battering ram, it will keep keep the potential intruder out!

A few pictures: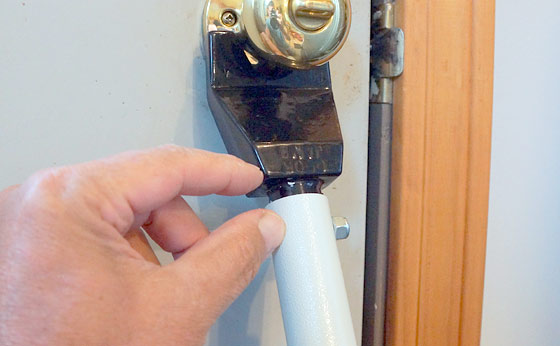 The 'wedge' that fits underneath the doorknob has about 1/2 inch of spring to it – which allows some 'give' while you wedge it under the knob. Makes it easier to set it.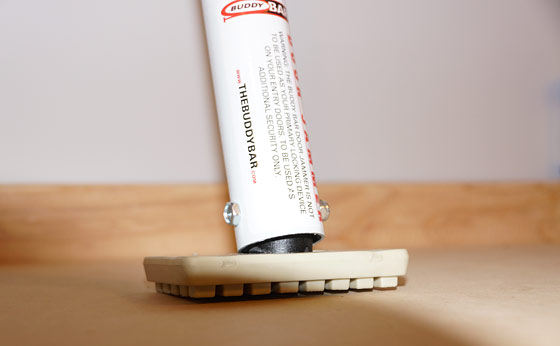 The substantial rubber floor pad grips very tightly.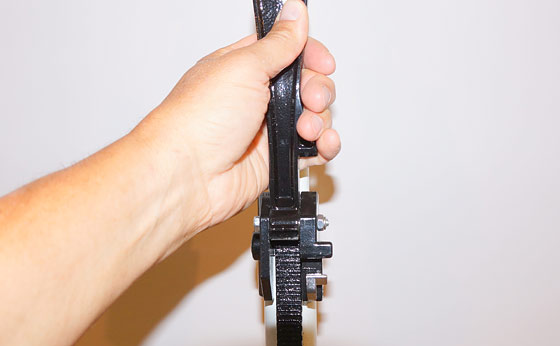 The heavy duty adjustment mechanism for height.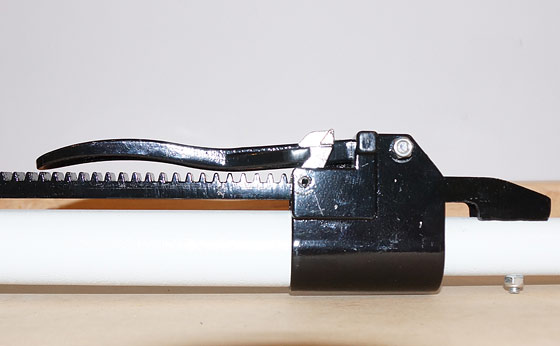 Side view of lever / height adjustment mechanism.

Note: Here's an alternative door brace similar in functionality:
Security Door Brace 1750lbs Forced-Entry Protection

A less expensive door security bar:
'Master Lock' Security Bar

More: 21 Things Your Burglar Won't Tell You
More: 10 Things To Do When A Stranger Knocks On Your Door