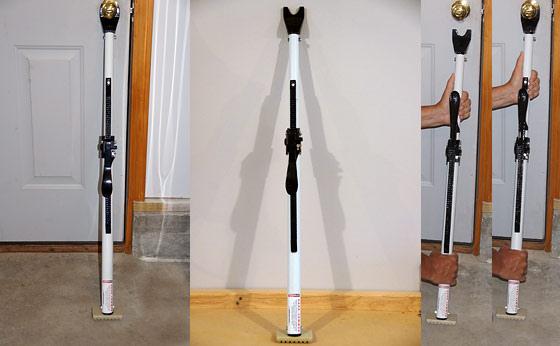 I have posted a wide variety of articles on home security, and in my opinion this deterrent (Buddy Bar Door Jammer) is one of the best things you can do to assure a burglar-resistant door – much better than just your deadbolt door lock… Here's why:


For a number of years I have owned what I considered the best (at the time) door stop door jammer, but I have recently acquired the latest and greatest in this category, and there's no doubt that it's better.
Here's a review of the Buddy Bar Door Jammer…

Since I already have a 'Master Lock' Door Security Bar (which also works quite well!), the first difference that I noticed with the 'Buddy Bar' is its heft and weight. It is HEAVY DUTY.
Let me back up a bit and explain what this is for… It's basically a bar which wedges under your door knob and extends to the floor inside your home. It simply provides a resistant force to someone who may try to pick your door lock and open it, and it also provides a significant resistance to anyone who may try to bash in your door.
While similar door jammers may be effective, the Buddy Bar is more so. The reason?
Why is the Buddy Bar better?
Heavy Duty
The Buddy Bar is made of heavy gauge steel (rather than aluminum) and weighs more. I weighed it at 7 pounds, 12 ounces. Whereas my other bar Weighs 2 pounds. So the Buddy Bar is four times heavier than the previously leading brand. When someone is trying to bash in your door, it matters…
Floor Pad
The rubber pad which 'sticks' (wedges) to the floor is much more significant (and a much larger footprint) on the Buddy Bar. This is obviously very important in that it cannot slip – else the bar protection fails.
Method Of Adjustment
Adjust-ability. Although competing bars adjust to an extent, the method of height adjustment of the Buddy Bar is through a very heavy duty mechanism which simply will not slip. Competing bars may simply utilize a small spring pin to adjust the length which in theory could be jeopardized with enough force. I cannot fathom that happening with the Buddy Bar.
Critical Analysis
Did I find anything wrong with the Buddy Bar? Wrong? No. But I have two recommendations:
1. Be careful when you first get it and try to set it up (for the proper approximate length for your door). When using the adjustment lever, it is very powerful and if you set it too tight while wedged tightly under your door knob – you could damage your door knob (it could force your door knob 'up'). While it's somewhat common sensible, I'm just saying… Best to practice with the adjustment technique a few times before you wedge it under your doorknob. In fact, I simply approximated the distance (see next bit of advice) and set it (latched it) without being under the doorknob. From then on – when I wish to use it – and since it's already 'set', I simply wedge it under the doorknob to the floor. You'll get the hang of it.
2. The instructions that come with the product indicate an optimal distance (from the door to the the floor pad) to be about 10 to 12 inches. I found that to be too close. I set mine to about 16 inches which provided a better force feedback in my situation. Although it's subjective.

So with all that said, this device is a simple but effective 'tool' which will deter or prevent your door from being opened. I suppose a 'SWAT team' door 'battering ram' could eventually destroy the door itself, but that's an entirely different preventative set of measures…

A few pictures: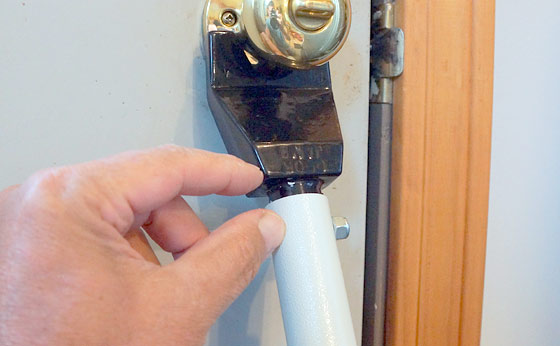 The 'wedge' that fits underneath the doorknob has about one half inch of spring to it – which allows some 'give' while you either set the lever or while you wedge it under the knob after already having set the proper height.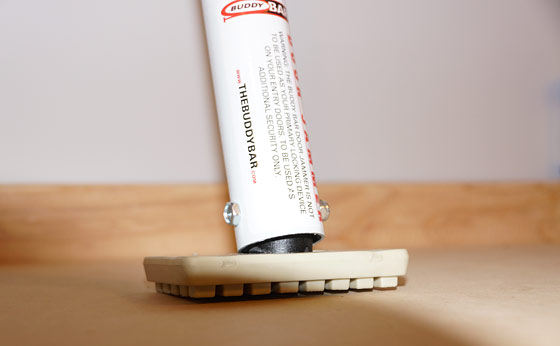 The substantial rubber floor pad grips very tightly.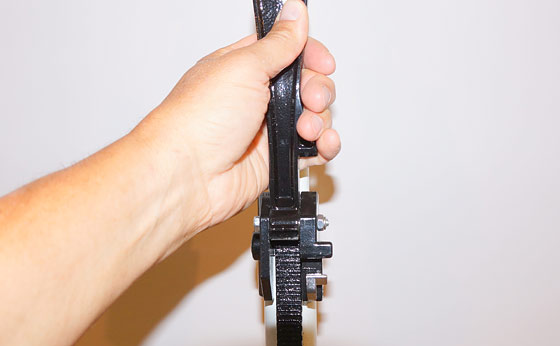 The heavy duty adjustment mechanism for height.
Related Posts That You Might Like: