10 Things To Do When A Stranger Knocks On Your Door
Why would someone knock on my door late at night?
What to do if a stranger knocks on your door at night, or a stranger ringing your doorbell:
First I am going to talk about the "late at night" part of the question.
Late At Night: Should You Answer The Door?
DO NOT OPEN THE DOOR!
Anyone who is ringing your doorbell or knocking on your door late at night or early morning hours is very likely up to no good. In fact their intentions may be very bad.
Although if it's your trusted neighbor with an emergency, that's okay!
Should you pretend not to be home?
NO! This might be just the thing they're hoping for, and proceed to break in!

Who's There?!
YELL THROUGH THE DOOR, "WHO'S THERE?!" or something like that. This indicates you're home, and you've not opened the door (which sends the message that you're not gullible).
There may be a 'setup' going on. One person at the door claiming to need some assistance while others are off to the side waiting for the door to open so they can burst in.
The Elderly are Vulnerable
NOTE: Elderly are particularly vulnerable. Sadly for some, dementia may be setting in, and potential poor judgement. Elderly may also be more vulnerable to opening the door. Perhaps gullible.
There's nothing inside your home or assistance that you can provide a stranger who is knocking on your door at night claiming to need something. Nearly everyone today has a cell phone. If they truly need assistance, they could have called 911 for example. So don't fall for "I need to use your phone!". Or "I'm injured and need help!" What help could you possibly provide?
I'm Calling The Police!
Here's what you do: YELL THROUGH THE DOOR, "I'M CALLING THE POLICE RIGHT NOW!"
If that person or persons actually need help, then they should be relieved at those words. However I suspect 99.9% will turn and take off.

Okay, check out the rest of my original article and 10 tips:
It happens to some of you, sometimes regularly depending on the neighborhood. That is, you hear an unexpected knock on your front door.
The question is, what should you do when a stranger knocks on your door?
1. OPEN THE DOOR??
NOT the best idea (without doing other things first).
Some people blindly open the door to see who it is or what they want. Don't 'automatically' open the door. Obviously if you know – trust the person on the other side, that's a different situation (which is the next point, look first!).
I tuck this security bar under the doorknob every night:
I HIGHLY recommend it.
>> BRINKS Door Security Bar
(view on amzn)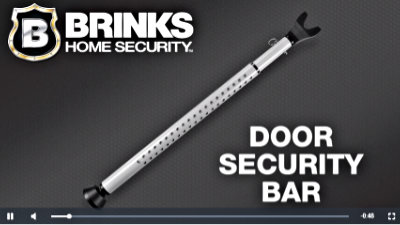 2. LOOK OUT A WINDOW FIRST TO SEE WHO IS KNOCKING!
Don't look out the door's window (if it has one).
Instead look out from a different or adjacent window – away from the door (they won't see you that way).
If you don't recognize the person, you could ask through the door who they are and what they want.
The main thing is, it's best to look first, before blindly opening the door!
3. INTERCOM DOORBELL | "WHO'S THERE?"
Preemptively install and use a push-to-talk intercom mounted at the outside of the front door.
2-way communication is an effective way to talk with the stranger at the door without actually opening the door!
>> Wireless easy-install Doorbell Intercom
(view on amzn)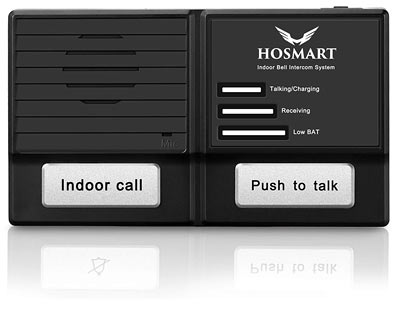 4. VIDEO DOORBELL – SECURITY CAMERA
Preemptively install a Video Doorbell like this highly popular one:
>> Wi-Fi enabled "ring"
(view on amzn)
It lets you see, hear and speak to visitors from your phone, tablet and PC. It also works with Alexa (not required).
You can see who is at the door, and it will deter a potential burglar who will also see it there!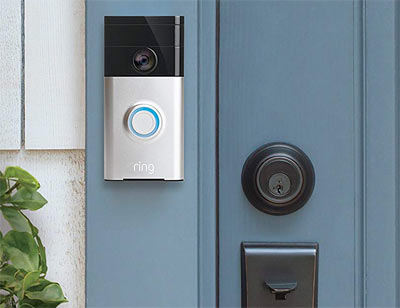 Tip: A 'dummy' (fake) security camera is excellent burglar deterrence, even for solicitors!
A cheap but effective deterrent: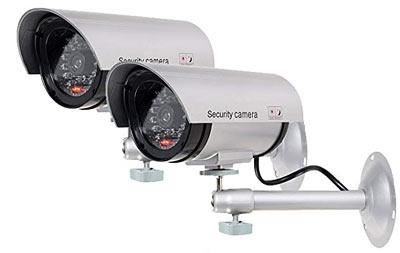 5. IGNORE THE KNOCK ON THE DOOR?
You might simply ignore the knock and continue to go about your normal activities inside the home.
There's no law saying that you have to answer the door!
However, be aware that if there actually is a burglar on the other side, this may be what they are hoping for (no one at home) and break in…
[ Read: 21 Things That Your Burglar Won't Tell You… ]
6. ASK WHAT THEY WANT (THROUGH THE DOOR)
Ask who it is and what they want.
'Interview' the stranger through the door while you keep it closed. That's perfectly reasonable.
If you have an additional 'storm door' (the kind with screens and/or plexiglass for winter), you might (slightly) open your primary door (set the chain-guard and 'foot' the door) to speak with the stranger while still being mostly secure inside. Be sure you keep your 'storm door' locked!
Foot at the bottom of the door – ready to secure it just in case.
7. SET THE DOOR CHAIN LOCK
If you have a strong and well mounted door chain lock, you could simply crack open the door to speak with the stranger through the gap. Keep your foot on the door. NEVER DO THIS AT NIGHT! DON'T OPEN THE DOOR!
Be sure that your door chain mounting bracket is attached well with LONG (~ 3 inch) screws into the door frame to help resist a 'push in'. The standard screws that come with a door chain lock are often too short for a good secure grip.
Note that many 'cheap' door chain's may break easily if the door is slammed with the body weight of an intruder. If you have one, you might consider an upgrade.
>> Extra-Thick Door Chain Lock
(view on amzn)
8. IF YOU'RE A WOMAN AT HOME ALONE…
Let's face it. Most women are not as physically strong as men, and may be vulnerable in that regard.
Through the door, say that your husband (or father, brother, etc.) is fixing the bathroom faucet and can't be bothered right now (or something similarly indicating that a man is at home). This will deter a potentially bad situation.
9. X-LARGE DOG BOWL AT THE FRONT DOOR
An Extra Large dog bowl outside the front door sends a strong message! (even if you don't have a dog)
A barking dog will also deter a stranger or solicitor who may have bad intentions. But not always.
If the solicitor is a potential burglar 'casing the place', they will not want to deal with a dog and will move on to easier targets.
10. DEFENSIVE POSTURE
If you do not recognize and trust the person on the other side of the door, and especially if you feel uncomfortable or suspicious about the circumstance – just in case, why not arm yourself?
Certainly if your gut is telling you something's wrong, DO NOT answer the door. Arming yourself will enable protection should that person actually be a burglar or home invader. 'Stuff' happens. Just saying…
SUMMARY – A STRANGER KNOCKS ON YOUR DOOR
In today's world, it's always better to be on the safe side and NOT blindly open the door for just anyone. The few thoughts listed above are just a sampling of many options for you when a stranger knocks on your door.
The point is, think about your options BEFORE just opening the door, and be prepared with a plan of action.
Remember that people can be dressed to impress but they may have ulterior motives.
People may be wearing official looking uniforms while actually 'casing the place'.
You are NOT obligated to let anyone into your home (except for police with a search warrant).
Use your head (think) and be cautious, suspicious. It may save your life or property.
[ Read: Buddy Bar Door Jammer (Review) ]
[ Read: THE Best Outdoor Motion Light for Home Security (Review) ]