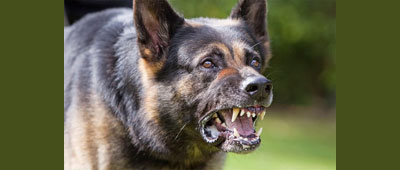 Even though we love animals, dogs, and pets, we must face the possible reality that you may one day have to fend them off.
Let's say an emergency or disaster scenario happens and you live in a populated area. Do you have a firearm to protect your family? No. If 'no' is your answer, do you have pepper spray? Especially you ladies that don't have a firearm, please at least get some pepper spray.
Here is one thing that could happen in a population dense area, after a disaster, which may require you to provide security for yourself and your family: That is, soon you will notice a number of dogs around the area. Dogs? You may be asking yourself and wondering why dogs would be a problem. Well, there will be many dogs left behind. Many people in their panic, will not be evacuating with their dogs. As we've seen in many past emergencies and natural disasters, pets were left behind. People would say they had no room in their car, the pet ran away, or they simply just forgot the pet in their panic.
These dogs will be hungry and will have different reactions upon seeing you and your family. These dogs have been left behind, so they will be frightened. Dogs will be able to sense the panic and the fear in humans. They will be stressed. They will be tired and they will be hungry. Depending on how much time has gone by, they may begin to start forming packs. If only a few days have gone by most of these dogs may probably just run up to you happy and relieved to see nice humans. But you don't know. All dogs are different and have been raised differently. Especially 'certain' breeds. Be ready.
Remember, they are animals. Dogs will go by natural instinct in a disaster situation, so you really don't know what their reaction will be towards you and your family. So, please, just be ready for the worst case.
Pepper spray is an effective way to do this. It may seem cruel, but the dog will only be temporarily hurt.
Here is something that the US mail carriers have apparently been using since 1966
Halt! Dog Repellent 1.5 oz
Even today, right now, when there is no SHTF scenario, emergency or disaster, ladies, I recommend that you always carry pepper spray with you.
Here are a few more pepper spray choices
Don't waste your dog repellant on this one…

If you enjoyed this or topics of emergency preparedness, or are planning for disaster,
Read our current articles on Modern Survival Blog