Solar Motion Lights for Home Security – Mount Them Anywhere
Last year I installed more outdoor solar motion lights (specifically including the one pictured above) to augment security here on the property. This is an update how it has performed. I've linked to the specific model below.
LED technology advancements have made it easy to install outdoor motion lights just about anywhere. How's that? Because they're powered with a solar panel that charges internal batteries.
Home security is increasingly important. I don't need to tell you that (though I just did). Outdoor motion lights are a deterrent not to be overlooked.
I took several photos of the particular solar motion light that I just installed (pictured below). It's not rocket science. They're pretty easy to assemble and put up.
First, the update. My chosen model solar motion light performed perfectly. It survived the heat and rains of summer. And it survived a harsh cold northern winter without issue. The internal batteries always provided power for the LED's, even when the solar panel was covered with snow for days on end (the sun eventually melts it off). I am really happy with the light output, and I like the adjustable light elements which increase coverage.
Solar Motion Lights – Features & Mounting
They're great for mounting on "out buildings' where you have no power (a barn, shop, garage, shed, etc..).
Run-time & Distance Adjustment
This image shows the light's on-time (run time) adjustment and sensitivity (distance) adjustment. It's no different from any other motion light. I keep it set at 120 seconds (2 minutes).
There's also a "Test" position. This is handy for adjusting the distance setting following installation (it doesn't need to be dark out to function). The motion light will turn on for about 7 seconds during detection. You can walk around while looking at the light to observe the effects of adjusting the distance setting.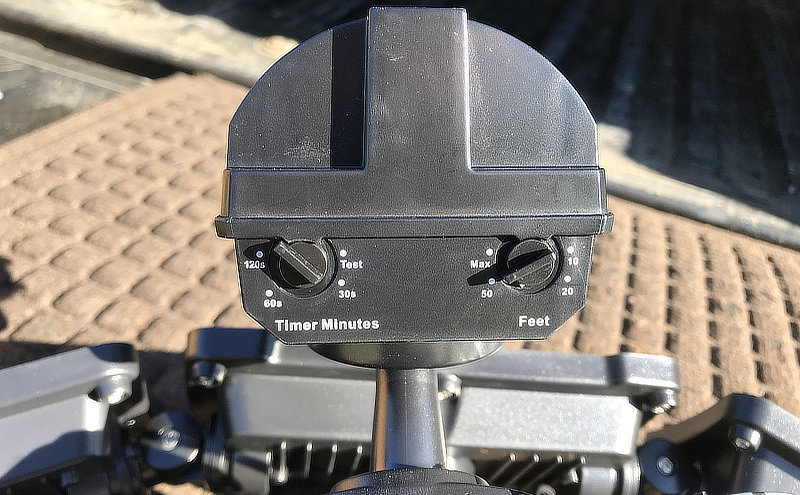 Solar Panel Connection
Connect the solar panel. This one comes with a long cord so you can mount the solar panel further away in a better suited position to capture the sun (if necessary). I didn't need to, so I simply zip-tied the excess to keep it neat. Like I said earlier, it's not rocket science ;)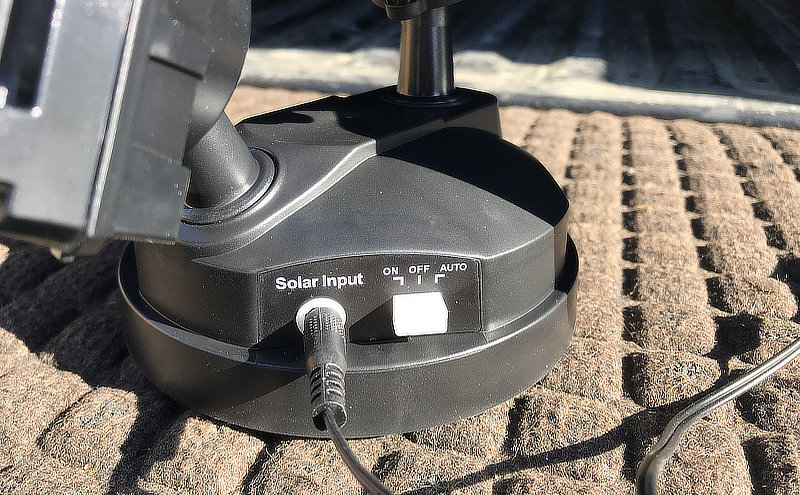 Mounting Plate
Mounting the solar motion light is easy. There's a plate that slides off the back of the base. The plate itself is screwed into whatever you're mounting it to. Then the motion light base slides and snaps into that plate afterwards.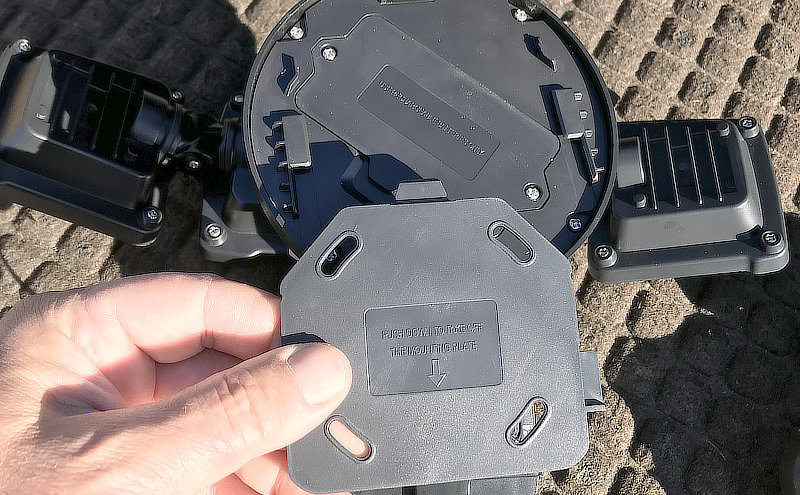 Solar Motion Lights – Internal Batteries
This is important. It's what makes it work at night. So the rechargeable batteries (via solar panel) need to be big enough to function long enough between charges.
While the back mount was removed, I opened the battery compartment to see what kind of batteries are in this solar motion light. Two 3.7 volt Lithium rechargeable CR18650 batteries. 1200 mAh each. Nice…
Update: A commenter added, "You could put longer lasting (run time on) batteries into it if you felt the need. Size 18650 batteries can be found up to 3500 mAh."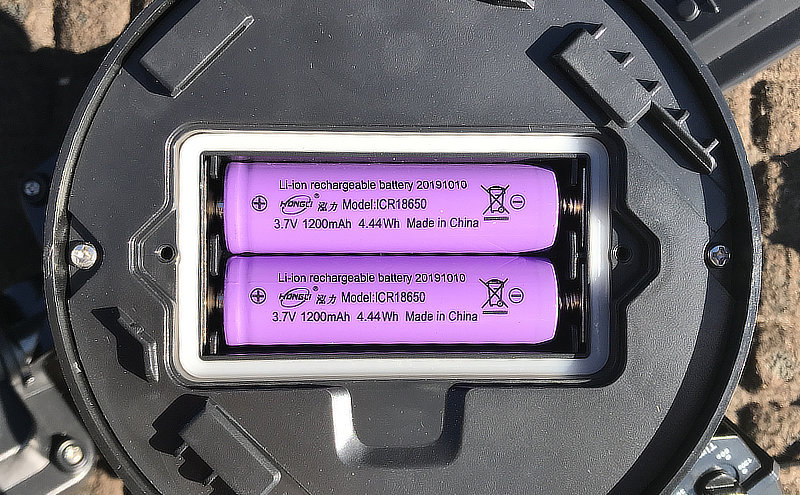 How to mount solar motion lights to a tree
I mounted this solar motion light to a tree. How did I do that? First I mounted everything to a length of pressure treated 2X4.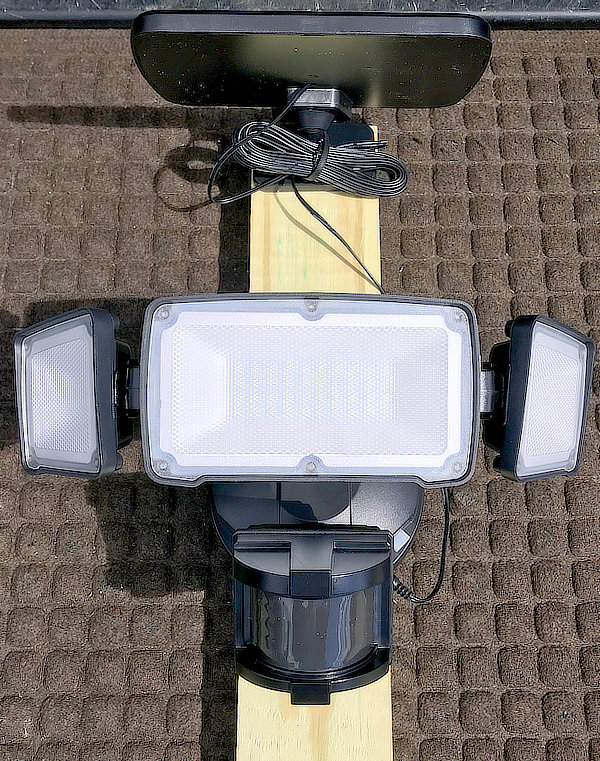 Then I used a couple of deck screws to mount the assembly to the tree itself: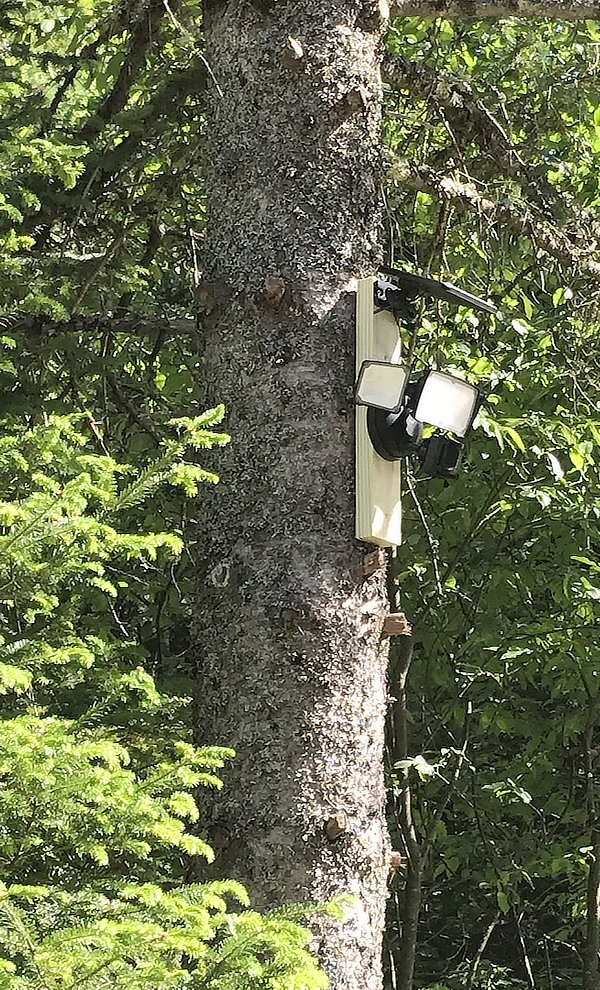 Okay folks, that's it. Easy.
You might be wondering which specific solar motion light that I chose.
Like I said, I have several solar powered motion lights. There's always something new out there, so I chose this one for three reasons:
Favorable reviews
Brightness (lumens), this one is 1600 lumens
3 flood light sections (coverage)
The color temperature is 5500K, which is ideal for security lighting.
[ Read: Best Color Temperature For Outdoor Security Lights ]
>> LEPOWER 1600LM LED
(view on amzn)
Having said all that, the best outdoor motion light that connects to standard AC electricity (in my opinion) is the RAB Stealth. Why? The sensor. It has the best sensor (awesome integrated features). I have those installed around the perimeter of the house itself. Here's an article on that one if you're interested:
[ Read: RAB Stealth Motion Light ]
More about Solar Motion Lights:
They are exceptionally convenient in that their placement can be just about anywhere.
(Regular outdoor motion lights require a source of 120 VAC power)
(…and a qualified electrician to install them.)
Solar motion lights get their power first from the sun using a mini solar panel that converts sunlight to electricity. A built-in battery (rechargeable batteries) is used for energy storage. The motion sensor and LED lights get their power from the battery.
Solar Motion Lights For Outside Need To Be Bright Enough
Brightness matters. There are units of measurement to compare one solar motion light with another.
I'm talking about Lumens. Lumens are a unit of measurement related to how bright the light source is.
Comparison (Lumens & Brightness)
A typical 100 watt Halogen flood light (non-LED) puts out about 1,200 lumens. A 60 watt Incandescent porch light (non-LED) puts out 800 lumens.
Look for the 'lumens' specification when considering a given solar motion light for outside. The more lumens, the brighter it is.
It's about Lumens (Not the number of LED's)
Don't fall for "the number of LED's". That means nothing. What matters is lumens.
A typical AC-powered motion light with a pair of 100 watt Halogen floods will output about 2400 lumens. It's pretty challenging for battery powered solar motion lights, but the model listed above is 1600. Not bad!
Another commenter mentioned the following:
"I have (4) of the white version of these and they have worked flawlessly. They are bright at 1600 lumens. I highly rate them. The only thing I like better is the 110 volt AC version of them that is even brighter. 3500 lumens is amazing. I have 3 of those as well, same company. You just have to hard wire them."

LEPOWER 35W LED Security Lights – AC Powered
(view on amzn)
In closing, both AC-powered and Solar-powered motion lights have their place in an overall outdoor home security plan.
[ Read: Security Lighting Ideas – Tips and Considerations ]