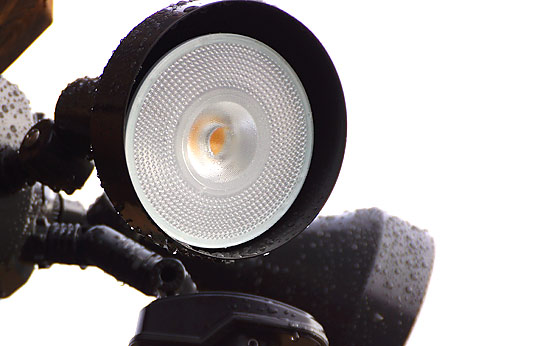 I have no doubt that the best LED flood light replacement for outdoor motion light security is currently the Hyperikon® PAR38
.
Why? Because I have been using them in all my outdoor motion lights for security around the home – having replaced all of the standard tungsten incandescent flood lights / spotlights.
I recently purchased and installed several more of these LED bulbs for my 'RAB Stealth' outdoor motion lights in order to drastically reduce their energy consumption – which is especially important to me since I'm running off-grid solar power. But that's not the only reason…
These LED floods are currently the best replacement that I've found.
And here's why…


First, I have been using these (RAB) outdoor motion lights for many years (they are the best in the business). Until recently (since these LED replacement bulbs were developed), I had been using your typical 150 watt flood light or spotlight combination. When all of these lights were on at once (I have a number of motion lights), they were consuming many hundreds of watts. Since I now have solar panels (and a battery bank for nighttime energy) I am very conscious of energy consumption and these LED replacement bulbs have solved my problem…
Energy Savings in Watts
The Hyperikon® LED flood light will save approximately 85% electricity consumption based on 'lumens' equivalent (brightness), and only consumes about 10% of what a typical incandescent flood light uses. That's a 90% savings differential!
Typical Flood light: 150 Watts
Hyperikon® LED flood light: 14 Watts
This is not only good news for general energy consumption, but if you have solar then it's very significant! But there are more reasons why they're the best (so far)…
LED Brightness Comparison
Brightness is expressed by a technical term called 'lumens'.
A 'typical' 150 watt incandescent flood light puts out about 1700 lumens. The LED replacement flood light that I'm comparing in this article puts out 1240 lumens (about 73% equivalent). HOWEVER, I've got to tell you that I really hardly notice any difference while comparing this LED to the regular flood light… which may be due to factors such as the beam angle, reflector design, and/or color temperature.
This particular LED replacement bulb has a beam angle of 40 degrees (even though they call it a 'flood light'). The light certainly is 'pushed' out there via the reflector design. Additionally, there is a good amount of surrounding light versus the 'directed' light – making for a very good 'flooded' mix in my opinion.
Color Temperature
This refers to how the cast of the light appears to your eyes – in gradients from warm to cool (reddish/yellow to blue/white).
Hyperikon® makes this LED bulb in three different color temperatures.
Daylight White (4000K)
Soft White Glow (3000K)
Warm Glow (2700K)
I have purchased the 4000K and the 3000K for my outdoor motion lights. With that said, I definitely like the 3000K LED bulbs because the color temperature is nearly identical to a traditional flood light. It's not 'white' or 'blue', but it has a significant yellowish hue which I simply like better visually.
LED Flood Light Life Expectancy
This is a statistic where the LED really shines. The life expectancy is tremendously longer than a traditional incandescent bulb!
Typical 150 Watt Incandescent Flood Light: 1.8 years
Hyperikon® LED Flood Light: 21 years (45,000 hours)
So while the LED bulb costs more initially, it more than pays for itself due to its energy savings combined with life expectancy.
Additional Attributes Making It The Best…
DIMMING capabilities with a CFL/LED digital dimmer (which will also dim incandescent).
Unique color rendering technology, providing CRI90+ and R9>50. It's 'technical', but to sum it up this means that the bulb is very good at reproducing 'reds' – which has been a difficult thing in LED technology. Perhaps this is the reason why I think it looks so good…
ENERGY STAR qualified
UL-Listed [E472253]
CONCLUSION
If you're looking for a LED replacement for your outdoor motion lights, you might consider the Hyperikon® PAR38 LED Bulb
, which I believe to be the best at this time…
(Don't forget to choose the 'color temperature')

Related Article:
LED Light Bulb Cost Savings Over Incandescent
Related Posts That You Might Like: