Replace Flood Lights With LED Equivalent – Saves LOTS Of Electricity
Be it for outdoor use or indoors, you'll save lots of money when you replace flood lights with LED equivalent bulbs. It's easy with a direct LED replacement for your existing standard PAR38 style flood light bulb that has the same E26 medium base.
(I am updating this article to reflect current technology upgrades and product manufacturer availability).
I have replaced all of my outdoor flood lights (standard tungsten incandescent flood lights / spotlights) with LED bulbs. It was years ago. No issues since. Even in our weather extremes, cold temperatures dipping down to 20 or 30 below.
Replacing flood lights with LED will greatly reduce energy usage! This is especially important to me because I'm running off-grid solar power (with a battery bank). But that's not the only reason…
Up until this LED floodlight bulb technology was developed, I had been using the typical 150 watt (tungsten) flood light, or spotlight combination. They were consuming many hundreds of watts, which quickly add up to many watt hours! Since the time when I installed solar panels (and a battery bank for nighttime energy reserves), I have been very energy conscious of electricity consumption. These LED replacement bulbs have solved one of my energy concerns…
Energy Savings in Watts
A typical LED flood light (example below) with equivalent lumens as its incandescent counterpart, only consumes about 10% of what a typical incandescent flood light uses. That's a 90% savings differential!
Typical Flood light: 150 Watts
Example LED flood light: 15 Watts
This is not only good news for general energy consumption savings, but if you have solar off-grid power, then it's very significant! But there are more reasons:
LED Brightness Comparison
Brightness is expressed by a technical term called 'lumens'.
Lumens
A 'typical' 150 watt incandescent flood light puts out about 1700 lumens.
The LED equivalent flood light replacement that I'm currently suggesting is specified to put out 1600 lumens. It only draws 15 watts.
Waterproof PAR38 LED, Dimmable, 5000K Daylight, 1600 Lumens
(view on amzn)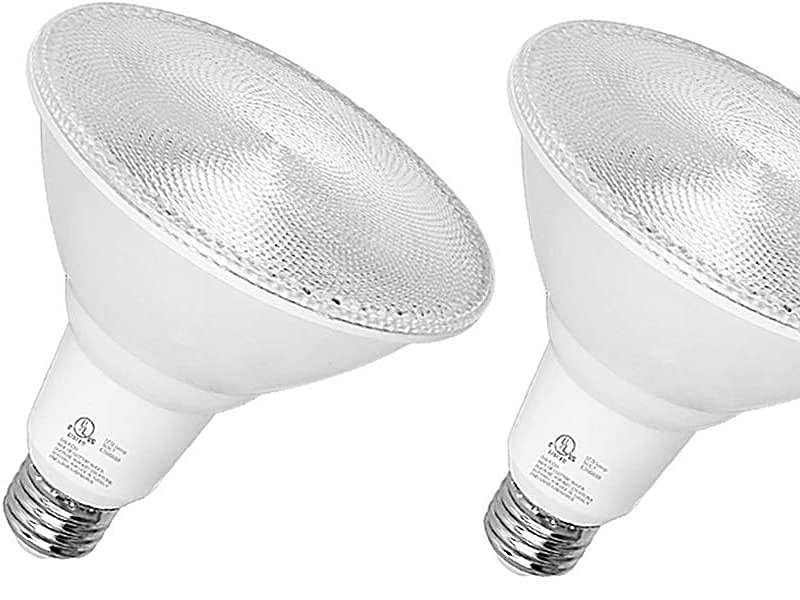 Beam Angle
This particular LED flood light LED replacement bulb has a beam angle of 40 degrees. The light beam is 'pushed' out by way of the reflector design. It seems to be a good spread for outdoors – effectively directing the light further (as opposed to a very wide beam). Also, "for most domestic household ceiling fitted appliances, a beam angle in the 30-40 degrees will be sufficient given the standard height of ceilings and the range, spread and number of light bulbs in the area".
Color Temperature
This refers to how the cast of the light appears to your eyes – in gradients from warm to cool (reddish/yellow to blue/white).
As is with many manufacturers, this LED flood light bulb comes in various color temperatures. The linked recommendation above is 5000K (Daylight), which I believe is great for security purposes (related article linked below on color temperatures). There's also a 3000K (warmer light) version.
[ Read: Best Color Temperature For Security Lights ]
LED Flood Light – Life Expectancy
This is a statistic where the LED really shines. The life expectancy of the LED bulb is tremendously longer than a traditional incandescent bulb!
Typical 150 Watt Incandescent Flood Light: ~750 hours
LED Flood Light (above): 25,000 hours
Dimming
100% – 5% dimming capability with a LED-capable dimmer (which will also dim incandescent).
No-flicker or strobe, no humming or buzzing.
 [ Read
'RAB Stealth' Outdoor Motion Light Review
Motion Sensor Light Location and Best Height
LED Light Bulb Cost Savings Over Incandescent