DIY Raised Garden Bed Planters -Cold Weather Short Growing Season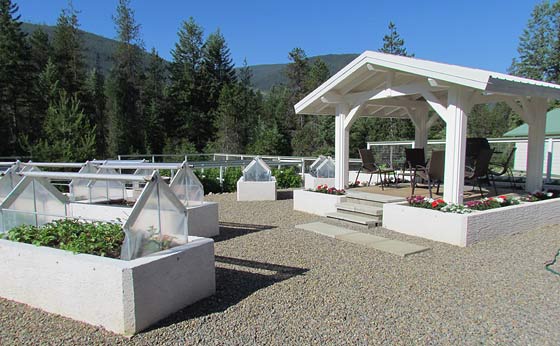 Ideas for do-it-yourself raised garden bed planters while dealing with cold weather climates and a shorter growing season.
Some of us live in northern regions and climates where the growing season is shorter and cold weather from winter takes its time releasing its stubborn grip on the land.
This can create a challenge, especially when trying to grow foods which require a longer growing season.
I'm sure that there are all sorts of ideas how to build raised garden beds, however lets also talk about ideas how to deal with cold weather early during the growing season.
I recently received an email from one of our MSB readers, "hermit us", who has a very interesting solution to this problem. He implemented a sort of green house to each of his raised garden bed planters and I thought that I would share it with you:
Raised Garden Bed Planter:
All this of course for the convenience, and saving the back and knees.
Note that while the initial outlay of time, work, and money may seem like a lot, the rewards will make it all worth it. It is a prepping investment where the growing season is shorter.

From "hermit us",
I have great raised bed planters that work very well in northern areas (I am near the Idaho/Canada border) where the growing season is shorter.

I will list construction and considerations in bullet points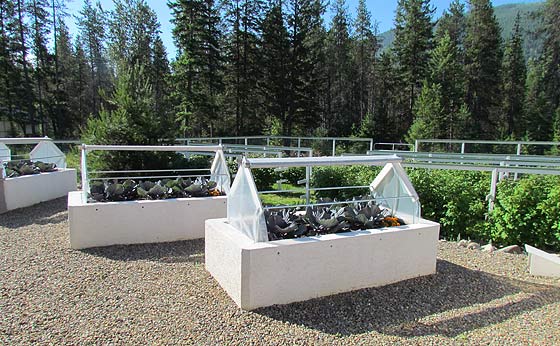 – 6″ poured concrete planters – good for sitting on while thinning/weeding or bird watching.
– 3/8 re bar at 8″ on center each way
– stucco covering serves two purposes, light color needed (paint also an option) so planters do not attract too much solar heating, and it matches my house and other buildings.
– no bottom so planters drain well into compacted gravel base.
– 3/4″ pvc pipe placed near the bottom and top allow bolt through to hold forms in place and this way no metal form ties penetrate the surface that can cause rust staining.
– pvc holes remain when forms removed serve as drainage if the planters are overwhelmed by a rain downpour.
– planters in tandem are separated by 1/2″ plywood to serve as a control joint – this way the planters themselves should not crack if ground settlement occurs..
– individual planters help to isolate bad insects/weeds/mold etc that can ruin an entire large greenhouse.
– individual planters offer flexibility for various crops; moisture control, sunlight control, wind protection, hail protection, … and "one is none" – eggs in more than one basket.
– soil mix can be adjusted as each crop is rotated from year to year. I started with 1/3 loam, 1/6 peat moss, 1/6 compost, 1/3 sand.
– poly supports are simply 1/2″ electrical conduit stuck in each corner and center of the planters, connected by taking a 12″ length of 3/8″ re bar bent at 90 degrees and shoved into the ends to form the corners.
– UV resistant poly has been used for five years now and is simply rolled onto a 2×2 . I store them in a shed each winter.
– wood 1×4's are cut and drilled to fit each end and serve as the support for the 2×2's – nails work to hold the 2×2/poly at what ever height you like.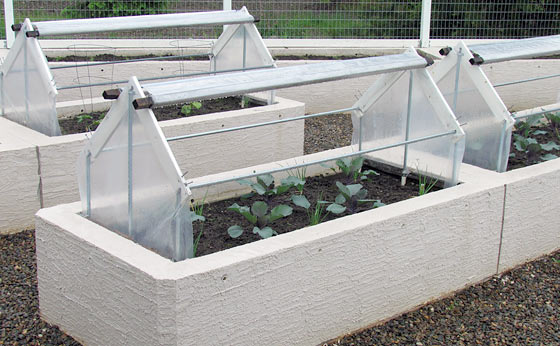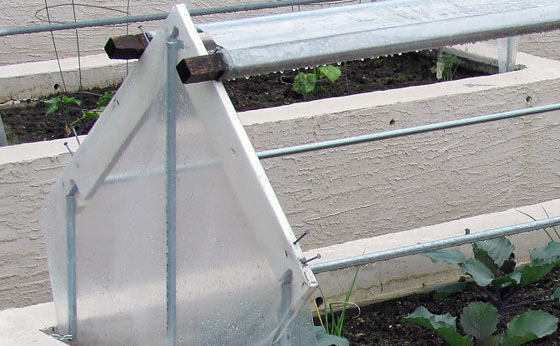 [Ken adds]: The technique of rolled up plastic and the brackets shown above could be adapted to a wood framed raised garden bed too. I like the idea…

All New Square Foot Gardening II

Okay lets open it up for discussion… What are your thoughts and ideas about dealing with cold weather and raised garden beds?