72-Hour Survival Kit Food
72-hour survival kit food choices. The kit is more or less intended as a grab-and-go bag. What goes inside? Well, anything you want according to your purposes or needs. It also does not have to be solely for emergency use. For example you might grab your 72-hour kit when going on any sort of road trip. Maybe you get hungry along the way, and reach in to the bag for a bite to eat..
This article will simply focus on the food aspect of the so called 72-hour survival kit.
This kit (or you might call it a bugout bag) is generally designed to help you during any number of 'emergency' situations. Perhaps an evacuation. A disaster (while bugging out), or for any other emergency reason. It can be tailored to anything you want.
What's the reasoning behind 72-hours? Why not 24 or 48 hours? I don't know the origin of the term, or who first coined it, so to speak. However it does seem like a generally reasonable timeframe to assist getting from point-A to point-B, an interim period. Hey, if you want a more trimmed-down bag to cover just a 24 period, well, that's fine too!
Perhaps the most important aspect of this kit is food and water. Here are some suggestions for food content while considering items that may be better choices.
Food For Your 72-Hour Survival Kit
I would focus on energy, calories, ease of use, and size versus what you're getting (because you're stuffing it in a bag, right? And what if you have to carry it rather than simply tossing it into your vehicle?).
Use high energy food, high calorie food, dry food, maybe even some particular canned food and/or other staples that do not require refrigeration, cooking, water, or special preparation. Be sure to include a manual hand can opener and eating utensils (just because you're in survival mode doesn't mean you can't be well-mannered :-)
The food you choose for your 72-hour survival kit is for calories and energy – so be conscious of the calorie count as you attempt to add up to 2000 calories per day per person.
Although this post is about one's choice of food, DO NOT IGNORE THE WATER.
Keep bottled water (and a water filter) for your kit and/or vehicle.
I will brainstorm some ideas in no particular order..
Peanut Butter (lots of calories, and don't forget a spoon!)
Energy Bars (there are so many types)
Chocolate, hard candy, etc.. for quick energy
Nuts (unsalted)
Avoid salty foods that will make you extra thirsty
Drink mixes (powders) to add with water (electrolytes, etc..)
MRE's
Consider food that is light-weight versus calories (in other words – calorie dense), compact, minimal preparation, reasonable shelf life, and food that preferably does not require refrigeration, cooking, water, or special preparation.
Sawyer Mini Water Filter
(amzn)
One nice thing about this water filter, is the fact that it'll screw on to a typical water bottle (which you would have filled from a source such as a stream, pond, etc..), and then simply drink from the other end of the filter.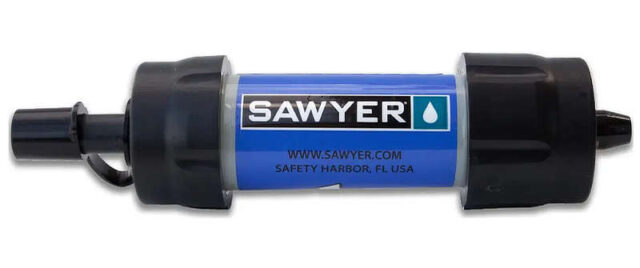 Survival Kit – Food Maintenance
 
Ordinarily store your 72-hour kit in a cool, dry place for longest shelf life. How about a closet..
If you have a kit in your vehicle at all times, first know that the summer will melt your chocolate (ask me how I know).. Also, heat will shorten the shelf life of foods. Maybe get in the habit of changing out the food once or twice a year.
Consider using Ziploc bags for the food where appropriate, to keep it dry (just in case). Or consider vacuum sealing some of the food items to lengthen shelf life.
Use or rotate foods before so called 'expiration' dates and replace them with fresh supplies (even though many foods are okay beyond their 'use-by' or 'sell-by' dates)
Re-evaluate your food and water storage needs annually.
While there's more to a 72-hour survival kit than just food, what are your recommendations and/or experiences regarding food choices in your kit?
[ Read: Use-by, Best-by, Sell-by | Food Expiration Dates ]
[ Read: MRE's for a Survival Kit Convenience ]