Last updated on March 26th, 2012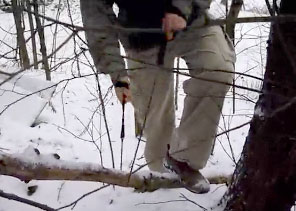 This pocket chain saw survival tool is ideal and practical in many ways to tuck in your backpack or survival kit, and will cut through wood limbs with apparent ease. Unlike a typical saw, this one will roll up and store easily and safely, taking up little storage space. Perfect for camping, in your bug-out-bag, or simply for trimming branches around your property.
When I come across a unique product that has obvious value to survivalists, preppers, or similar minded folk, I occasionally will share the discovery with others on this blog. I happened to see the 'Chainmate Survival Pocket Chain Saw' on Amazon this morning and will be buying a few for myself. I already do have some great hand saws, but this particular 'pocket' chain saw will fit perfectly in a backpack, unlike a traditional hand saw, and, based on the great reviews, it appears to cut through wood very easily!
There are three available lengths of chain, 24-inch, 36-inch, 48-inch, each of them attached with nylon strap handles at each end of the chain for gripping. The most popular size is the 24-inch.
From the Manufacturer
Previously available only to the military and professionals, now everyone can enjoy the speed and convenience of owning a Chainmate survival saw. Flexible, chain blade saw comes in belt loop pouch. Cuts fast & easy.
Product Description
With its carbon steel teeth and extreme portability, this survival saw is an essential tool for snowmobilers, campers, hikers, mountain bikers and all other outdoorsmen. U.S.A. Chain Length (in.): 24, Blade Material: Carbon steel
The overall reviews are highly favorable, the average being 4.5 of 5 stars. Here are a few review summaries…
This is the real deal w/ the modified carbon steel chainsaw blades – not the crappy model w/ the thin folding-saw type blade.

When I was setting up a very basic camping kit, one of the things I purchased was this Chainmate Survival Saw. One of the suggestions that John "Lofty" Wiseman made in his SAS Survival Handbook was to purchase a flexible saw to put in a survival kit.

This thing EATS wood and weighs nothing!! It takes a little bit of effort but you can chew through a hardwood tree half a foot thick in literally a couple minutes; half that if you use two people (one on each end).

This Chainmate "Survival Pocket Chain Saw" rips through wood with amazing ease! I used this to cut a 2″ diameter branch in less than 30 seconds.

The chain eliminates awkward sawing positions in tight spaces.

This saw is the best type of portable hand saw you can get that is not gas powered. stay away from those cheap a s s wire saws. they break on the first tug of the wire. This one is well built and will last.

Perfect for back packing, the convenient pouch keeps it from other items and it will pack so easily in our gear!
Chainmate CM-24SSP 24-Inch Survival Pocket Chain Saw With Pouch
Appreciate topics of survival, emergency preparedness – or planning for disaster?
Read our current articles on Modern Survival Blog
twitter: MSurvivalBlog
Facebook