Stainless Steel Canteen – Single Walled for Boiling Water
The best stainless steel canteen for survival is a Single Walled design.
A double walled (insulated) canteen (or water bottle) is not advised for outdoor survival. Here's why…
[I've Updated This Article with an additional stainless steel water bottle choice that I discovered]
(jump down to recommendations)
There are a lot of stainless steel (and aluminum) water bottles nowadays that are double-walled insulated to keep contents cool. People use them for hiking, camping, other activities. That's all fine and good. However, there's a problem with that – if you're looking for a survival canteen…
For outdoor survival preparedness, it's best to have a non-insulated single wall stainless steel canteen. Here's what I mean…
STAINLESS STEEL CANTEEN – CAN YOU BOIL WATER IN IT?
Only use a single walled metal container to boil water. Preferably, stainless steel.
One of the best things about a stainless steel canteen is that you can boil water in it. That is, if you had to during an emergency situation – for water purification. It also serves as a backup for a water filter (which you should have!).
CAUTION: Since it is a single walled design, the container will become too hot to touch when boiling water for purification. However there are ways to deal with this.
TIP: Look for a stainless steel canteen that you can handle while it's hot. Or device a do-it-yourself way to do this:
Use sticks to lift canteen out of the coals – but don't spill it!
Keep a length of bare wire to wrap around canteen neck or body (depending on its design) to suspend over fire or coals, or hang from a stick/branch
One stainless steel canteen that I found is as follows:
PINTY G.I. ARMY CANTEEN
(view on amzn)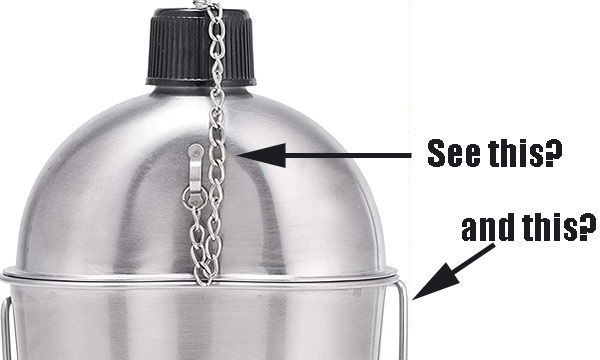 Best Features of a Stainless Steel Canteen
I like the chain feature of the one pictured above. A stick, paracord, etc., could be wrapped around it to hang over fire or coals.
[ Read: 5 Benefits of Paracord ]
I like that it also has a separate cooking pot with folding handles. The canteen fits right inside the cooking pot.
A stainless steel canteen could be hung over a fire (or set in the coals) to boil water to purify it for safe drinking.
Aluminum will work too, but I prefer stainless. Stainless Steel will not rust or corrode and will resist denting and breakage.
[ Read: How Long To Boil Drinking Water Until It's Safe To Drink ]
TIP: Build a smaller fire to avoid high flames. Or set in coals to boil.
Why Double-Walled Containers Are Not Good For Boiling Water Purification
The double walled design of such a canteen presents a barrier between the outside wall (heat from the fire or coals) and the inside wall of the canteen.
The two walls are typically vacuum sealed in-between too, for better thermal isolation.
They're great for maintaining the temperature of the liquid inside. Why? Because the transfer of thermal energy between the inside and outside is slowed by its design. So it will restrict (slow) the heat from a fire transferring to the liquid within.
Nalgene Stainless Steel Bottle | Single Walled
I recently discovered this particular 38-ounce water bottle which would also serve the purpose of boiling water for purification (or food), just like a stainless steel canteen.
They're fairly hard to find (single walled) so I decided to add it here.
I also like that it has a wide mouth lid.
NALGENE STAINLESS WATER BOTTLE
(view on amzn)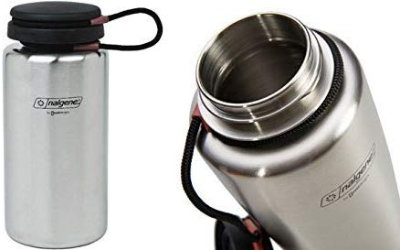 Container – One of the 5 C's of Survival
Do you know the 5 and 10 C's of Survival?
One of the " C's " is for "Container". The idea is to have some sort of container that will hold water that you could boil for purification (or cook a meal or whatever).
Maybe it's simply your mess kit. Or just a metal cup. Or possibly a stainless (or aluminum) water bottle.
It's something to consider for any general purpose survival kit.
[ Read: The Sawyer Mini Water Filter ]
[ Read: How to Make a Survival Kit ]