The Best Bread Machine After Several Years Of Use
I am updating this article for those landing here while searching for what may be the best bread machine. I originally posted not too long after purchasing this particular brand. We have also owned several other brands throughout the years.
It reached a point where I wanted the best bread machine available, sort of like "one and done"… A bread maker that reliably and consistently gets the job done (with lots of programming options for different breads), and will stand the test of time. (As well as the features listed below, including the ability to make a 2 pound loaf).
Although we have made our bread in a variety of ways (from scratch), a bread machine is a nice-to-have appliance. Sometimes we have used it just to knead the dough. Other times specifically to make pizza dough.
Whether we use the machine to process all the way to final product, or partially, it sure is convenient.
You might already know what it is from the picture above. It's the Zojirushi brand bread machine. I highly recommend it for anyone who's serious about making their own bread with the assistance of a bread machine. I believe it's the best brand out there in this category.
Remember, you get what you pay for. Yes, it's expensive compared to your typical mainstream appliance bread machine. Despite the higher cost, trust me – it's worth it!
Why do I say that? I have one…and have been completely satisfied with it's outstanding performance for years.
I have the Zojirushi Virtuoso. Now there's the Virtuoso Plus:
Zojirushi Virtuoso Plus
(view on amzn)
While there are lots of good bread machines to choose from, many are less than great. If you're looking for the best, look no further… In my opinion the Zojirushi brand is subjectively the best.
Here's why:
Reasons Why the Zojirushi is my Recommended Best Bread Machine
Longer Tub For 'Normal' Size Loaf
First of all, while the loaf size is not the same as store-bought, it is longer and more rectangular than most typical bread machines. You are able to make a bigger loaf (2-pounds).
Additional Heater Element On The Lid
Most bread machines have one heater element. Rather than baking in an uneven way, this Zojirushi has an additional heater in the lid for even baking.
Gluten Free and Custom Menu settings
For those who are sensitive, there is a gluten free custom menu.
Multiple Preset Bread Menus
Basic bread, wheat bread, sourdough starter, dough, jam, cake, quick bread… I like the setting for extended kneading time which helps knead heavier flour such as whole wheat and rye flour thoroughly.
Dual kneading blades
Another reason this bread machine is on my recommended list for the best bread machine. It has two kneading blades. It enables thorough dough kneading and a higher rise. Paddles remain in the pan, not the bread, and separate easily after briefly soaking the cooled pan in warm water. Mrs.J likes how this bread machine kneads, and will sometimes use this feature for the dough and then bake in the oven.
Quick baking cycle
Need a loaf fast? This particular baking cycle makes bread in about 2-hours.
Homemade (Custom) Cycle
If you don't like the way the presets bake your bread (perhaps baking it longer than your liking), you can use the Home Made cycle. This allows you to program the knead, rise and bake times to create your own perfect bread just the way you like it. We regularly use this feature.
Delay start timer
Set it and forget it. Want some fresh bread just before dinner time or first thing in the morning?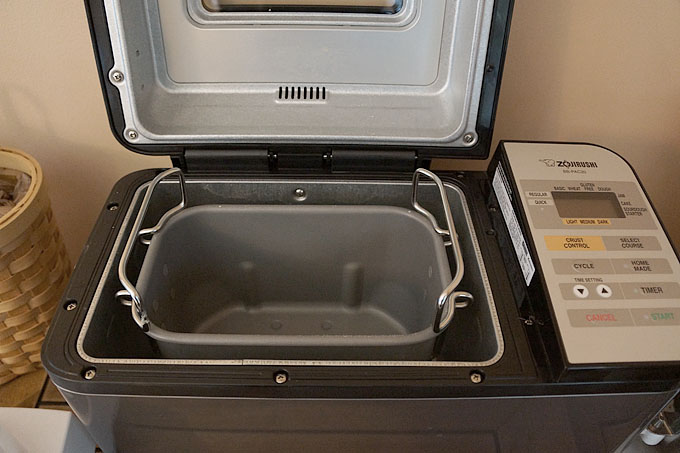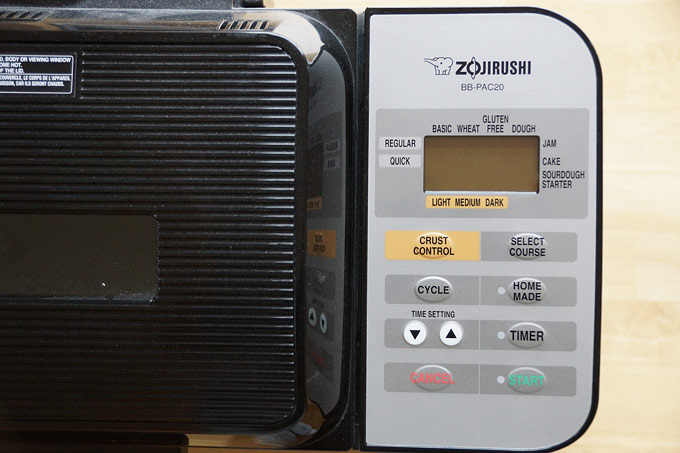 The Best Bread Machine For The Bread Lover's Kitchen
There are additional features too, but in conclusion those listed above were important and part of the reason I chose their bread machine. An important part of general preparedness is one's abilities in the kitchen. While this is not baking bread entirely from scratch, it is a step in that direction while using all of your own ingredients to make a healthy and delicious bread.
Note: The health aspects of controlling the ingredients that go into the bread may be significant in today's world of preservatives and ingredients that you can't pronounce… I truly enjoy knowing every ingredient that I choose to put in that bread machine and therefore a healthy bread!
Note: The following bread machine recipe book is a great resource:
The Bread Lover's Bread Machine Cookbook
(view on amzn)
Note: I know this bread machine is way expensive, and consequently will not fit everyone's budget. I get that. I'm just putting my opinion out there for those who are searching for the ultimate.
[ Read: An Electric Flour Mill For Your Own Homemade Breads ]
[ Read: Choosing a Hand Grain Mill ]
A few bread machine tips:
Bread machine flour or bread flour. Is it different from regular flour? A little… it simply has more gluten than all-purpose flour. It helps with the overall rise and texture. If you're using all-purpose flour, consider adding a product called vital wheat gluten. The rule of thumb is to add 1 tablespoon of vital wheat gluten for every cup of low gluten / regular flour.
Bread machine yeast and rapid-rise yeast. They are specially formulated for the bread machine. They also become active more quickly than active dry yeast. Active dry yeast should ideally be dissolved in water before being used, but bread machine yeast can be mixed in with other dry ingredients. This is particularly important when using the timed mixing function on your machine.
How much flour for a loaf of bread? Bread machine recipes vary. Recipes often refer to weight rather than cups. The weight of flour varies. The best way to measure for a given recipe is to use a digital kitchen scale for exact measurements – after you 'zero out' the weight of the container (we use this one). A good rule of thumb is about 2.5 cups flour for a normal loaf. A 5 pound bag of all purpose flour contains about 18 cups by volume. So figure about 6 loaves per bag if recipe calls for 3 cups (a slightly larger loaf).
Alternate use for bread machine: Wonderful Wife uses the bread maker to make pizza dough that we then bake in the oven. Basically a pizza dough maker.

~ a reader commenting on MSB
I have a Zojirushi and I love it. Most of the time I let it mix the bread and rise it twice. Then I shape it, let it rise and pop it in the oven. If I am lazy I let it go all the way. It has 2 paddles instead of 1, mixes better. Don't Touch My ZO!

said "old lady" here on the blog