Best Way How to Clean a Kitchen Sponge of Germs
Studies have shown that the average kitchen sponge may contain way more germs than on a toilet seat. And if you're not careful, those germs, microbes and foodborne pathogens can make it onto your dishes, your drinking glasses, utensils, and your countertops. I'm updating my previous method how to clean a kitchen sponge from bacteria and germs to something even simpler.
Previously I had been recommending to microwave the sponge for 30 – 60 seconds. Rinse the kitchen sponge, wring it out, and microwave on high. However, there are a few caveats to this. You cannot do this to some sponges (check the packaging – which you've probably already thrown away). Can't do it to anything with conductive materials. Also, some 'scrubby' plastic portions of kitchen sponge may release fumes (less than ideal). Lastly, the sponge 'could' catch fire if gets too dried out during microwave time.
Instead, there's a way to clean a kitchen sponge that's safe, and, it's nearly every 100% as effective as using a microwave to do it…
Best Way To Clean A Kitchen Sponge
It's so easy, there's no excuse not to clean your sponge every day.
Reported from usda.gov, microbiologists tested 5 methods for cleaning a kitchen sponge of bacteria, microbes, yeasts, and molds. The best ways were to microwave or to use your dishwasher.
Microwaving sponges killed 99.99999 percent of bacteria present on them, while dishwashing killed 99.9998 percent of bacteria.
As for yeasts and molds, the sponges treated in the microwave oven or dishwasher were found to harbor less than 1 percent (0.00001 percent).
Place the kitchen sponge on the top rack in your dishwasher. Best to use a cycle which includes hot water and dry-heat cycle (which is typical of most standard dishwasher cycles).
For convenience, simply utilize two kitchen sponges. One at the sink (we keep ours in a small bowl at the edge of the sink), and one in the dishwasher for the next cycle. When you're emptying the dishwasher, rotate the sponges.
It's a good idea to clean – sanitize your kitchen sponge every day (assuming you use it every day).
Also, it's a good idea to completely replace your kitchen sponge every so often – before it gets all dilapidated and falling apart! That all depends on usage.
Okay, no dishwasher? Well the microwave method works! Just be sure the sponge you use is okay to toss in the microwave.
This is our favorite kitchen sponge:
Scotch-Brite Clean & Rinse Scrubber – 2 ct, 4 Pack (Total 8 sponges)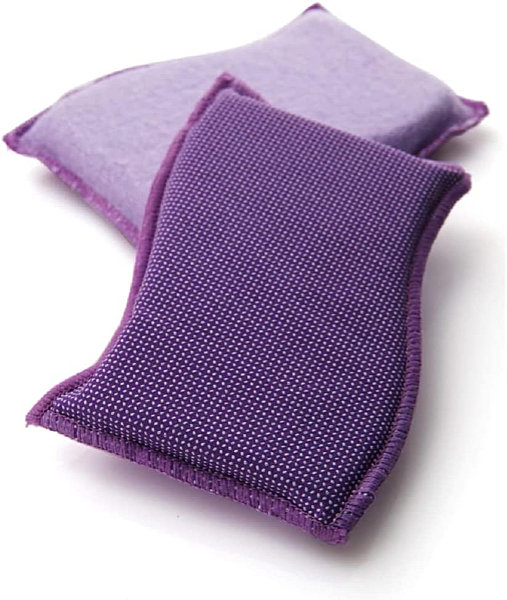 [ Read: Bleach – Water Ratio For Disinfecting Food Surfaces and Non-food Surfaces ]