Pantry Can Organizer – Canned Food – FIFO Rack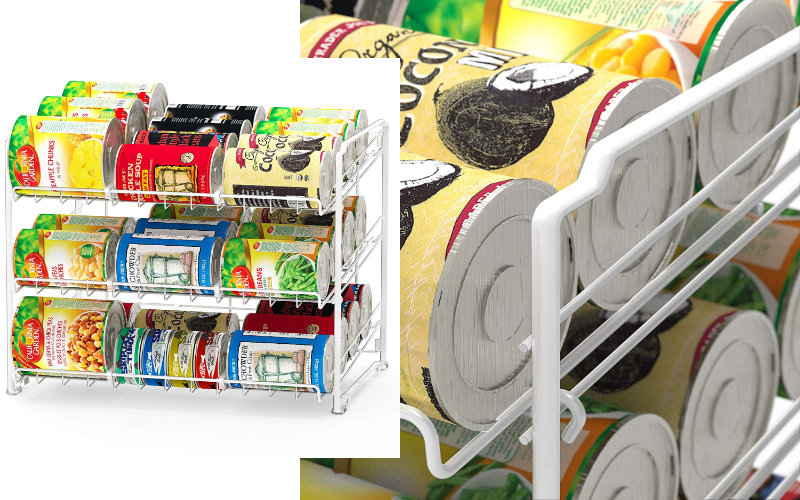 A Can Organizer. A stackable canned goods organizer for the kitchen or pantry. They're great for organizing and seeing what you've got! And for proper canned food rotation – first in, first out (FIFO).
Being a preparedness site, a primary focus is food and food storage. Among the many varieties of stored food are ordinary cans or canned food from the grocery store.
One of the problems with storing more than just a few cans of food is how to store them best. So that they can be seen without reaching and tipping over a stack! Seeing and knowing what you have!
Pantry Can Organizer | Most Well Reviewed
I always (usually) do a little research before I buy something. For instance, out of curiosity I checked on amzn to see which one is the most popular and best reviewed. Well, it's this one:
Store up to 36 Cans
(same one as pictured above)
adjustable dividers for different size cans
17″ wide | 13.5″ tall | 13″ deep
stackable design (one organizer on top of another)
FIFO | First in, First out | Can Organizer
Actually, it's a can dispenser. Some designs allow a can to be fed on top. Then it rolls down to the bottom (or next position).
In this way, the first can that you put in, will be the first can out. Reducing the chance that you'll have an old can that never gets used.
FIFO might not be important, depending on your own methods of organizing cans. But if first-in, first-out is what you want, here's a few to check out: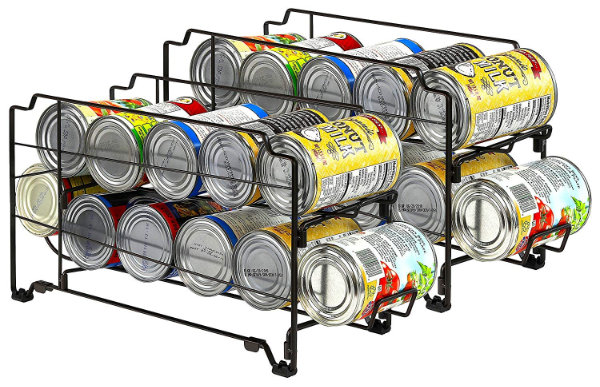 12 standard size 12 oz cans
(view on amzn)
Another popular can organizer: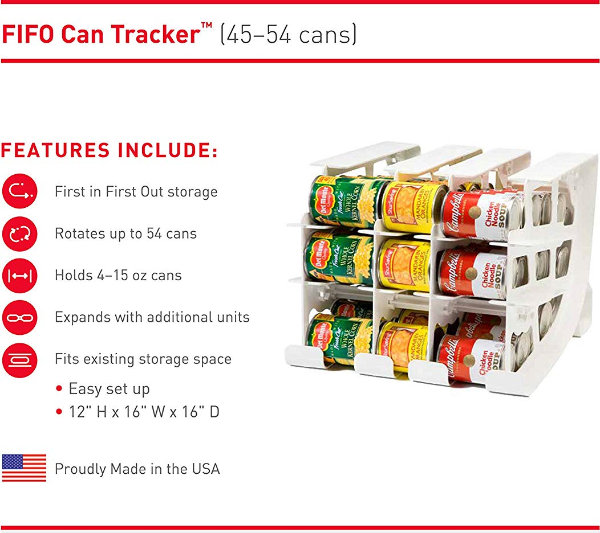 Other Ways to Organize Cans for Pantry
Stack Them
Most people simply stack their cans as best they can. If you do, here's what I suggest:
For stacks of cans that are the same (e.g. cans of carrots). Organize them so that you always take from the right or the front. When you add replacement cans, put them on the left or in the back. Slide the cans over as necessary.
The challenge is keeping the cans from falling over.
Tip: Place a smooth board on top of cans to enable another stacked layer. You might cut some plywood (or whatever) to fit the can space you're stacking. Only problem is accessing cans on the bottom. But it's a thought.
Bins
Sometimes you just don't have enough shelf space or cupboard space. So what do you do? Keep your cans together by putting them in bins. Heavy duty bins will enable stacking.
Cases of Cans
There's a particular discount grocery store about half-an-hour away. Sometimes we make the trip to shop (there's a Walmart there too). We will load up on cases of food cans for things we eat. When you get them in cases (typically 12) it's easy to just stack them at home.
How Do I Organize My Cans?
How do I do it? All of the above!
My can organizer system is a combination of cans on shelves, can organizer racks, and some are in boxes and bins.
Mrs.J keeps cans of food organized by their type. I suppose everyone does. At least you know where to look when you need something…
I purchased heavy duty shelf units from Home Depot (free standing). They have heavy duty metal frames and heavy wood shelves. We keep our 'home canned' foods on them as well as some of our regular grocery store cans too. Oh, and the #10 cans are stacked there too.
How Do YOU Organize your Cans?
Organization for your deep pantry. Know what you have back there! Eat canned foods before their expiration date (best-by or sell-by date).
Continue reading:
Food Storage 101 | Date & Rotate
Food Storage Mistakes To Avoid