Canning Outside – The Best Hot Plate or Propane Burner
Canning outside with a propane burner. Why? Maybe because you don't want all that heat in the house because it's summer. What about a hot plate for canning (electric)… Why? Maybe for the same reason. Or, maybe you have a glass stove top (not recommended for caning) and you need a electric hot plate instead. But which one?
(I just updated this post to include the hot plate)
Naturally, your garden harvest will come during the summer – quite possibly when the weather is hot. Have you ever wondered if there is a way to avoid getting your kitchen and house from getting miserably HOT while canning?
Here's what I do… and this is the propane burner that I use for canning outside (if I need to). I'll show you the electric hot plate after that.
Canning Outside With A Propane Burner
Simple, right? Here are a few photos of my current setup for canning outside:
Camp Chef Explorer Series
(view on amzn)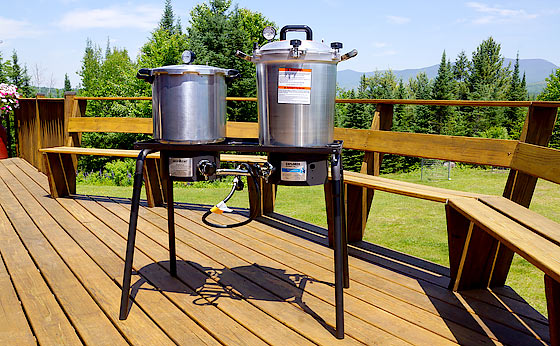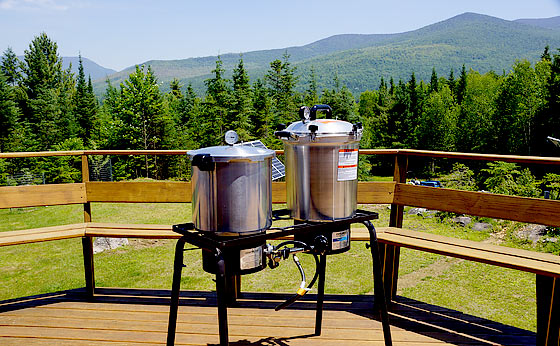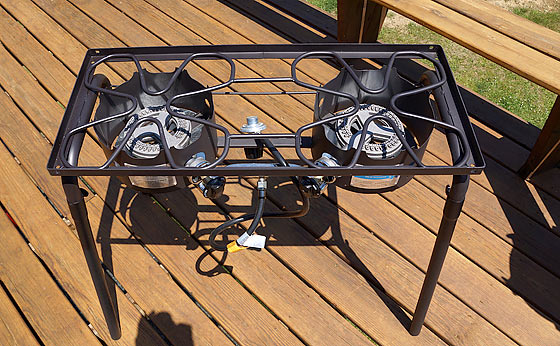 This outdoor propane stove has two burners, each capable of putting out 30,000 BTUs/Hr. That's some serious heat for cooking with big pots (canning outside)! It includes a 3 ft. hose and regulator.
It is portable with removable legs. It also has a windscreen on three sides, if you choose to use it.
"I canned nearly 300 jars ( water bath and pressure cooker) on this! I am thrilled to have made this purchase. I could walk away when water bathing but you have to stay right there for pressure canning- but you pretty much have to with an indoor stove anyway."

~ Marilyn
"I bought this specifically to use for using two large canners, and it surpassed my expectations! My two large water bath canners fit solidly on the burners with space between them, and the stove brought the water up to boiling very quickly. I even used it in the wind and rain with no problems. We will take the stove with us camping too, and it's going to be a permanent part of my canning paraphernalia for sure."

~ 'K'
Hot Plate For Canning
Again, you might want an electric hot plate for canning outside for the same reason. However some people use a hot plate because their stovetop is glass. Or, they want to do their canning on the counter next to the sink for convenience.
Regardless, you need to choose the right hot plate. Now, I don't have one of these because I do have a LP gas stovetop. However, I did the research for you. Here's what I would get, and why…
CUSIMAX Portable Single Burner 1500W
(view on amzn)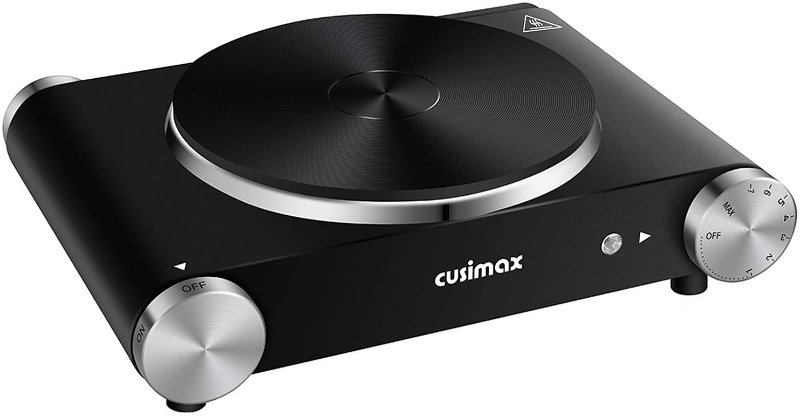 Why this one? Because it meets the following requirements:
The hot plate needs to be 1500 watts. Less than than that will take way too long, or simply will not be enough.
The controls need to be out of the way from a large pot setting on top of the hot plate.
It needs to have the best reviews by people who have used it for canning (inside or outside).
"I bought this to free up the stove and not have to worry about the glass top. This works quite fine. I can put it right next to the sink and fill my pot up without needing to lift it. Overall this is a win."

~ Valerie
"The product heats quickly and heat stays consistent so I can use large canners for canning vegetables. This arrangement keeps me from damaging my stove and from having steam from canning in my house."

~ Marie
[ Read: Can I Reuse Canning Lids? ]
[ Read: 12 Lifesaving Canning Rules ]