Dehydrated Banana Slices – How to Make and Store Them To Last
Dehydrated banana slices. Do you already have a dehydrator? Then don't miss out on this yummy treat. They're pretty simple to make. Here's how I do it, how I store them, and how long they may last.
Fresh bananas can go bad fairly quickly. But dehydrated bananas (banana slices) will last a comparatively long time. The problem is, you'll probably eat them all before they go bad! Tip: They're also good with cereal & milk. See below for how I store banana slices.
Bananas on sale? Looks like a perfect time to buy several bunches (which would ordinarily go bad pretty quickly). Dust off your food dehydrator because it's the perfect time to make dehydrated banana chips, so they will last longer.
Once the banana slices are finished dehydrating and stored in canning jars (more about that in a minute), they should generally last at least 1-year without issue.
How To Make Dehydrated Banana Slices
Slice the banana into thin (approximately 1/8 inch) slices, about the thickness of two quarters. Use a thin sharp knife or you can speed the process with a banana slicer.
The thickness of the slices only matter with relation to how long it will take to dehydrate them. Here's a quite helpful tool..
Best banana slicer with the most favorable reviews: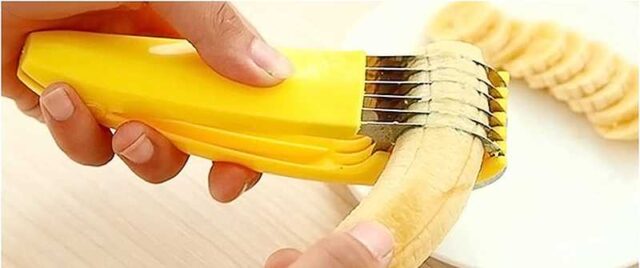 Treat Bananas First – To Prevent Discoloring
Pretreat the banana slices with a citric acid solution or lemon juice solution. This helps to keep them light-colored, reduces browning, and serves as an antimicrobial treatment.
Here's how to make a citric acid solution for your banana slice soak. Mix 1 teaspoon of citric acid (e.g. the current best one on amzn) into 1 quart (4 cups) of cold water.
Or, use a lemon juice solution which is made by mixing equal parts of lemon juice and cold water.
To pretreat the bananas, soak the slices in a bowl with the solution for about ten minutes. Then Remove and strain before filling your dehydrator trays.
"After you slice the bananas place a few at a time into water with lemon juice. Use a slotted plastic spoon to help drain the water mixture off the fruit before you start to lay it on your dryer sheets. Lemon juice mixture helps with the browning, also the stickiness of the banana."

input from a MSB reader
Set Dehydrator Temperature to 135 Degrees-F
Then place the slices on your dehydrator trays and set the temperature to 130 – 135 degrees-F.
I happen to have a Excalibur dehydrator. Bought it many years ago. Very nice unit. A less expensive but still quality dehydrator is the NESCO. I wrote about as follows..
[ Read: NESCO Snackmaster Pro FD-75A ]
Dehydrate Banana Slices Until Leathery
Dehydrate until leathery. Thicker slices will take longer. Sample them as you near the end of the dehydrating process to your liking. Some may enjoy them harder or crispier. Simply dehydrate longer. But be sure to at least get them to a leathery texture so they last longer.
Tip: Start fairly early in the morning so you don't run out of dehydrating time (just in case it takes longer).
The actual time to dehydrate depends on how moist the food is, the thickness of the pieces, the humidity in the air around you, and the temperature setting of the dehydrator.
For banana slices, I found that it takes me between 6 – 10 hours with our Excalibur food dehydrator depending on the conditions mentioned above.
How To Store Dehydrated Bananas So They Last Long Time
We like to store many of our dehydrated foods in canning jars. The lid keeps the air out, and the glass is perfect for quickly identifying what's inside, and providing impervious seal.
For long term storage, use canning lids with a vacuum sealer machine Jar Sealer Attachment Accessory. Just use a regular or wide mouth canning lid (depending on your jar) and let the sealer attachment do the work.
You just need to have a vacuum sealer machine that has an external hose port.
Jar Sealer Accessory Kit
(view on amzn)
For day-to-day access, we use plastic canning jar lids for convenient access. Here's what I mean…
8 Wide, 8 Regular mouth plastic lids
(amzn)
[ Read: Dehydrated Onions | How to Dehydrate and Store Them ]
The Ultimate Dehydrator Cookbook
Spiral Bound Copy
(Tammy Gangloff)