Cacao Powder – A Mayan Super Food Packed With Antioxidants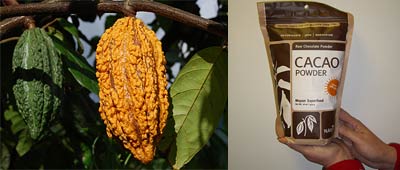 I just made a cacao powder blended smoothie (I threw in a banana too). For the sake of modern survival I thought that I would share with you a 'not-so-well-known' ingredient, high in antioxidants, that we have in our pantry:
Pure organic Cacao Powder.
We have been enjoying it's antioxidant value for a number of years. For those of you who don't know, organic cacao is considered a Mayan 'super food'.
In ancient Mayan culture cacao was revered as the drink of the gods. Only the elite of Mayan society could afford to drink it as the seeds were used as currency. Only rich people can afford to drink their money. Colonists discovered the cacao drink and brought it back to Europe where it became a fashionable drink among the high society. In the present cacao is sold worldwide as the main ingredient in chocolate and hot cocoa powder, but the Mayan still prepare it and drink it the way their ancestors used to.
We began using organic cacao powder for the benefit of the antioxidants that it contains, which is #10 on my Top 100 list:
Top 100 High ORAC Value Antioxidant Foods
Difference between Cacao Powder and Cocoa
The Cacao Tree (Theobroma cacao) produces pods (the fruit) about the size of a football. Its seeds (cocoa beans), are used to make cocoa powder and chocolate.
What's the difference between cacao (pronounced "cah-cow") and the cocoa powder that I can buy in the grocery store?
Cacao is 'cold' processed and is a raw organic product that has more (apparently much more) antioxidant value and nutrients than Cocoa (which is heat processed).
Cocoa is always heat processed (which evidently destroys antioxidants).

This is what Navitas Naturals has to say about their Cacao Powder, which is the brand that we purchase:
Navitas Naturals cacao beans are hand-selected for quality, partially fermented to alleviate bitterness, and processed at low temperatures for maximum nutrient retention. Once extracted from the pod-like fruit, purified water is used to cleanse the beans. The whole beans are peeled and cold-pressed to form a paste, the bean's oil is extracted, and our nutrient-dense cacao powder is formed. Navitas Naturals Cacao Powder contains 100% pure cacao powder that is certified organic, kosher, gluten-free, vegan, and raw.
Cacao Powder Antioxidants
Cacao powder is high in polyphenols, catechins, epicatechins and flavanoids.
Because of it's high antioxidant power we sometimes use this Cacao Powder to make healthy and delicious smoothies along with other healthy ingredients.
Cacao Banana Smoothie
My favorite simple banana cacao smoothie recipe, which gets it's 'sweet' from the banana:
1 cup 2% milk
1 banana
3 tablespoons cacao powder
mix in blender about 1 minute to whip it up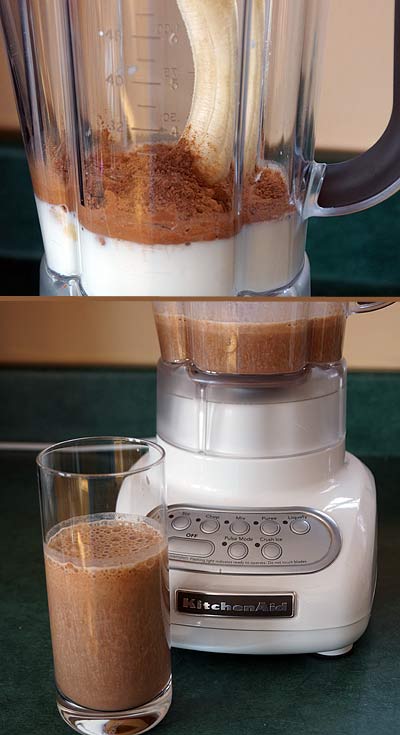 Note that cacao powder is not real sweet like 'sweetened chocolate'. It also doesn't dissolve readily like other processed chocolate / cocoa powders. However a blender and other ingredients will assist in formulating your own unique palatable blend!
Certified Organic Mayan SuperFood – Cacao
It makes a good (apparently healthy) alternative to processed sweet chocolate.
Related article:
10 Powerful Spices For Your Health