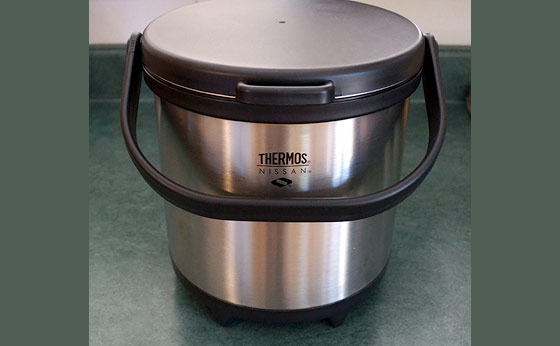 Cooking requires fuel, and fuel consumption depends upon efficiency of the cooker (and what you're cooking, and how you're cooking it). Awhile ago I acquired a relatively small thermal cooker (an ordinary but well insulated thermos) which I've used for slow cooking rice and other such things. Given the success I've had with it, I decided to go big – and bought a purpose-designed bigger thermal cooker, and I have been very impressed by its ability to require very little fuel compared to traditional methods of cooking a pot full of 'stew' on the stove.


The principle of a thermal cooker is simple. Heat the food mixture (e.g. a stew) up to a boil, remove from heat and allow the insulated thermal cooker to do its job – to hold in the heat for hours and hours on end while the stew slowly cooks (without any further fuel requirements).
It's similar to how an ordinary crock-pot slow cooker works except without the electricity. In its place is a well insulated barrier to keep the existing heat 'in'.
While this may seem inconvenient (slow cooking) in a modern world of conveniences (plenty of fuel, electricity, microwave ovens, etc..), with regards to preparedness for breakdowns of these systems (fuel scarcity or availability, electricity, etc..) then alternative methods of cooking – especially those which require less fuel – is a practical consideration…
A thermal cooker is one such alternative.
When I posted about "How To Cook Rice With 80 Percent Less Fuel!", I was excited to take it to the next level. The 48-ounce wide mouth thermos worked very well and is a good way to slow cook a relatively small portion for one person. However if you're looking to feed several people, this wasn't going to be enough. This is where the 4 3/4 quart 'Thermos' thermal cooker shows its value.
What I really like about it is the stainless steel pot. It is a standalone pot (with cover) which you sit on the stove (or a fire or whatever heat source is available). Once you've heated the ingredients to an initial boil, simply remove the pot from the burner and set it in the insulated thermal cooker. Close the lid, and you're done. It's just a matter of planning ahead for cooking your meal.
Recently Mrs.J used it to cook a pound of Garbanzo beans (for a tasty humus recipe) and I've captured a few photos.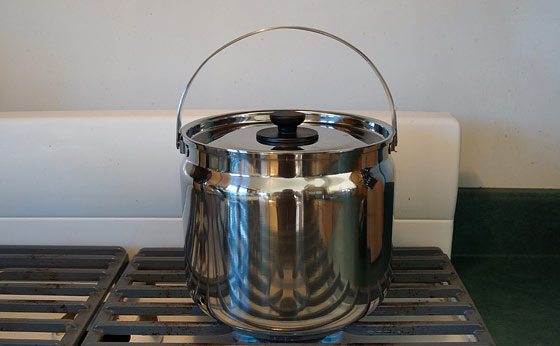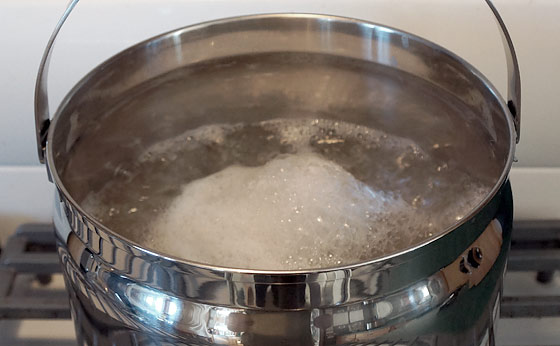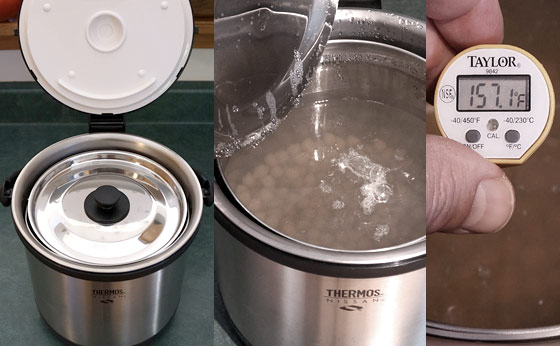 As you can see, the temperature of the mixture was still 157-degrees even after 6 hours of slow cooking. Very impressive.
The 'secret' to a successful thermal cooker is its insulation. This particular Thermos brand apparently uses dual double-walled vacuum walls to keep in the heat. While buying a purpose made thermal cooker can be expensive ("you get what you pay for"), with enough ingenuity you could devise your own slow cooker by using a conventional pot placed into a insulated 'box' or a box in a box with insulation between, etc.. While the thermal efficiency won't be as good compared to a professionally designed product, it could still work 'good enough' 😉
That said, for your interest I thought I would share the concept.
Thermos Vacuum Insulation Cooker
UPDATE: A very popular, highly rated & reviewed thermal cooker,
Tiger Corporation Non-Electric Thermal Slow Cooker