Essential Hand Tools Without Electricity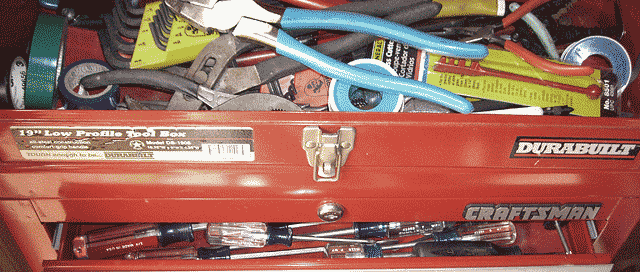 Lets talk tools. Nearly everyone who is handy, or able to fix things, already has their own supply of various tools to get the job done. There are tools for every trade, many of them specialized for a particular task while others are general purpose. Many tools require power to operate – be it your typical AC wall outlet or today's more common 'cordless' tools with built-in battery packs. Bear in mind that you might at one point need to get the job done without electricity…
When considering the adequacy of one's tool kit with regards to general preparedness or even grid-down preparedness, having a good cross-section of capabilities would be preferable.
A cross-section of hand-powered tools and cordless tools (with the ability to charge them).
Cutting, drilling, nailing, screwing, gripping and twisting. These are few that come to mind.
Here are a few examples to get your wheels turning…
Saws
A selection of hand saws for various purposes. Some are designed to cut through tree limbs while others are designed for cutting traditional framing lumber, plywood, etc., while still others are designed for cutting through metal or plastics.
Bow Saw for cutting through tree limbs. Don't forget to keep an extra blade or two.
Hand Saw like this one for cutting through nearly any wood.
Carpentry Saw for speedy slicing through any wood.
Hack Saw to cut through metals and plastics. Again, don't forget extra blades.
Chain Saw for clearing downed trees, cutting logs, etc..
Drills
Hammers
A traditional hammer as well as a sledge hammer will serve their purpose.
16 ounce Claw Hammer will get the job done for most situations.
3 pound sledge hammer is small enough, yet heavy enough for most jobs.
Screwdrivers
Screwdriver Set is an essential. Be sure to get 'hardened'.
Precision screwdriver set is perfect for very small applications.
Gripping and Twisting
99 Piece Stanley Socket Set should get you through most circumstances.
Pipe Wrench One to grip the piece and the other to twist the mating connection.

Additional thoughts…
Metal File set to keep your tools sharp
Vice grips
Box cutter, knife
Hex key wrench set
Combination wrench set
Needle nose pliers
Torx wrench set
Include metric choices in all sets…
I could go on and on and on… ;)
As you know, there are a zillion different tools out there. The point here is to just think about having an adequate tool kit. Many of us already do, but some might need to beef it up a bit… Do you have the tools that you need?