Lessons Learned From Missing Snowmobiler Found Alive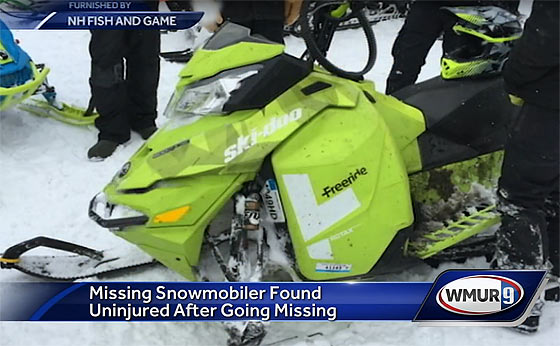 Yesterday a missing snowmobiler was found just across the border of northern New Hampshire into Maine after having gone missing the day before. He was lucky to have been found alive after a cold wintry day and night in the deep woods of this rugged and unforgiving region.
I highlight this incident to use as 'lessons learned', to discuss what he could have done or should have done to avoid the situation and how he could have been better prepared.


From WMUR, "Our biggest fear in going out and finding him was that we were going to find a guy that didn't make it through the night," said Stanley Dudka, who found the missing rider.
It had been half a day since anyone had heard from or seen 24-year-old Josh Bessette, who was due to meet up with friends Saturday afternoon after a day of snowmobiling.
Fish and Game officers along with Bessette's friends searched through the wilderness into the night, eventually spotting a single track they thought might be Bessette's until conditions proved to be too tough.
After several hours searching the next morning, he was found across the border into Maine.
His sled was spotted sticking up out of the snow and reportedly "His lips were turning a little bit blue. He was shivering. We knew the night had been cold and snowy and windy."
Bessette had kept himself warm all night by taking the cover off the engine and running his sled all night long.

How could he have avoided getting lost / stuck in the snow with no one around?
The first lesson in survival is avoidance. Avoiding the dangerous circumstances when possible. In the case of this snowmobiler, he clearly rode off the trail and into the unknown. While veering off into the unblazed wilderness may have been adventurous and exciting, he was apparently ill-equipped to do it – seemingly not having had the essential survival kit or other appropriate gear to assist in such travels.
Same thing goes for hiking in general. You could literally be taking life into your own hands if you venture off the path without the skills and 'tools' to successfully do it. It is VERY EASY to get disoriented or even hurt or stuck in the woods, and it's not very smart to go there without having prior knowledge of the area or having the know-how and 'kit' to assist you.

What should he have had with him?
While I am drawing conclusions based on the reported circumstances, I presume that he was innapropriately equipped to go off trail (not to mention that it's illegal to do so in NH unless on your own property or other property with permission, given the 1,000+ miles of available groomed snowmobile trails).
At least a minimal survival kit should have been carried. The minimal list of items that I would have suggested include,
-Flashlight
-Fire (lighter, matches, firesteel, magnesium firestarter, etc..)
-Knife
-Water
-Food bars (calorie-dense)
-Cell phone and/or 2-way radio
-Whistle
-Regional topographical map w/compass and/or handheld GPS
-Trail map (widely available here)
-Mylar emergency blanket
He was smart enough to have survived the cold night by running the snowmobile engine all night. Presumably he laid on top or somehow managed to reap the benefit of the engine's heat.
Why didn't he start a fire? I don't know, but I surmise that he had no resources to start one or maybe didn't know how to start one successfully. There is an abundance of wood in these forests and he easily could have built a roaring fire and fed it all night – so long as there is a means to make a spark and the knowledge how to build a fire.
Although the snowmobiler was off into the wilderness, it was unclear in the report whether or not he was actually lost or if he had become stuck. Even if he did have a GPS and was navigating towards some waypoint, if you don't tell anyone where you're going or don't have the means of communication, you are quite literally taking your life into your own hands…

Any other suggestions or things he could have or should have done?