Quick Connect Generator External Fuel Tank For Extended Run Time
The concept of a generator external fuel tank – adapting remote fuel tanks to generators – struck home with me while dealing with a portable Coleman generator, which had a 5 gallon built in tank.
Guest article by 'Bogan'
To keep it fresh, I had to drain the durn tank from time to time and use the drainage in beater lawn mowers.
Until one day the light bulb turned on!
What if I could use my boat gas tank(s) as the fuel source for my generator?
– For the last 50 some years I have been a boater, with outboard motors that had a remote tank.
That way I need not fill the built-in tank with gas that would, no doubt, grow stale.
Then Hurricanes Francis and Jeanne hit in Florida in the early to mid-2000's. We were without reliable power from Florida Power and Light (the utility), and had to generate power 7/24.
One problem was limited fuel reservoir in the generator. Another problem was you had to let the generator cool down before refueling, and even then there was spilled gas and the potential for explosion. Lots of danger.
Sooooooo. What if we were to rig up the generator the same way we rig a boat motor: when we want to run it, just connect the remote tank and go! And when it came to refuel, just plug a new tank in? Taa daa! Enter boat fuel tanks!
Fuel Quick Connect for Generator External Fuel Tank
The first thing was to set up a quick connect in the generator. My fuel tanks are for the OMC outboards (Johnson/Evinrude, yeah I'm "older"!)
They are called "OMC quick connect".
(view on amzn)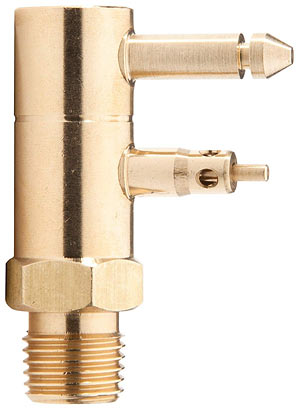 With this rigged up I can simply clip in a new tank whenever needed!
If you would like to go this route, here's an external tank, hose, and connectors:
(view on amzn)
Attwood Portable Marine Boat Fuel Tank, EPA-Certified – 6-Gallon
Attwood Universal Fuel Line Assembly Kit with Tank Fitting
Johnson/Evinrude/OMC Fuel Hose Fitting by Attwood
If you want to go with even a bigger tank, that will give you more running hours: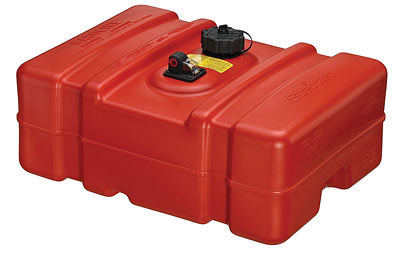 Attwood 12 Gallon Low Profile Fuel Tank
You can also save some money by buying used outboard motor tanks at yard-sales, Craigslist, etc.
External Fuel Connection to the Generator
One key issue will be the connection between the hose coming off the external tank, and the hose leading from the built in tank of the generator to the carburetor. To solve this riddle, here are a few options:
Option 1 – Purpose built external fuel tank for your generator
Simply buy something purpose built for your brand of generator that flows the gas from an external tank. This one connects to a generator (e.g. the Honda) through a special fuel tank cap and into the internal tank of the generator.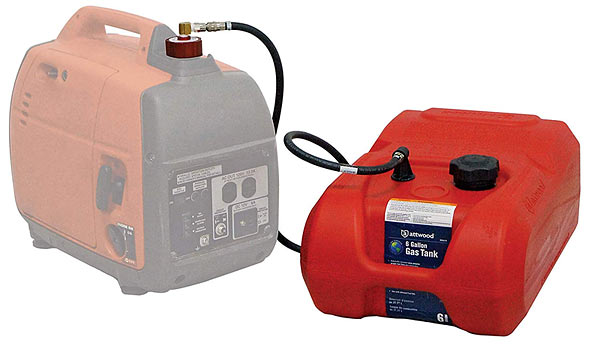 An example of a fully made up kit for a Honda generator (and a number of other models) is:
Extended Run Generator System
(amzn)
The key component for a system like this is the cap leading to the internal tank, this one with a hose barb: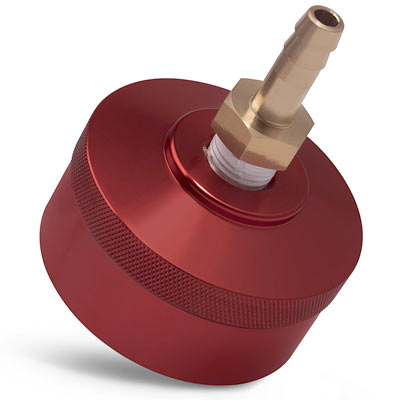 Extended Run Fuel Gas Cap
(amzn)
This particular one does not have a quick disconnect feature but given the cap screws on and off quickly, it may not be necessary.
Option 2 – Direct to Carburetor connection
Fully drain and disconnect internal tank, and connect remote tank directly to intake hose to the carburetor.
There are two basic kinds of fittings: "hose barb" and "quick connect". The hose barb is more permanent. The quick connect is…as its name suggests.
Hose Barb
For a simple "hose barb" connector, consider something that looks like this: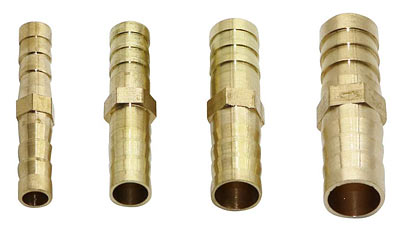 Barbed Straight Connector Brass Fittings
It will need to be kept in place by a hose clamp, or stout zip tie.
One issue may be differing hose sizes between what's on your generator and what's on your boat tank.
It will be common that the hose leading to the generator's carburetor has 1/4″ I.D. inside diameter. The hose leading from the boat tank has a 3/8" or 5/16" I.D.
In this case get a variant that "steps down" the hose size or is a "reducer fitting". This is hard to find, but Amazon is your friend and the big box hardware stores also have walls lined with options.
BTW, always get brass, not plastic, for the toll the chemicals in the gasoline take on plastic.
In all cases the hose should fit quite tightly on side of the barb or dangerous leaks (enhanced by the vibrating motor) may result, creating a hazard.
Quick Connect
For "quick connect" style you'll need to mate your quick connect female fitting on the tank to a compatible male fitting on the motor.
I'm an OMC (Johnson and Evinrude) guy, so the connector at the end of the hose coming off my tank looks like this: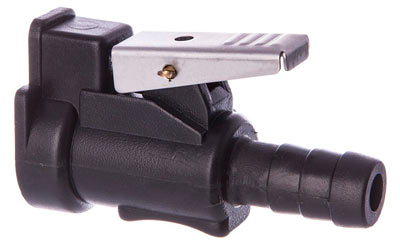 5/16 inches Barb Female Fuel Line Quick Connector
It will connect to a fitting that looks like this:
Quick-Connect Tank Fitting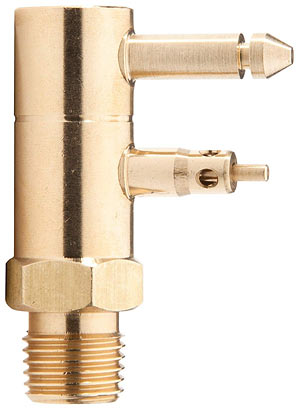 However, note that it has a threaded fitting. To this one would attach something that looks like this female adapter barbed fitting: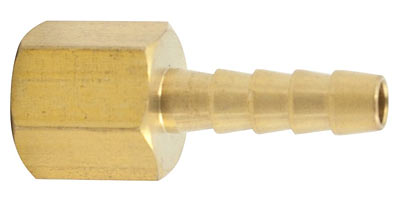 Brass Hose Barb Fitting, Female Adapter
– making sure the barb size matches your carburetor intake hose.
Note that when the connectors are disconnected from each other, they are designed to self-close, limiting spills.
Other outboard manufactures (Mercury, Yamaha, Honda, Tohatsu, etc.) have different connector styles and sizes. The principle is the same though: just depress some sort of a lever and pull the fitting apart!
Option 3 – Tap Into Fuel Line Of Internal Tank
This option involves tapping into the line between your internal tank and the carburetor, and making it possible to continue to use the internal tank but also attach a quick connect-equipped boat tank.
For this you need a hose splicer such as this: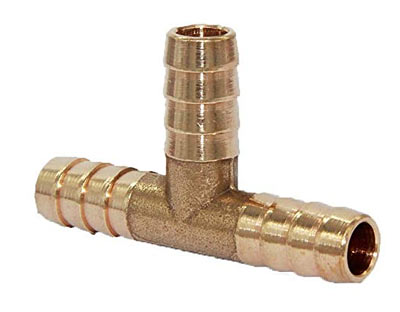 3 Way Union Fitting
BTW if your in-line hose is ¼ inch, then the 6mm fitting is your huckleberry.
To the flange that points to your boat tank connection, add a short length of hose and then the "quick connect" set up outlined above. I like to make the connecting hose long enough to zip tie it to the frame of my generator.
A note about the hose leading out of the gas tank: you can buy hose of pretty much any length you want. Plenty of good reasons for this: safety, to gain elevation for the tank, convenience of storage, etc.
BUT if the hose has a 5/16" or 3/8" inside diameter and gets much over 15 feet long, you may want to step DOWN the hose size to ¼". I learned this the hard way when rigging a boat with a gas tank way in the front and used a long hose. The motor would starve for fuel because the fuel pump was working overtime pulling fuel all that distance. The situation cleared up when I downsized the hose to a smaller volume.
Another note on quick connectors. I have heard (but not tried out) that air compressor fittings can be used for the quick disconnects. This sounds dangerous to me, as it would not be an intended use for the design, but my fears could be misplaced. I would appreciate anyone with firsthand experience on this to share their knowledge.
Hope this helps! It is illustrative only! YMMV. REMEMBER YOU ARE DEALING WITH DANGEROUS, FLAMMABLE AND EXPLOSIVE SUBSTANCES, AND SHOULD BE EXTREMELY CAREFUL AT ALL TIMES.
ANY COMMENTS APPRECIATED!
[ Read: Fuel Treatment for Generators ]