Characteristic Traits Of The Survivalist – Prepper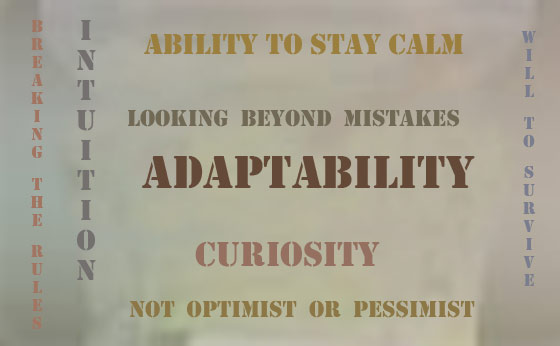 Traits – Characteristics – Attributes
The survivalist is not your average 'Joe' (sorry Joe). There are many characteristic traits of the preparedness-minded survivalist / prepper which work together to embody the overall package of who they (we) are.
It seems to me that some traits are learned while others come natural.
The following list of characteristic traits I believe to be partially or largely common among the personality and character of the survivalist prepper:
ADAPTABILITY
The ability to adapt to a situation is easier said than done. It is perhaps the #1 survival trait to a desired outcome under difficult circumstances. Being able to improvise not only requires practical experience and knowledge of many things and situations, it also works best with a mindset of openness – not being restricted by fear or normalcy bias.
CURIOSITY
A natural curiosity of how things work or why things are the way they are, facilitates more adaptability. Simply accepting something does not necessarily lead to knowledge, understanding, and workings of that something.
NOT AN OPTIMIST OR A PESSIMIST
A good blend of both optimism and pessimism lends the ability to see the negative of a situation without the debilitating side-effects of negativity or excessive pessimism. Too much of one or the other upsets the balance of clear thinking.
ABILITY TO STAY CALM
Staying or regaining calm enables critical and clear thinking whereas high emotions may cloud judgement and good decision-making. Being able to function in a effective capacity during an adrenaline dump is not easy. Some have never experienced this – but if and when you do, you'll understand the issue.
LOOKING BEYOND MISTAKES
The ability to move on after a mistake or failure while not wasting time or getting bogged down in what is now the past. Move forward. Look to the future.
INTUITION
The power of intuition – 'knowing' without knowing why – is a powerful survivor trait. Gut instincts not only come from experience, but there's some 'magic' going on too… a unique combination of our senses.
BREAKING THE RULES
Thinking outside the box. Questioning, bending, or breaking the rules when necessary. Most people simply accept the yokes and chains which are placed upon them while a few others do not necessarily accept this under all circumstances.
WILL TO SURVIVE
It takes a strong will to survive when the going gets extremely tough. Some give up while others press on.
RESOLVE
I will do it! The mission will be accomplished.
ABILITY TO MAKE DECISIONS
Most people seem to have general difficulty making decisions, especially under difficult circumstances. The ability to make decisions (especially good ones) is an attribute. Keep things moving forward.
FORESIGHT
Insight, anticipation, and foresight comes from a combination of knowledge, experience, and situational awareness.
PLAN AHEAD
The ability to plan ahead, stay organized and work towards a goal.

Care to add a few more?