Learn What Is Gaslighting And How To Recognize It
First you must understand the concept of gaslighting. Then learn to spot it. Then you realize it's all around you. Maybe you've heard the word being used, but wonder what is gaslighting? I believe that it's so important to know and recognize these days, because…
We Are Living In A Perpetual State Of Gaslighting
I read that headline and said to myself, isn't that the truth! It's so obvious to me, since I know what gaslighting is, and recognize the extent at which it's being used. However maybe others don't know what the term means, where it came from, and that it's being applied as a sort of mass psychosis today. I found a good explanation of gaslighting and would like to share it with you.
What Is Gaslighting?
The term originates in the systematic manipulation of a victim by her husband in Patrick Hamilton's 1938 stage play Gas Light, and the film adaptations released in 1940 and 1944. In the story, the husband attempts to convince his wife and others that she is insane by manipulating small elements of their environment and insisting that she is mistaken, remembering things incorrectly, or delusional when she points out these changes. The play's title alludes to how the abusive husband slowly dims the gas lights in their home, while pretending nothing has changed, in an effort to make his wife doubt her own perceptions. The wife repeatedly asks her husband to confirm her perceptions about the dimming lights, but in defiance of reality, he keeps insisting that the lights are the same, and instead it is she who is going insane!

~ unknown original source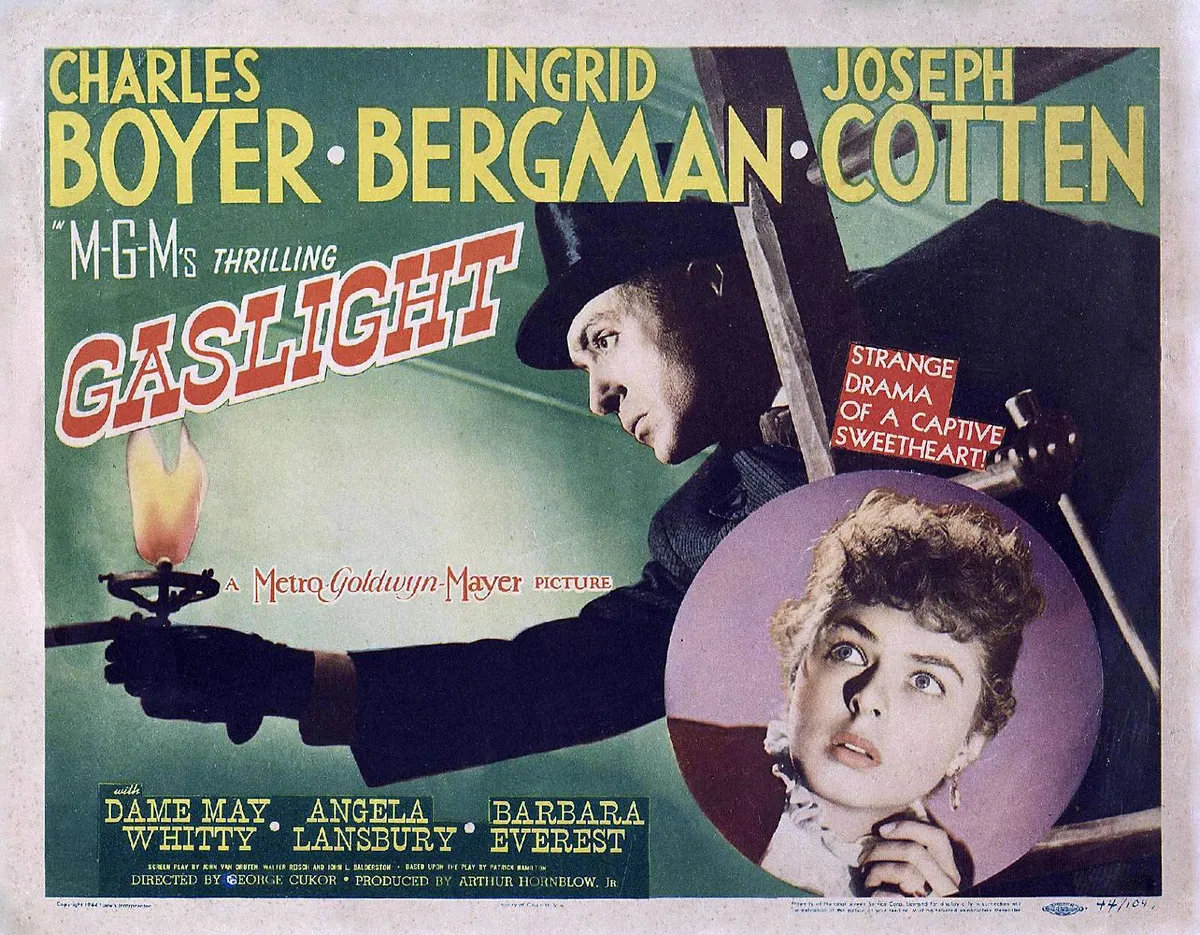 Why It's Important To Know What Gaslighting Is
Because we are living in a perpetual state of gaslighting. It's being used to brainwash the people. And most do not recognize it. Unfortunately that group is quite large, and the technique is quite successful. It is an extremely powerful psychological tool being used to influence one's perception of reality.
As someone who recognizes gaslighting, I see it predominantly used by the political left, their mainstream media, and their many influencers.
Someone recently put it his way… "The reality that we are being told by the mainstream media is often at complete odds with what we are seeing with our own two eyes. And when we question the false reality that we are being presented, or we claim that what we see is that actual reality, we are vilified [and ridiculed, silenced, de-platformed, shunned, called racists, conspiracy theorist, or just plain nuts]." The thing is, you're not any of those. Rather, you're being gaslighted.
"Being called a conspiracy theorist is perhaps one of the greatest tools in their arsenal for gaslighting the public. Any skepticism that goes against the establishment is deemed conspiracy theory, and they use their corporate media empires to label all dissent against them."
Gaslighting has become one of the most pervasive and destructive tactics in American politics. It is the exact opposite of what our political system was meant to be. It deals in lies and psychological coercion, and not the truth and intellectual discourse. If you ever ask yourself if you're 'nuts', you are not. Those people aren't sane enough to ask themselves if they're nuts. So, trust yourself, believe what's in your heart. Trust your eyes over what you are told. Never listen to the people who tell you that you are nuts, because you are not, you're being gaslighted.

~ commenter
Sophocles said: "What people believe prevails over the truth." And that's what the media are trying to exploit.
I've also heard it said to be a method of "manufacturing consent." And yes, that's exactly what it's being used for.
Hopefully you are smart enough to understand what is being done to you on a daily basis from many directions. Just think through what you are being told. Don't listen with a deaf ear, or see with a blind eye. Question everything — even things from people who you think you can trust. Question why you are being told whatever, by whoever. Question their motives. Question who benefits. Question if there is a hidden agenda behind the propaganda. Question, Question, Question. Then do your own research, and use some of your own critical thinking skills to get to the truth. Listen with your heart and with your mind. Sadly, 95% of the masses don't even know that they are being gaslighted.

~ Abigail
It is so very important. That is, to recognize gaslighting when you see it or hear it. Critical thinking. Questioning. Using your head, so to speak, instead of blindly accepting what you're being told by 'officials', politicians, the media. Become an independent thinker. Listen to your gut. Recognize propaganda for what it is. All of this will make for a better YOU.