The 20 Mega Corporations Who Are Controlling And Shaping You
While we are all born with minds of mush… a blank slate… over our lifetimes we are controlled and shaped by many things. These 20 mega corporations currently have a great influence on the lives of Americans and 'who' they end up becoming.
Here is who they are, and their chairman, president, and/or CEO…
These Ten mega corporations and their interwoven supply chains control the output of almost everything you buy.
KRAFT (John Cahill, Tony Vernon)
COCA COLA (Muhtar Kent)
PEPSICO (Indra Nooyi)
GENERAL MILLS (Kendall Powell)
KELLOG'S (James Jenness, John Bryant)
MARS (Steven Badger, Paul Michaels)
UNILEVER (Michael Treschchow, Paul Polman)
JOHNSON & JOHNSON (William Weldon, Alex Gorsky)
P&G (A.G. Lafley)
NESTLE (Peter Brabeck-Letmathe, Paul Bulcke)
90% of the media is now controlled by just six companies, down from 50 in 1983. Nearly everything you think you know about the news (and your entertainment) is shaped from these six mega media companies.
GE (Jeffrey Immelt)
NEWSCORP (Rupert Murdoch, Chase Carey)
DISNEY (Bob Iger)
VIACOM (Sumner Redstone, Philippe Dauman)
TIME WARNER (Jeffrey Bewkes)
CBS (Leslie Moonves)
37 top banks have merged to become these four mega banks in a little over two decades, while the nation's 10 largest financial institutions hold 54% of our total financial assets.

JPMORGAN CHASE (Jamie Dimon)
BANK OF AMERICA (Charles Holliday, Brian Moynihan)
CITIGROUP (Michael O'Neill, Michael Corbat)
WELLS FARGO (John Stumpf)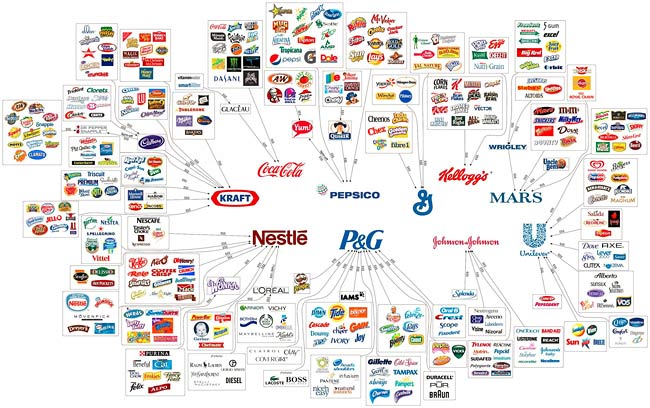 original infographic image source: unknown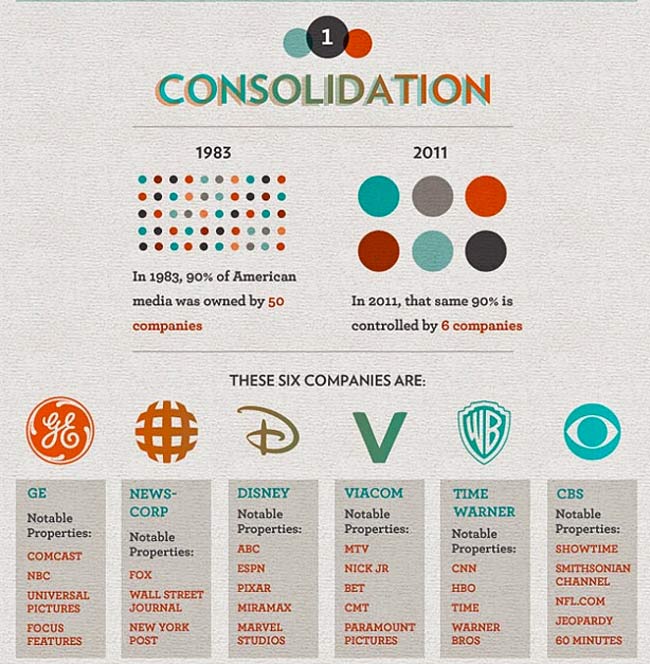 original infographic image source: unknown

Although I am not anti-capitalist, I have always been of the opinion that it would be much healthier (for a nation) to prevent giant mega corporations from becoming who they are… too large and powerful — which enables them to become monopolistic and too controlling of our lives, with influence over our politicians who 'really' represent big money more than they represent us as individuals.
There is (in my opinion) much systemic risk when too few control the distribution channels and products (of whatever) which too many are literally dependent upon.
Billions of us are controlled and influenced by so few…
There is seemingly little that we can do about it at this point, given that our political system in general has become corrupt at all levels right to the top. We've allowed it to happen right under our noses. In any event, I thought you would be curious to know the top-20 mega corps who are influencing you whether you realize it or not…