Health Benefits Of Drinking Tea
Many studies indicate that there are some health benefits of drinking tea. Especially those specific teas that may boost your immune system, fight off inflammation, and even ward off cancer and heart disease.
Keep reading to find out which one may be best… And, another newcomer apparently even better?
Studies have found that some teas may help with cancer, heart disease, and diabetes; encourage weight loss; lower cholesterol; and bring about mental alertness. Tea also appears to have antimicrobial qualities.
Additional research found even more health benefits of green tea. It has a possible beneficial impact on liver, breast, prostate and colorectal cancers, as well as other benefits. This tea variety has also shown to be anti-inflammatory.
While some teas provide more health advantages than others, there's plenty of evidence that regularly drinking tea can have a lasting impact on your health and wellness.
I drink a cup of green tea every mid-morning.
The Health Benefits Of Green Tea
Tea contains a specific kind of flavonoid called polyphenol, one of the most potent antioxidants. Green tea has a high concentration of EGCG – which is a polyphenol under basic research for its potential to affect human health and disease. It has been widely studied.
It is found in high content in the dried leaves of green tea (7380 mg per 100 g).
The health benefits of green tea's antioxidants may interfere with the growth of bladder, breast, lung, stomach, pancreatic, and colorectal cancers; prevent clogging of the arteries, burn fat, counteract oxidative stress on the brain, reduce risk of neurological disorders like Alzheimer's and Parkinson's diseases, reduce risk of stroke, and improve cholesterol levels.
Here's how I look at it… Tea consumption, especially green tea, may not be a magic bullet, but it can be incorporated in an overall healthy diet. Another health benefit of drinking tea, any type of tea, is it has no calories, no sodium, no sugar and no fat. This makes it a great drink for those watching their weight or trying to lose weight.
Many studies and research show the many probable health benefits of green tea. So I figure, why not drink a cup everyday?
This is what I buy, 240 bags at a time…
 Bigelow Classic, 40-Count Boxes (Pack of 6)
(amzn)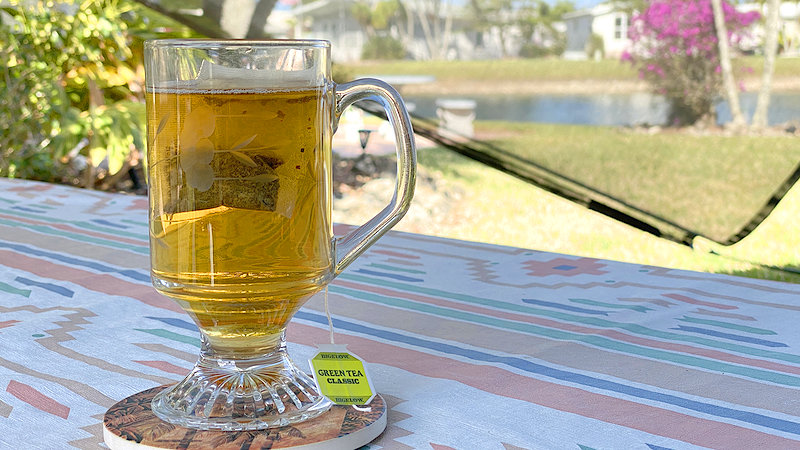 Matcha Tea
Supercharged green tea?
In recent years, matcha – a form of green tea – has grown in popularity.
Matcha is a very fine high-quality powdered green tea from the Uji region of Japan. It is made from the entire leaves of tea bushes grown in the shade.
The grinding process of the whole leaves gives the tea a lot of flavor and texture and much more caffeine than a typical cup of steeped tea.
Since it is the only form of tea in which the (powdered) leaves are ingested, matcha contains even more antioxidants that regular green tea. In fact, some have suggested that one cup of matcha is the equivalent to 10 cups of regular green tea.
Bigelow /with Turmeric, 18 Count (Pack of 6), 108 Tea Bags Total
(Matcha tea bags at Bigelow storefront)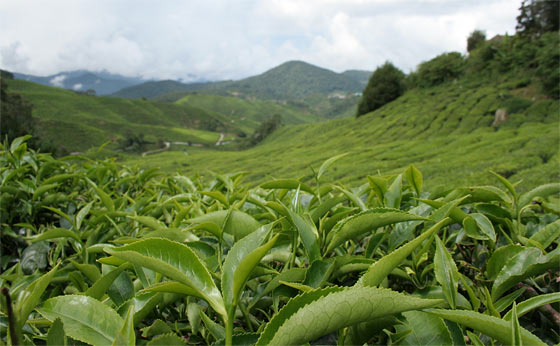 Camellia sinensis (tea) shrub-plant
The tea shrub (Camellia sinensis) grows 4-6 feet, and can be grown outside in zones 7-9.
Green tea is so good for you that it's even got some researchers raving.

"It's the healthiest thing I can think of to drink," says Christopher Ochner, PhD. He's a research scientist in nutrition at the Icahn School of Medicine at Mount Sinai Hospital.

~ WebMD
[ Read: Breakthrough: A Cup of Cocoa A Day Helps Keep Memory Loss Away ]
[ Read: 8 NUTS Low In Carbs For Keto Diet ]