8 Lessons Learned From The Great Depression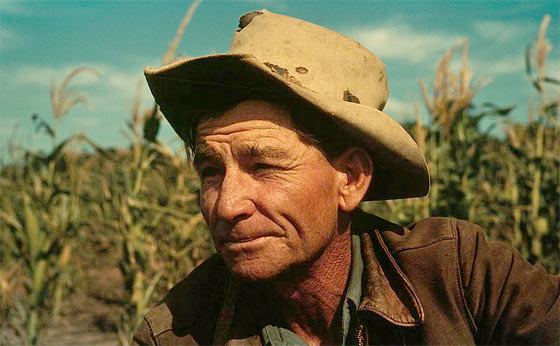 (image: United Sates Farm Security Administration)
The Great Depression of the late 1920s and 1930s was a reflection of high unemployment, staggering debt, and a collapsed stock market. The hardship that resulted has not been experienced by Americans since. Those at the time somehow lived through it, and will tell you lessons learned, including the following…
USE WHAT YOU'VE GOT
Find resources in unlikely places. Do not throw anything away. Find uses for things that otherwise would have been unnoticed. Pool your resources. Be practical about everything. Use space and resources wisely. Live and survive with less. Find multiple uses.
GROW YOUR OWN
Generate your own food in gardens to supplement your diet. Consider unlikely places for a garden like rooftops and vacant lots. Learn to preserve your harvest.
CASH, NOT DEBT
Debt is a dirty word. Don't dig yourself deeper in debt by using credit. Pay with currency that you have, and don't borrow.
MOVE IF YOU HAVE TO
Many people moved to where there were better chances for work during the Great Depression. Any work. Some places will have higher unemployment than others. Some places will be safer than others. And some locations are better suited for living a self-reliant lifestyle.
KNOW A DEAL WHEN YOU SEE IT
Cut spending by looking for deals. Buy only what you need and spend wisely. Learn to repair what you have instead of buying new. Recycle it for another purpose. Save it.
ADAPT AND DIVERSIFY
You may have to change your business or your job. Learn skills that are more in demand for employment and those which can help you survive. Become flexible. Learn practical skills. Those which provide.
BAND TOGETHER
Communities that band together help each-other. There is power in numbers. Stick together for financial support, emotional support, better security and better production.
DESPAIR NOT
Try not to worry. It will get better. Somehow.
"Tomorrow I could lose everything, but somehow I'm not afraid. I really am not."
 
The Untold Story of Those Who Survived the Great American Dust Bowl
The Great Depression; Then & Now
I originally published this article during 2013. It was later re-posted in 2017. Today (2020) I'm publishing it yet again. Why? Because it may soon be relevant.
Our modern generations have lost so much of the sensibility, practicality, frugality, and "know-how" that so many people had back then… self-reliance, practical skills, civility, respect for others, morality. They had to depend on themselves to a large extent (self reliant) and few had a "lifeline" to .gov for handouts.
Could the conditions of a Great Depression ever happen again? Tens of millions are unemployed, right now, given the government shutdown orders of businesses due to Covid-19 fears. Horrible chain reactions are setting up right now in supply chains, and many people's finances. The fan is spinning and something very brown is beginning to hit it…
A recent comment on the blog reads, "A well fed man may have many problems, a starving man only has one." Don't let that be you. Learn from the past. Be preemptive and secure your food supply and skill sets before the next, Greater Depression.
People might take interest in discovering how people survived back during the Great Depression. It may become relevant.
Your further comments are welcomed:
[ Read: Survival Skills Of The Great Depression | What About The Next One? ]
[ Read: Practical Skills That People Once Knew ]