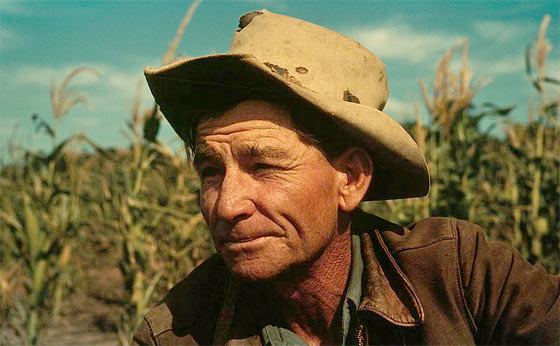 (image: United Sates Farm Security Administration)
The Great Depression of the late 1920s and 1930s was a reflection of high unemployment, staggering debt, and a collapsed stock market. The hardship that resulted has not been experienced by Americans since. Those at the time somehow lived through it, and will tell you lessons learned, including the following…
USE WHAT YOU'VE GOT
Find resources in unlikely places. Do not throw anything away. Find uses for things that otherwise would have been unnoticed. Pool your resources. Be practical about everything. Use space and resources wisely. Live and survive with less. Find multiple uses.
GROW YOUR OWN
Generate your own food in gardens to supplement your diet. Consider unlikely places for a garden like rooftops and vacant lots. Learn to preserve your harvest.
CASH, NOT DEBT
Debt is a dirty word. Don't dig yourself deeper in debt by using credit. Pay with currency that you have, and don't borrow.
MOVE IF YOU HAVE TO
You may have to move to where there is work. Some places have higher unemployment than others. Some places are safer than others.
KNOW A DEAL WHEN YOU SEE IT
Cut spending by looking for deals. Buy only what you need and spend wisely. Learn to repair what you have instead of buying new. Recycle it for another purpose.
ADAPT AND DIVERSIFY
You may have to change your business or your job. Learn skills that are more in demand for employment and those which can help you survive. Become flexible.
BAND TOGETHER
Communities that band together help each-other. There is power in numbers. Stick together for financial support, emotional support, better security and better production.
DESPAIR NOT
Try not to worry. It will get better. Somehow.
"Tomorrow I could lose everything, but somehow I'm not afraid. I really am not."

The Untold Story of Those Who Survived the Great American Dust Bowl
The Great Depression; Then & Now
I originally aired this article a few years ago however these lessons are timeless.
Sometimes when I look around I especially notice how easy we all have it. Even when we complain and think we have it tough, comparatively it's nothing with respect to people having lived through the Great Depression.
I don't know if our modern world will ever break down to the extent of what they went through, but if it ever does, it will be a very bad time indeed.
Why? Because our modern generations have lost so much of what they had back then… self-reliance, practical skills, civility, respect for others, morality. They had to depend on themselves and few had a "lifeline" to .gov for handouts.
What other differences do you see between then and now?
Could the conditions of a Great Depression ever happen again?