Keep Boots & Feet Warmer During Winter With Foil Insulation Sole Inserts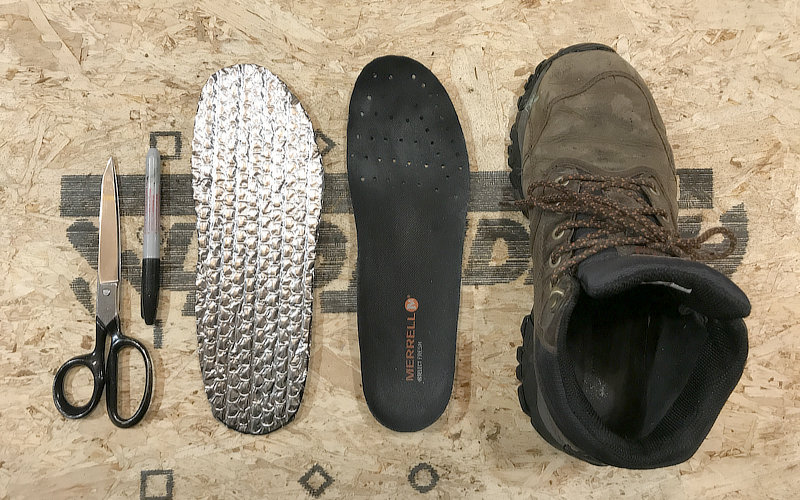 I had a brainstorm on how to keep my feet warmer in my boots or hiking shoes. Foil insulation sole inserts! And it worked!
It dawned on me the other day while working on a project in the garage. My feet get cold after awhile standing on the chilly concrete floor.
It can happen anywhere. Just being outside standing on the frozen ground after awhile. The cold creeps up through the soles and into the bottom of your feet. Even with insulated boots.
TA-DA!! Here's how to keep your boots and feet warmer…
Do-it-yourself Foil Insulation Sole Inserts
I had a leftover partial roll of "Reflectix". It's foil insulation. Aluminum foil sandwiched / bonded to a layer of polyethylene.
check on amzn: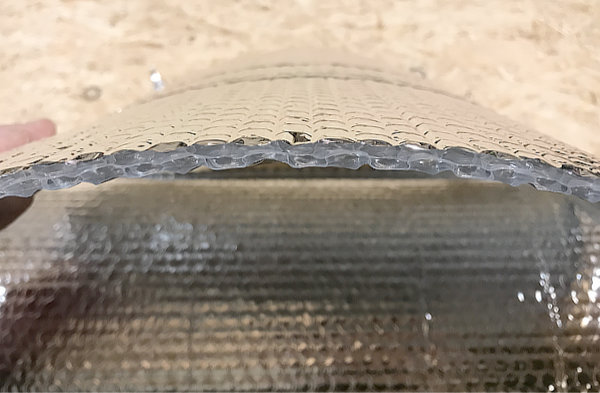 I had been using it behind my radiators to reflect heat back into the room that would otherwise go right into the wall behind them. (It works great for that by the way).
So I thought, why not cut some pieces the same shape as the sole inserts in my boots? In theory this would reflect the heat from my feet, back into my feet! And reflect the cold from the ground, back down to the ground where it belongs!
I simply removed the inserts from my Merrell's and the inserts from my snow boots.
I laid the inserts on top of the foil insulation.
Got out a Sharpie and traced the outline.
Cut them with scissors.
Then insert the new foil cut-outs into the boot.
I replaced the original sole insert on top of the foil insulation cut-outs.
I was concerned that the additional inserts would make the boots too tight fitting. But it worked out okay. I just loosened the laces a bit more than otherwise. No problems.
Then came the test. I put them on and proceeded on a project that I had started in the garage. Fixing the electric Toro Snow Thrower that we use to clear the deck after a snowfall. I spent about an hour standing on the cold concrete floor, and whadayaknow… my feet stayed warm!
Reflectix Insulation Specs
Reflects up to 97% percent of radiant energy
R-values range up to to R-14 depending on application
Class A / class 1 fire rating
Durable and lightweight
Will not compress, collapse or disintegrate
Vapor and radon retarder
Not affected by moisture or humidity
Anyway, thought some of you might find this interesting…
UPDATE: A comment below mentions an additional brand choice, "US Energy Products". So I checked it out. The reflective insulation is very similar. Though Made in USA.
Its thickness is nearly identical to Reflectix. Rather than poly ethylene as its core, this one utilizes closed cell foam. It costs a bit more, but I thought I would point it out.
view on amzn:
US Energy Products Reflective Insulation (24 inches x 25 FT )
US Energy Products Reflective Insulation (48 inches x 10 FT )
Continue reading: SNO-SEAL Beeswax for your Boots