Tornado Season – When Exactly Is It?
Have you ever wondered when exactly is 'tornado season'?
Tornado season doesn't span an "exact" time frame. It occurs at different times for different regions of the United States. The season typically shifts northward from early spring into the mid summer months.
The important thing to remember is that a tornado can happen any time of the year if the conditions are right.
That said, the following regions of the United States will experience 'tornado season' during these months:
Tornado Season
Gulf Coast
April
Southern Plains
May – early June
Northern Plains, Upper Midwest
June – July
Mid-Atlantic
July

The following map from Harold Brooks of the National Severe Storms Laboratory (NSSL) indicate tornado probability in the United States.

The date (tornado season) of maximum tornado threat for locations with at least 0.25 tornado days per year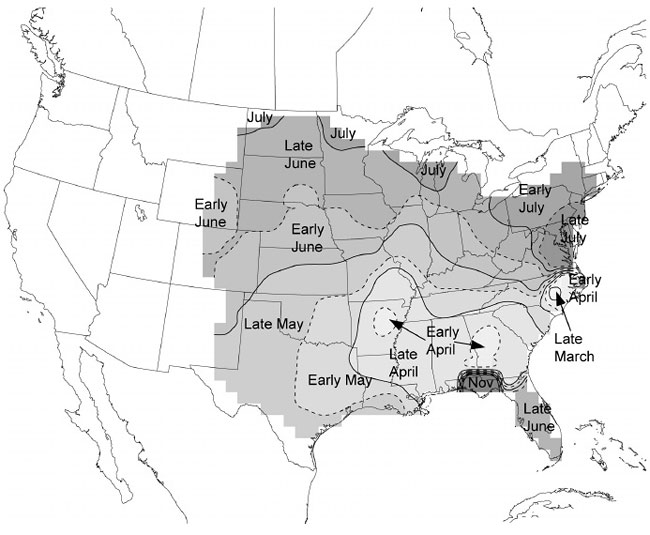 Image: Climatological Estimates of Local Daily Tornado Probability for the United States (Dr. Harold Brooks)
Tornado Tracks Map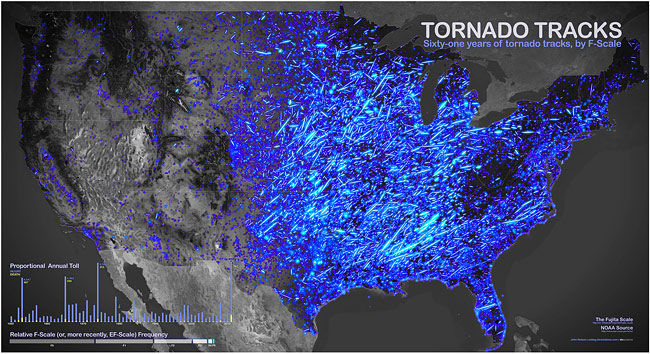 Image: uxblog.idvsolutions.com
Full size image (1920×1046)

Tornado Tracks by Month

Video link
Most tornadoes in a month
The record for most tornadoes in any month since modern tornado record keeping began in 1950 was set in April 2011, with 817 tornadoes.
The Widest tornado
On 31 May 2013, a deadly, multiple-vortex tornado near El Reno, OK carved an official maximum path width of 2.6 miles, the largest ever recorded.
The Largest tornado swarm
The greatest tornado swarm was 175 on 27-28 April 2011. Previous to that was the "Super Outbreak" of 147 tornadoes on 3-4 April, 1974. The 1974 outbreak holds the record for the most F5 tornadoes in a single day, with seven.
The Most deaths from a tornado outbreak (modern era)
In the modern era (1950 onward), the Dixie outbreak of 27 April 2011 (12Z-12Z) set a record with about 316 people killed
The Most deaths from a tornado outbreak
The "Tri-state" tornado of 18 March 1925 killed 695 people along a 219 mile long track across parts of Missouri, Illinois and Indiana, producing F5 damage.
Average number of tornado deaths per year
On average, tornadoes kill about 60 people per year.
City with the most tornadoes
Oklahoma City.
Read more: Tornado Alley, Tornado Facts, And How They Form

Particularly during tornado season, it is extremely important for your severe weather safety and preparedness – to have a Weather Alert Radio.
Read more: Best Weather Alert Radio – Which One Should I Get?


Today's severe weather outlook (updated daily)

Tomorrow's severe weather outlook (updated daily)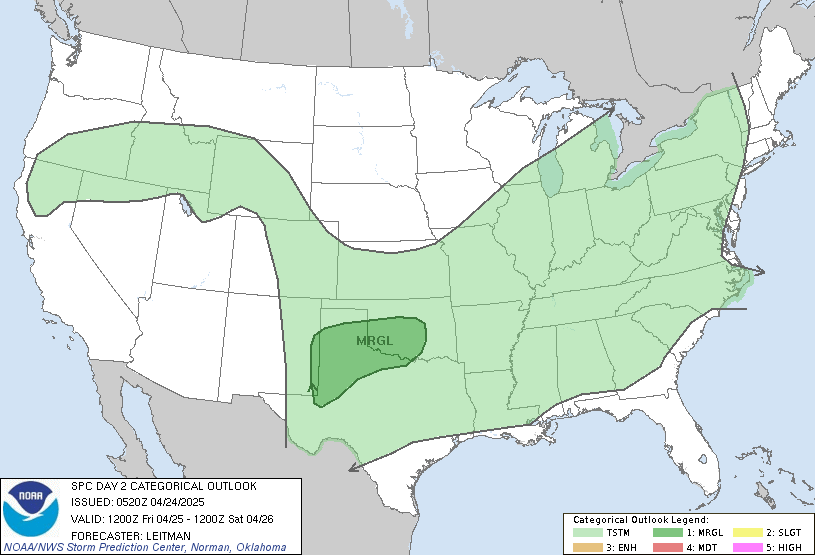 Continue reading: 10 Ways To Know If A Tornado Is Coming