Dangerous Pandemic 'Super Spreader' Airports in the USA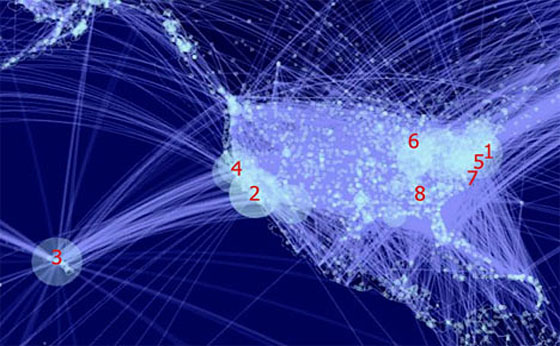 I originally posted this a number of years ago. Although relevant today, or any day, especially given the current coronavirus situation (pandemic?).
---
Today's modern world of airline travel and airport hubs could facilitate a rapid deployment of a contagious SuperBug, possibly leading to pandemic.
If we consider the Spanish Flu of 1918 – 1919 (caused by a H1N1 virus) that killed between 20 and 100 million people, and if we consider that there was no airline travel back then, it illustrates the danger and risk that we face of a pandemic outbreak given today's daily travel and open borders around the globe – coupled with today's population of 7 Billion.
Think a devastating pandemic can't happen today? Think again.
An MIT engineer, Ruben Juanes, has modeled the effects of air travel so as to more effectively predict outbreaks and predict the flow of disease from a given airport and rank the most contagious ones.
Surprisingly, the number of passengers per day did not directly correlate to contagion risk.
The MIT team used a computer simulation to seed 40 major U.S. airports with virtual infected travelers. Then they mimicked the individual itineraries of millions of real passengers to model how people move through the system.
The travel data included flights, wait times between flights, number of connections to international hubs, flight duration, and length of stay at destinations.
The list of early-time 'super-spreaders' are as follows:
The Most Dangerous U.S. Airports For Spread Of Pandemic
1. New York (JFK)
JFK International in New York, one of the world's most heavily trafficked airports, emerged as the biggest culprit in disease spread. JFK has over 1,000 daily flights, connecting some 200 airports in more than 60 countries. The number of international connections allows passengers here to come in contact with individuals from many points of origin, dramatically increasing the risk that infected travelers could pass disease to uninfected populations worldwide.
2. Los Angeles (LAX)
Los Angeles International has lots of traffic, 
supporting more than 1,400 flights a day 
and connecting some 
55 countries.
3. Honolulu (HNL)
Honolulu International gets only two-fifths of JFK's traffic, yet it poses a major risk because it has a high proportion of long-distance flights, links to well-connected airports, and a geographic location that encourages an equal diffusion of travelers 
going east and west.
4. San Francisco (SFO)
San Francisco International Airport has flights to points throughout North America and is a major gateway to Europe and Asia.
5. Newark, NJ (EWR)
An international airport which during 2013 handled 35 million passengers. Combined with JFK, the region comprise the second largest in the world in terms of passenger traffic.
6. Chicago (ORD)
O'Hare International Airport is a major airport serving numerous domestic and international destinations. O'Hare is the fifth busiest airport in the world.
7. Washington, D.C., Dulles (IAD)
Dulles is the busiest international airport in the Mid-Atlantic outside of the New York metropolitan area with over 22 million passengers a year.
8. Atlanta (ATL)
Hartsfield-Jackson Atlanta International ranks first in the world for traffic with roughly 2,600 flights a day, 95 million passengers a year (more than 260,000 passengers daily).
Logically, today's world of high speed worldwide travel is a virus's best friend. When a new deadly and highly contagious virus pops up, it's going to have an easy and quick time getting around the world…
 resource: MIT Report
Continue reading: How To Survive A Pandemic