Best Flashlight Under 30 Dollars For Pocket Carry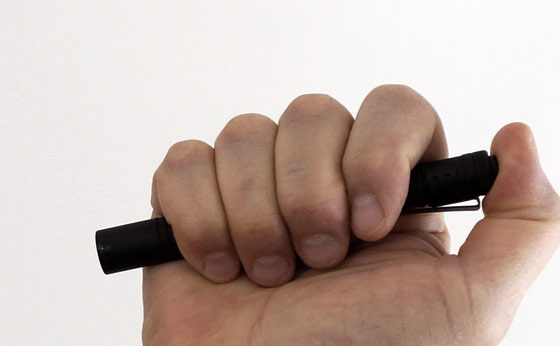 I know — everything's subjective. However I have owned this pocket – tactical – penlight – flashlight for several years, and it may the best flashlight (of its type) for under 30 dollars.
Here's why I like it, and why I believe it's one of the best of its type for the money.
It's the Streamlight 66118 Stylus Pro LED Pen Flashlight.
Streamlight Stylus Pro (Black with White LED) Penlight
(view on amzn)
More pictures below:
Why it's the best flashlight under 30 dollars (Penlight style)
1. It fits perfectly and comfortably in my pants pocket. The reason it's particularly suitable is the pocket clip which snaps onto the flashlight near the tail cap, and the overall dimensions of the flashlight (shown below).
2. If you wear any sort of cargo pants with multiple pockets (as I do), then the Streamlight Stylus Pro will clip especially conveniently and comfortably to any one of them. The clip is strong enough so not to worry about losing it.
3. If you're looking to carry a small flashlight as part of your EDC (every day carry), and if the flashlight is not very comfortable or practical to carry, then chances are you won't carry it. Chances are that you will carry this one (I do).
The Best Features Of This Flashlight
I find that this flashlight is good for general purpose, given its small size for a pocket carry.
1. The LED puts out 100 lumens. While 100 lumens is not exceedingly bright, I have found the level to be bright enough for normal applications. I recall relying on this particular flashlight a few years ago — for many continuous hours late into the night — tracking a 400+ lb blackbear through the forest around my property. The hunter made the shot, the bear took off… It was a long night. Fortunately I had my Streamlight Stylus Pro in my pocket!
2. The tactical push button. The tail mounted button will operate momentarily or pressed fully for on/off. The cap is waterproof, as is the entire flashlight (o-rings at all threaded fittings).
3. The flat black anodized paint will prohibit reflections – making for good tactical stealth.
4. The dimensions seem to be perfect. Total length is 5.25 inches. Widest diameter is 5/8″ while most of the body is 1/2″.
5. The body of the flashlight is solid and appears to be aluminum. Corrosion proof.
6. The reflector lens is of a polycarbonate material and apparently is very unlikely to break. Mine has only a few minor scratches with several years use.
7. While I prefer AA batteries for my other flashlights, this pen flashlight takes two AAA batteries which is necessary given its narrow diameter. The specs indicate a run time of 8 hours. I've run mine 4+ continuous without issue (the black bear experience noted above).
I took several pictures for your interest: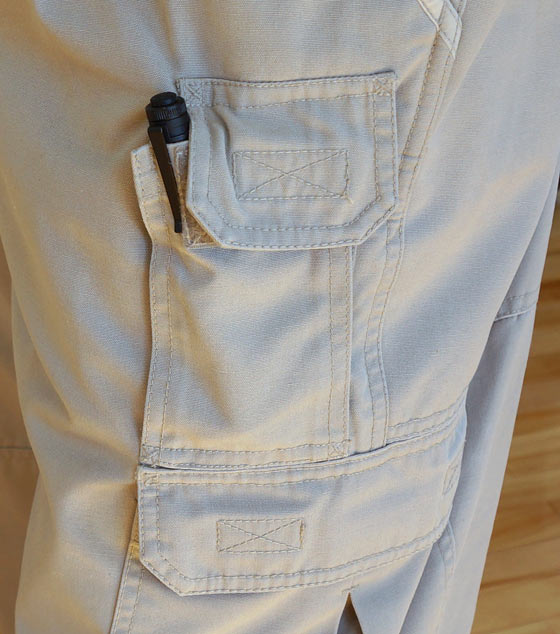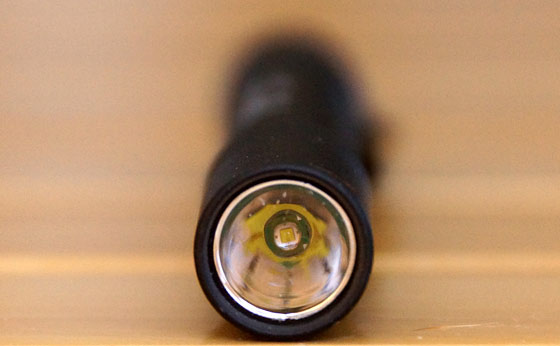 If you're going to buy one…
Note that if you check out the link above, there are several models and colors of this flashlight. My first one was the black one. Later I went to buy a 2nd flashlight and bought the camo model. However I missed the fact that it has a green LED. Though I kept it – good for maintaining night vision rather than a white light. But not great for general visibility. Just saying…
Continue reading: Best Keychain Flashlight