Best Shortwave Radio For Preppers – Top Choices
Okay, it's not just for preppers (grin). This is for anyone interested in owning one, even as a hobby. I will offer my opinion for the best shortwave radio that's in production today. I'm talking about a portable (small / compact) battery operated shortwave radio. And one that meets a set of criteria and specifications to ensure quality signal reception of not only shortwave / medium wave AM amplitude modulation, but also SSB single side band reception within the HF ham radio bands.
(I have updated this post to include a new number one choice)
It's sure different from what it used to be decades ago – with today's digital technologies and associated communications methods, and the internet. However, being preparedness-minded, a so called portable battery powered 'shortwave radio' (including the HF Ham Radio bands) certainly has some preparedness appeal. Radios remain one of our most reliable means of communication. This is why they're a must-have prepper item (at least in my own opinion) for emergency preparedness, when the internet and power grid may be down. The question is, what's the best shortwave radio?
Such a radio does not depend on the electric power grid, or the internet. Therefore making them good choices for gathering information during emergency or disaster. A battery operated portable shortwave radio is one (of many) recommended preparedness-minded communication assets.
Why? Because disasters happen. Gathering information is important and helps decision-making. When the power is out and there is no internet or TV… well, you get the idea… Listening to AM radio broadcasts, or personal reports from Amateur radio operators (Ham radio) around the country (globe). It can be a hobby, and it can also shed light on what's going on out there.
Side note:
What Is Shortwave Radio?
Most define it as follows… Shortwave radio consists of frequencies between 1710kHz (upper limit of the AM radio band) and 30000kHz (30MHz) (including HF & ham radio bands). It's called shortwave because, quite literally, the waves emitted are short as opposed to long wave and medium wave, used by AM radio, and wideband VHF (very high frequency) used by FM radio. These short waves can travel thousands of miles across the globe, so shortwave radio is, by nature, potentially international.
When looking for the best shortwave radio, I highly recommend that it also includes the HF ham radio bands, and, (important!), SSB capability (single side band). Cheaper shortwave radios do not include SSB capability. And of course you want the AM and FM broadcast radio bands too.
Shortwave radio is radio transmission using shortwave (SW) radio frequencies. There is no official definition of the band, but the range always includes all of the high frequency band (HF), which extends from 3 to 30 MHz (100 to 10 meters); above the medium frequency (MF) band [Ken adds: also referred to as medium wave (MW)], to the bottom of the VHF band.

Radio waves in the shortwave band can be reflected or refracted from a layer of electrically charged atoms in the atmosphere called the ionosphere. Therefore, short waves directed at an angle into the sky can be reflected back to Earth at great distances, beyond the horizon. This is called skywave or "skip" propagation.

~ Wikipedia
Best Shortwave Radio (Portable)
I own several portable shortwave radios. One in particular has been excellent, and I've taken it with me all over the place when I used to travel a lot. Nowadays, I simply feel assured having it for "just in case". I take it with me whenever I go on a vacation trip, etc., for hobby listening if the mood strikes me. That radio is out of production, though available on the used market. However, I'll recommend a few very good alternatives…
A portable shortwave radio comes in a variety of models and different price points. The features and performance vary. And of course, you get the most when you pay the most. Though there's a price-point for everyone…
First, this is the radio I was just talking about. I feel that it was the best shortwave radio of its type on the market during its time. It's now somewhat of a legacy classic. Although there are other radios that absolutely excel in features and functionality, and are in production today! (read on)
SW7600GR by Sony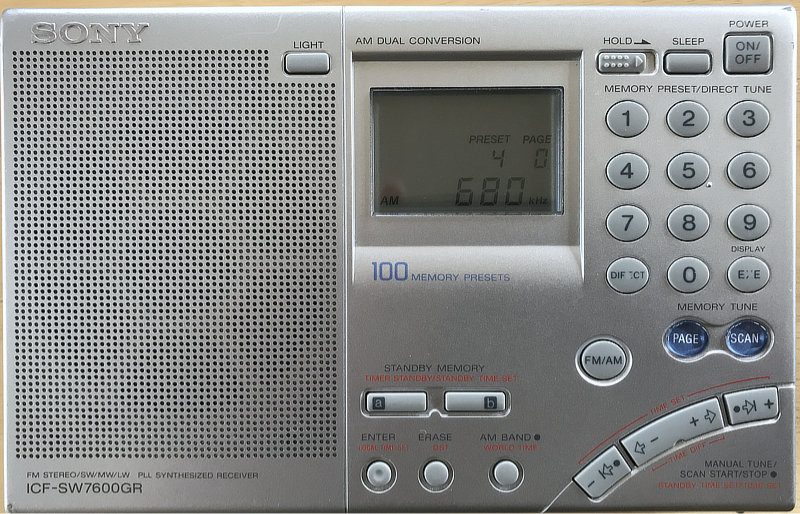 Many years ago I bought the Sony SW7600GR. After research, I felt that it was the best shortwave radio in its class that I could get. It's now on my nightstand (a fun hobby sometimes in the evening). I also take it with me on EVERY trip that I travel (vacation, etc..). I do believe that it has been the best of its class. However, there's a new #1 that may be even better than this one (read on).
One thing that I really do wish it had (the SW7600), is a tuning knob (buttons instead). But it scans well enough. It lacks some of the advanced memory functions of newer radios. Its small, basic display is not as fancy and informative as newer portables. The user manual is often necessary for a reminder how to use some of its features (not intuitive).
HOWEVER, the AGC / sync detector feature is the best of the rest. Great performance. Reliable.
You cannot get it "new" anymore. However there are used radios for sale:
Sony ICF-SW7600GR AM/FM/Shortwave Receiver
(check on amzn)
So what's an equivalent best shortwave radio that's in production today?
UPDATE:
The Best Shortwave Radio In Production Today – Tecsun PL990
Tecsun is a leader in the shortwave radio industry. The PL-990 was first introduced during the fall of 2020. It is an upgrade to the still-available and very popular PL-880 (another excellent choice).
Tecsun PL990
(view on amzn)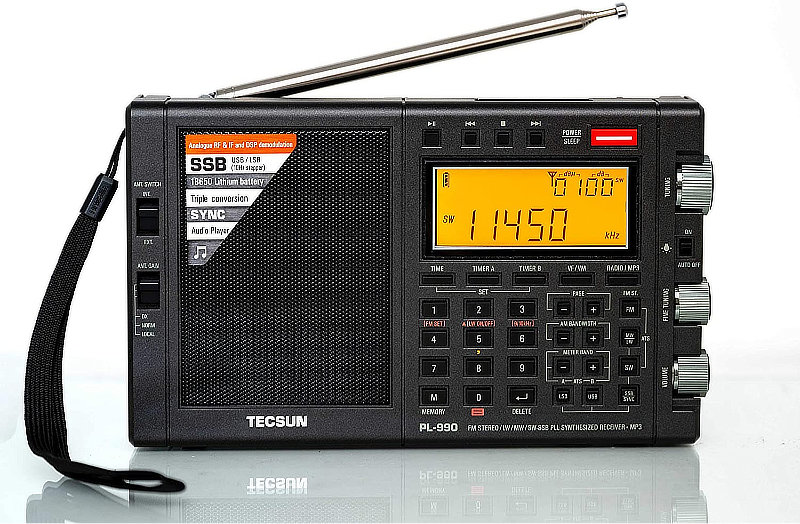 PL990 Features & Specifications:
LW: 50- 519/50 – 522 KHz (LW can be disabled if desired)
MW/AM: 522-1620/ 520 – 1710 KHz
SW: 1621-29,999/1711- 29,999 KHz (including HF ham radio bands)
FM: 64-108 MHz (Lower Limit Selectable At 64, 76, 87 or 87.5 MHz)
Tuning Steps: LW/MW 9Kkz/10Khz/1Khz
FM:100 KHz/10 KHz (PL-990X Only: 50 KHz when AM set to 9 KHz steps)
Direct Keypad Frequency Entry
Page Memory System with VF (View Frequency) / VM (View Memory) switch
Up/Down Scan/Auto or Manual Auto Tuning Storage
Main and Fine-Tuning Knobs
FM Stereo/Mono Switch
Triple Conversion on LW/MW/SW
SSB with LSB/USB modes
Synchronous Detection with LSB/USB modes
SW Meter Band Buttons
Memories: 3150 total locations with 25 memory pages
DX/Norm/Local Gain Switch for All Bands
Clock (24 Hour Mode) with Alarm, Sleep Timer, Snooze
Multi-function Display with Time/Signal/SN Ratio
LED Lighting can be set to Auto or Always On
Audio Player – Micro SD Card 128 GB max (Playback only)
Supported Audio: 16 bit/44.1 KHz; FLAC / WAV / APE / WMA / MP3
Bluetooth Audio Playback
Computer Speaker Mode via USB Input
Bass/Treble Tone Switch
Key Lock
Output Power 450 mw
Speaker: 4 ohms 3W
Headphone Output 1/8" Jack 300 ohms
Line Out 1/8" Jack (Level Adjustable for FM Individually and as a group LW/AM/SW)
Aux Antenna Input Jack for ALL Bands 1/8: Mini Jack
Antenna switch disconnects both internal antennas when using external antennas
Power Supply: 3.7 V (18650 Li-ion Battery or External DC 5V (USB Type B Mini Socket)
There are 'hidden features' too. Although they're documented (unlike their PL880 which were 'secret').
ATX-909X by Sangean
I had a commenter here on the blog who highly recommends the following shortwave radio:
ATS-909X by Sangean
(view on amzn)
Here's what it looks like: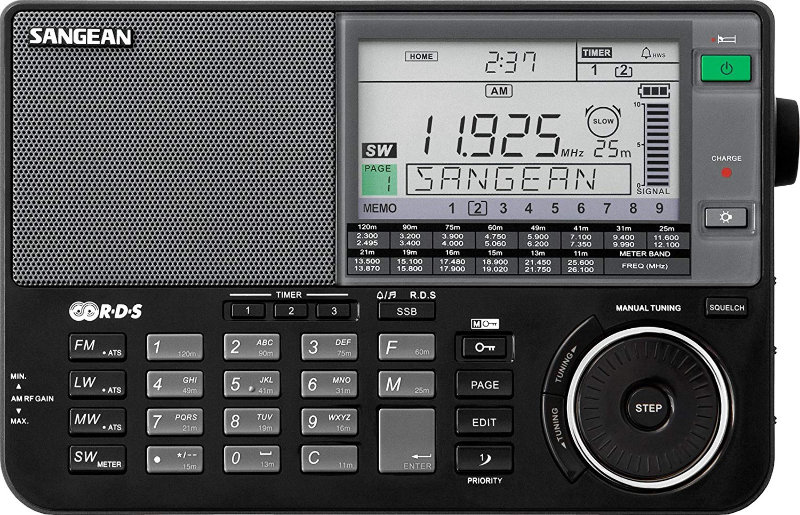 That sure looks nice! If I didn't already have my SW7600GR, I would surely look into the PL990 or the ATX-909X.
Side note: Though we typically refer to these radios as "shortwave radios", they actually receive more than that. For example here are the frequency specifications of the ATX-909X:
(LW) long wave, frequencies below the AM band (153 – 519 kHz)
(MW) medium wave, it's actually the AM radio band (520 – 1710 kHz)
(SW) shortwave frequency range (1.711 – 29.999 MHz)
(SW) shortwave (meter bands), 120, 90, 75, 60, 49, 41, 31, 25, 21, 19, 16, 15, 13, 11
(FM) radio band, 87.8 – 108 MHz including FM RDS (RBDS) – CT
The feature set looks great too! In fact there are several nice features in the ATX-909X that are not in my Sony SW7600R. Great ergonomics and design. Wins "best looking shortwave radio". Biggest display. Good audio quality. Advanced memory options, can store alphanumeric "name" along with frequency.
Lots of features for its price. Good sync detector locks on to a station nicely, similar to the SW7600GR. Nice tuning knob and front panel functionality. Consequently it's not terribly complicated to operate. And best of all, it performs very well. This would make for a great little portable shortwave radio for most people who aren't necessarily looking for advanced features.
PL-880 by Tecsun
This radio is has been one of their best, and is a VERY popular shortwave radio. Among all their portable offerings, the PL-880 is widely regarded by the SWL (Shortwave Listening) community as, simply put, one the best shortwave radios. Although one might argue that their new PL990 excels. With that said, the PL-880 has some of the clearest audio in its class. It's audio quality performance is excellent. 
Tecsun PL-880
(amzn)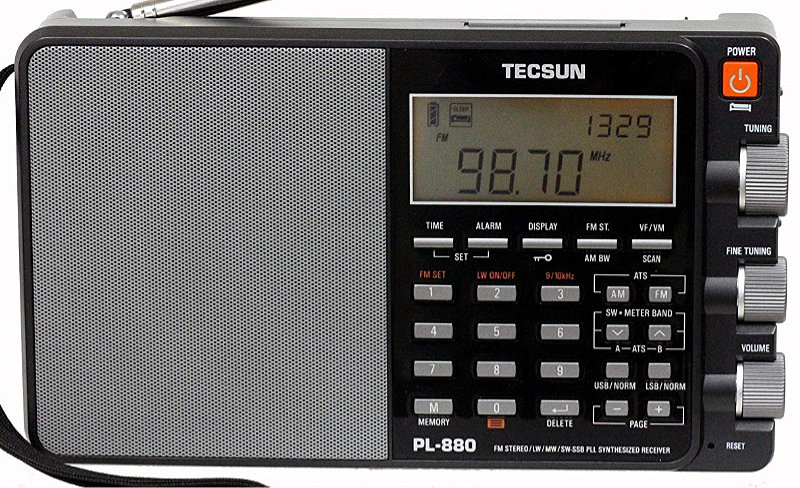 Not only does it have a tuning knob, but it also has a fine tuning knob. That's pretty nice! One of the most popular perks of this radio is the audio speaker / quality sound.
The radio has more filter options than the others. SSB mode offers 4, 3, 2.3, 1.2, 0.5 kHz filters. AM has 9, 5, 3.5, 2.3 kHz filters. All nice for various listening/receiving conditions.
It can be complicated to operate. Some features are actually hidden (why? I don't know). As a result of the hidden features, this has led to lots of discussion about this radio! Overall it has become a highly popular portable shortwave radio.
The Takeaway
The shortwave radios listed above are pretty much the most popular regarded and well reviewed in its class on the market. Is any one of them the best? As always, it's a matter of opinion. And mine is the Tecsun PL990.
Being preparedness-minded and ready for emergency or disaster situations involves discovering information. If things get really bad (large-scale grid-down?), Ham radio and other traditional radio wave communications do not require the electrical grid or internet to function and operate.
It can also simply be an enjoyable hobby for the geek out there ;)
If the SHTF,
My very first action would be to asses the situation as best I can, because further decisions will hinge greatly on that assessment.
This involves verifying the extent of the situation and other things that may have occurred as a result.
One method of information discovery will be to turn on a portable AM/FM/Shortwave radio and LISTEN. Depending on the event or potential grid-down situation, some stations may be on generator and broadcasting news & information. Obviously AM and FM radio info would be fairly local (caveat: AM in the evening can go pretty far!). VHF and UHF radios (not covered in this article) are also very local for 2-way comms. However, Shortwave, HAM (HF) bands, they can reach out far…
If you have a good shortwave radio like any listed above, you will be able to pick up many Ham radio bands depending on conditions and time of day. You might possibly hear other Ham radio operators around the country and world who may be transmitting by way of battery power or alternative energy sources. As a result, you will be getting first-hand information.
Pro Tip: When I travel, or when I camp, I always bring a portable external long wire antenna as an accessory for my shortwave radio. The built-in telescopic antenna works great. But clipping on this antenna helps! I wrote an article about it:
[ Read: External Antenna For Portable Shortwave Radio Improved Reception ]
[ Read:
Best AM Radio for DX Long Range Listening (review)
Radio Communications Post-SHTF
Batteries That Won't Leak or Corrode (Important for your Radio!)