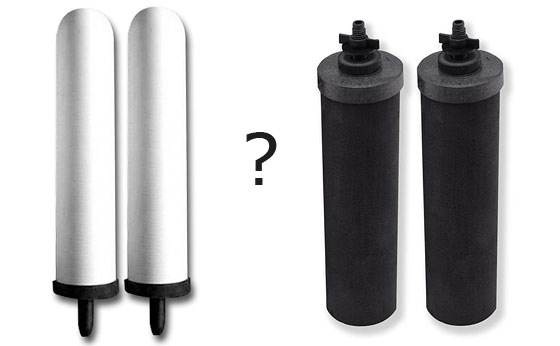 Do you have a Big Berkey water filter and are wondering about the difference between the White filter element and the Black filter element, both of which are available today?
Or are you thinking about buying a Berkey water filter and noticed that some of them come with white ceramic filter elements while others come with "Black Berkey" purification elements?
You might be asking, "What's the difference and what should I get?"
Well I dug into a little research for you and here is some guiding information:
History Of White Ceramic & Black Berkey Filter Elements
A man named Henry Doulton of Britain developed ceramic filter technology back in 1827. Over the years the Doulton company improved their water filters to include not only bacteria removal but also self-sterilization.
Their "gravity filters" became popularly used by military, relief, and even missionaries in faraway lands lacking clean drinking water.

Note: A gravity filter is one whereby an upper reservoir of impure water is filtered into a lower reservoir through a filtration media. Gravity does the work as the water flows from the top reservoir through the media to the bottom reservoir.

During 1985 a company named "British Berkefeld" acquired the Doulton company and their "White" ceramic filter technology (technically called "Super Sterysyl Ceramic") and began selling to the public.
British Berkefeld continues to sell their "White" (Super Sterysyl Ceramic) water filters today through a North American distribution partnership developed in 1998 with the US based company "New Millennium Concepts".
New Millennium Concepts then expanded this filter technology into what is known today as the "Black Berkey" purification element. They also expanded their filter housing systems into what we currently know as the Berkey® Water Filter System(s).
Today you can purchase Berkey water filter systems with either the White ceramic filters or the more recent Black Berkey purification elements.
Here's more:
The Black Berkey Comparison With White Ceramic
Evidently (based on what I've read from the respective companies) the Black Berkey and the White (Super Sterasyl Ceramic) filter elements (also called "candles") both are excellent water filters.
One of the differences is the Black Berkey elements remove more chemicals including Lead, MTBE's, and other heavy metals, as well as filtering out more bacteria and viruses.
Black Berkey
Berkey BB9-2 Replacement Black Purification Elements, Set of 2
The Black Berkey has been tested by a number of independent laboratories.
Bacteria: 99.9999%
Viruses: 99.999%
(source)

(White) Super Sterysyl Ceramic
Berkey SSCF-9 9-Inch Ceramic Replacement Filters, 2-Pack
The Ceramic shell of the Super Sterasyl element is an NSF Listed Component and is manufactured to meet NSF standards 42 & 53 for materials.
Bacteria: 99.99%
Viruses: No
(source)

Additionally, the Black Berkey elements will also filter out Chlorine to undetectable levels. The White ceramic filters will remove ~ 90% (still good!).
Lifespan of the Black Berkey (set of 2) is 6,000 gallons.
Lifespan of the White Super Sterasyl Ceramic (set of 2, 9″) is 1,200 gallons.

CONCLUSION
Over the period of many years I have used both the White ceramic and Black Berkey filter elements. In fact I still have a spare set of White's along with a set of Black Berkeys. I have never had a problem with either one.
I own a Big Berkey water filter system and a British Berkefeld. I have been using the Big Berkey every day for our drinking water for many years. Despite the fact that I have a well water system (actually it's a dug well into a natural spring) and a whole-house filter to 1 micron, I still use the Berkey for even "better" water!
EVERY SINGLE PREPPER should have a "tabletop" water filter designed for daily use. Water is THE MOST IMPORTANT consideration for general preparedness and we should not take it for granted that we will always have a safe clean source of water.
There are many good water filters out there. I may be somewhat biased having owned Big Berkey water filters for many years, however I stand by them as one of the best.