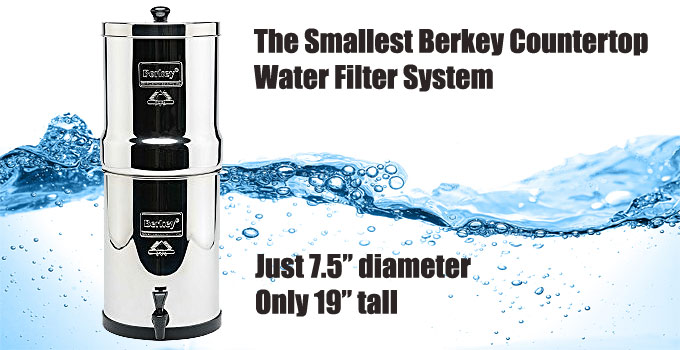 Berkey makes five different models of stainless steel countertop water filter systems.
If you are looking for a high quality water filter for countertop or tabletop but you're concerned about losing counter space, the Travel Berkey may be the right choice for you.
The Travel Berkey is the smallest of their countertop / tabletop models.
Travel Berkey with 2 White Ceramic Filters
Travel Berkey with 2 Black Filter Elements
Note: Here's the difference between the white and black filter elements:
Berkey: Black Filter Elements vs. White Ceramic

The Travel Berkey, being just 7.5 inches in diameter may be perfect for an RV or trailer while out camping, traveling, at the cabin. Great for small apartments or anywhere where space is at a premium.
Travel Berkey Specifications
– 1.5 gallon storage capacity
– 7.5″D x 19″H
– stainless steel container
– two filter elements
– produces up to 2.75 gallons per hour
– 2 black elements will filter 6,000 total gallons!
– contains the exact same purification filters as all other Berkey countertop models
– small size makes it more portable
– 6 pounds (empty)
– Compatible with the Berkey PF2 Fluoride filter

Tip: 5 Berkey Accessories For Your Countertop Filter
The most popular Berkey model size is the Big Berkey (I have this one).
Tip: How To Clean Berkey Water Filters in the Sink or a Bucket

Regulars on this site know how much of an advocate I am for having drinking water filters.
Even though that water source may appear to be pristine, there is always a risk of invisible pathogens that could get you very sick. Giardia parasites comes to mind… If you want to be grossed out, see what they look like.
As far as preps are concerned, I place a high quality water filter at or near the top of the list. Don't count on your water source to be pure. Run it through a filter.
Our bodies are made up of about 75% water! What does that tell you!