Thinsulate Gloves Insulation – How It Works – Warmth Scale
Gloves with Thinsulate. Perfect for winter's cold weather!
Here's some information about Thinsulate insulation, its 'gram weight' properties and choices. A warmth scale guideline.
3M Thinsulate. It's one of the best types of insulation for gloves.
I have many various winter gloves with Thinsulate insulation. Different gram weights (e.g. 40, 100, 150, etc..) for different cold weather conditions.
Are you curious what exactly makes it work? Is there a Thinsulate warmth scale?
Here's what I found out…
jump down the page to Warmth Scale
What is Thinsulate?
Thinsulate has unique microfibers. They are very fine fibers that work by trapping air molecules between them.
The more air that a material traps in a given space' the better it insulates you from the cold outside air.
The fibers in Thinsulate insulation are finer than the fibers used in most other types. Such as synthetic or natural insulation.
Thinsulate traps more air in less space. This makes Thinsulate insulation a better insulator.
It is breathable, moisture-resistant, and washable. It preserves warmth, even when compressed.
How small are Thinsulate fibers? They are approximately 0.00059 inches (15 micrometers) thin. That's five times thinner than traditional polyester fibers.
Thinsulate™ is considered "the warmest thin apparel insulation" available. In fact, when equal thicknesses are compared, it provides about 1½ times the warmth of down and about twice the warmth of other high-loft insulation materials.

-Wikipedia
3M Thinsulate Warmth Scale For Gloves
The gram weight refers to grams per square meter of insulation. The higher the gram weight, the more it insulates and the warmer you are.
3M Thinsulate Temperature Rating Guideline
Note: Higher activity levels.. More blood circulates into the extremities. As a result, less insulation will keep you warm compared to what you may need during low activity levels. That's one reason that I keep gloves with various weights of Thinsulate.
So, factor your intended activity level into your decision about which gloves to buy.
40 gram for high activity levels, or simply cool to moderate cold conditions.
70-80 gram for moderate activity levels, cold conditions.
100 gram for light to moderate activity levels in very cold conditions.
150 – 200 gram for very light activity levels, but very cold conditions.
Generally, 80-100 grams is a good choice for typical winter days above 20 degrees-F.
You might look for 100+ gram weight Thinsulate for temperatures colder than that.
I have a few pairs of 100 gram Thinsulate gloves for very cold weather. Work gloves, and general purpose.

If I'm using my snowblower during a very cold day, 100 gram gloves are usually okay. My hands and body aren't doing much, so that 'warmth scale' is reasonable.

Now lets say during the same very cold day I'm wearing the same 100 gram Thinsulate work gloves. I'm out there working, cutting firewood, and hauling or stacking. It's likely that those gloves might get too warm as my hands heat up from strenuous activity. So it might be more comfortable to drop down to a pair of 40 gram gloves.

Get the idea? It all depends on your activity level.
40 Gram Thinsulate Gloves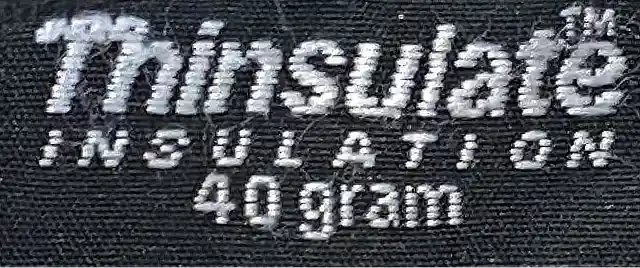 Because Thinsulate fibers are so thin, it's easier to achieve finger dexterity. For example, 40 gram gloves are useful for doing finer detail work with your fingers.
40 gram Thinsulate can be perfect for many types of gloves. Driving gloves. Dress gloves. Work gloves for cool or moderate cold weather. They're made thinner because of the microfiber efficiency of Thinsulate.
American Fur 40-gram Deerskin work gloves
(amzn)
Mechanix Wear 40-gram Touchscreen Capable
100 Gram Thinsulate Gloves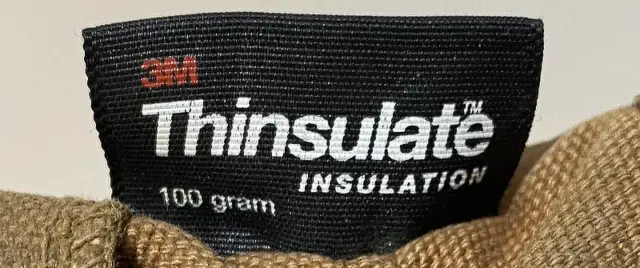 Heavy Duty work gloves with Thinsulate. Resistant to ripping or tearing from heavy duty work.
These are my general purpose "go to" winter work gloves. Quick easy-on, easy-off. They're 100 gram weight. I have several pairs of these.
When I'm out doing trail work during cold months (for example), I always wear this pair. I also always take a second pair in case something happens to the pair I'm wearing, or if they get too wet.
Carhartt Work Gloves, 100-gram
(view on amzn)
200 gram Thinsulate Gloves
150 to 200 gram weight is the most common for the COLDEST weather gloves.
Often they're marketed as -30F, -40F, arctic, or 'extreme cold' gloves.
With that said, these gloves will be the warmest in general. I've researched several choices of gloves in this category with Thinsulate.
Examples of the best rated 200 gram Thinsulate gloves:
Youngstown Waterproof Glove – 200 gram
(view on amzn)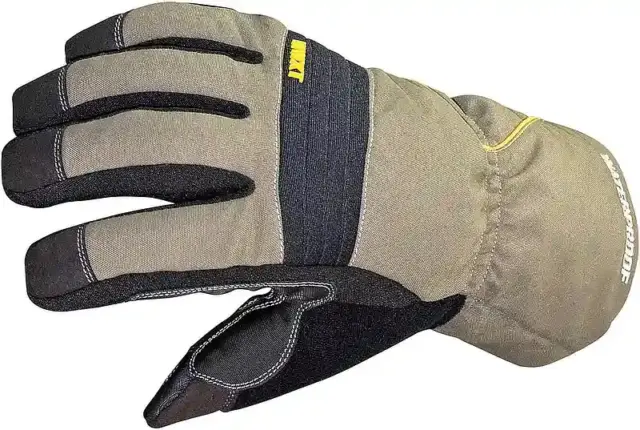 The following pair of gloves works with 'touch screen' devices so you don't have to take your gloves off:
KINGSBOM Waterproof Glove – 200 gram
(view on amzn)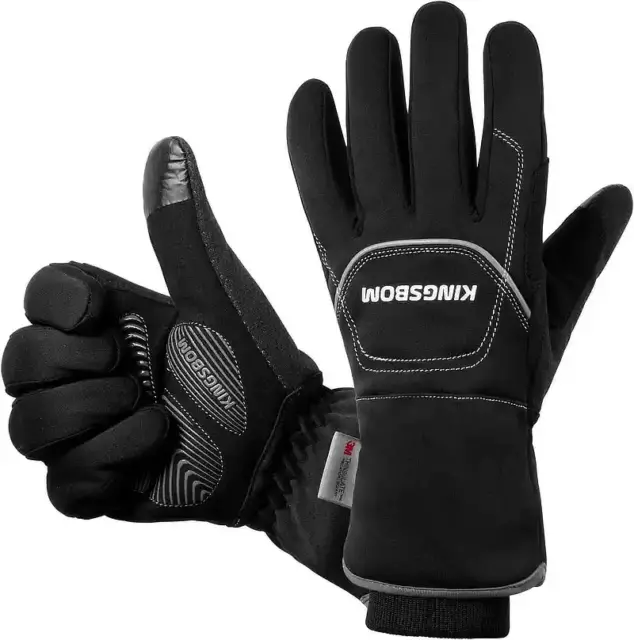 Gloves AND Mittens Together
If you're looking for the best way to keep your hands warm in very cold weather, it's tough to beat good mittens. Gloves will work up to a point. But well insulated mittens (at least in my experience) will be nice and warm.
Mittens work well for extended cold periods. Mittens worn over gloves is quite effective, though you will lose dexterity. But in this way, you could pull off your mittens while using your gloves for a task, and then put your mittens back on..
The mittens would have to be big enough to fit over the gloves. The glove would have to be small enough to fit inside the mitten. Example.. Merino wool glove liners slipped inside a larger pair of Thinsulate insulated mittens.
For example, you might choose the following two items..
Minus33 Merino Wool Glove Liners (amzn)
OZERO 150-gram Thinsulate Mittens (amzn). Note these mittens are very good by themselves too!
If you do it this way, get well fitting (or snug) liners and larger mittens so they pair up well together.
(Search Thinsulate Mittens on amzn)
(Search Merino Wool Glove Liners on amzn)
Tip: I also use hand warmers inside my gloves (on the palm) if I'm going to be outside for a long time in very cold weather.
Read related articles on the blog:
Hand Warmers For My Winter Survival Kit
Warmest Blanket For Winter | Wool or Fleece?