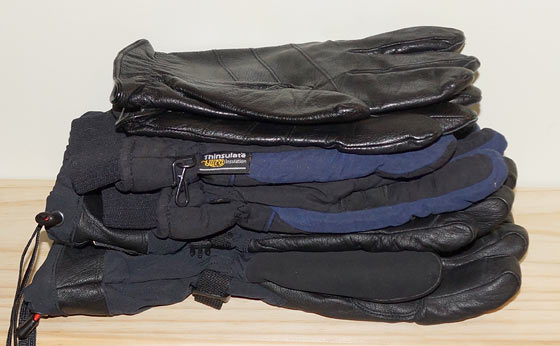 Not only from a comfort standpoint, but from a preparedness point of view, Thinsulate™ gloves are invaluable during the winter! They are a "must have" for me.
Here's some information about Thinsulate™ insulation and how gloves with Thinsulate™ are categorized by their 'gram weight' properties.
As you know there are lots of winter glove styles of varying designs available to us. With regards to insulation from the cold, 3M™ Thinsulate™ is considered one of the best for things like gloves, hats, boots, etc., to keep warm.
I have a number of various winter gloves with Thinsulate™ insulation in them. I wondered exactly what it was that makes it work. I knew that there are different 'weight' ratings for this stuff. Here's what I found out…
Gloves with Thinsulate™ (men)
Gloves with Thinsulate™ (women)
What is Thinsulate™?
The unique microfibers (very fine fibers) that make up Thinsulate™ insulation work by trapping air molecules within them.
The more air that a material traps in a given space' the better it insulates you from the cold outside air.
Because the fibers in Thinsulate™ insulation are finer than the fibers used in most other synthetic or natural insulation' they trap more air in less space' which makes Thinsulate™ insulation a better insulator versus the space required to get the job done.
It is breathable, moisture-resistant, and washable.
The fibers used to create Thinsulate™ gloves are approximately 0.00059 inches (15 micrometers) thick. That's five times thinner than traditional polyester fibers.
Thinsulate™ is considered "the warmest thin apparel insulation" available. In fact, when equal thicknesses are compared, it provides about 1½ times the warmth of down and about twice the warmth of other high-loft insulation materials.
-Wikipedia
Recommended Weight of 3M™ Thinsulate™ Gloves & Hats
Grams per Square Meter
The gram weight ratings (levels) refer to grams per square meter of insulation. The higher the gram weight, the more it insulates and the warmer you are.
40 gram for high activity levels or cool conditions
70 gram for moderate activity levels or cold conditions
100 gram for light activity levels or very cold conditions
150 gram for very light activity levels or extremely cold conditions
Thinsulate™ is thin
Because insulation like Thinsulate™ is so thin, they can make gloves (40 gram) which are useful for doing finer detail work with your fingers.
I have also found that 100-gram Thinsulate™ gloves are heavy enough for most cold temperatures – although I do have some 150 gram gloves for 'just in case' during those 'really cold' days…
Keep in mind that when you're working a lot with your hands, they will warm up by themselves (more blood flow). Gloves can actually become too warm and uncomfortable under heavy duty working conditions. Here's what I've settled on:
Heavy Duty Work Gloves
Gloves with Thinsulate™ designed with heavy duty palms that won't prematurely rip or tear from heavy duty work. These are my winter work gloves that I use most for general purpose heavy duty work outdoors:
Carhartt Work Glove, 100-gram Thinsulate™ Insulation
When I'm out working the trails during cold months, I always take this pair with me. I also always take a second pair in case something happens. If it's real cold I'll wear a quality pair of warm insulated mittens and then swap them out for my Carhartt gloves when handling work loads.
Gloves while Shoveling, Snowblowing or Winter Sports
I have other gloves that are waterproof or water resistant and come further up the arm. This helps keep snow and wind out. Many of these types of winter gloves are not specifically designed for heavy work. It depends on what you get.
Here's a warm pair that's actually a glove built into a mitten. Waterproof too:


OZERO Winter Mittens -40F
400 gram Thinsulate™ Gloves
I had to throw this out there… Do they exist? 400 gram weight is common in winter boots. But what about gloves? Personally I have not come across 400 gram gloves. I'm always on the lookout for the 'warmest'. If you've found any Thinsulate™ gloves with ratings above 200 grams, comment and let me know!
I have found 200 gram Thinsulate™ gloves:
200 gram Thinsulate™ Waterproof Glove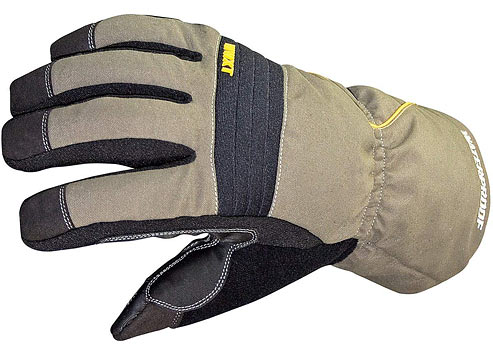 Gloves For Varying Needs
The best gloves with Thinsulate™ are those which serve your varying requirements.
Some of us simply want gloves to keep our hands warm in the winter. Others want the same but with added durability for rugged work. Some outdoor work also requires dexterity and better flexibility (while still keeping warm!). I even have a few pairs of 'driving gloves' just to keep the cold steering wheel from numbing my fingers! (I hear they have heated steering wheels now…)
I have stacks of gloves. Actually, two stacks. One for Winter and the other for all other seasons. The gloves themselves vary for different tasks. For preparedness sake I know that gloves, especially work gloves, are and will be important. That's why I don't wait until one pair wears out before buying another….
Living up here in the north country, there's no way I could work outside without gloves. Just wouldn't be possible. Therefore it's a very important prep item for me (with plenty of spares).

Note: ALWAYS keep an extra pair of insulated Thinsulate™ gloves (or other type of your choosing) and an insulated hat in your vehicle during the winter!
Note: Gloves with a Goretex (or similar breathing waterproof membrane) layer are even better when combined with Thinsulate™ insulation – to keep it dry.
Note: Since your hands are at the ends of your limbs, this limits circulation and makes the fingers prone to frostbite. Wearing insulated gloves helps reduce this!