Run Your Generator Several Times a Year – Here's Why You Should
How often should you run your generator? And how long should you run it for maintenance? Read on…
Verify Your Portable Generator Works, BEFORE You Ever Need It!
Every once in a while it's a good idea to run your generator!
This is a reminder to do your due-diligence (I just did). Drag your portable generator out of the garage or wherever it is, and start it up.
Generator maintenance involves simply running your generator from time to time. Why?
To keep its internal parts lubricated with oil
Charge the battery (if it has a battery)
To be sure the carburetor isn't gummed up
Put it under load to verify output
To make sure that the generator actually works (before you ever need it for an emergency)
[ Read: Generator Maintenance To Be Sure It Works When You Need It Most ]
How Often To Run Your Generator
I try to run my generators every 3 months or thereabouts. Even better if you operate it once a month. Sometimes I forget, but if you run it at least several times a year, that's better than nothing!
Seriously, You really should do this at least twice a year.
How Long To Run Generator
I let my portable generators run for about 20 minutes. Long enough for it to reach operating temperature. This is important. Don't just run it for a few minutes…
Pro Tip: When you're about done running the generator, shut off the fuel line and let it run dry until the generator stalls out. This will consume the fuel from the carburetor so it doesn't sit there and potentially gum up. If you forget, this will likely become a problem for the generator not starting after it gums up.
Important related articles:
Fuel Treatment for Generators!
Sea Foam Motor Treatment
Generator Tips
Use Ethanol-free gas! (online search for stations near you) Say goodbye to old gas issues.
Check the oil before you start it. If you run the generator out of oil, it will destroy it! Some have auto-shut off's for this, but many do not.
Check the generator outlets for power while it's running.
Fuel shut-off, run carburetor dry of gas.
[ Read: The right Extension Cord for your Generator ]
[ Read: Quick-Connect External Fuel Tank For Gasoline Fueled Generators ]
Extended Fuel Tank for Generator
The extended run generator fuel system allows you to supplement your generator's factory fuel capacity with a stable vacuum powered fuel supply. Popular with the highly rated HONDA generators EU1000i, EU2000i, EU2200i.
HONDA Generator Extended Fuel Tank
(view on amzn)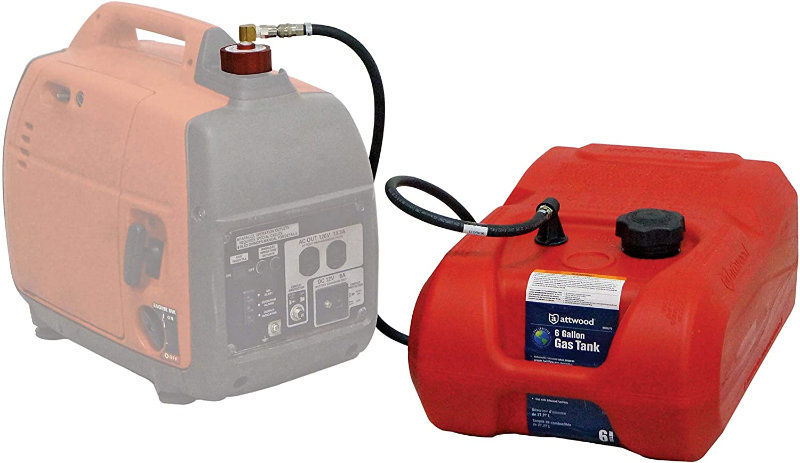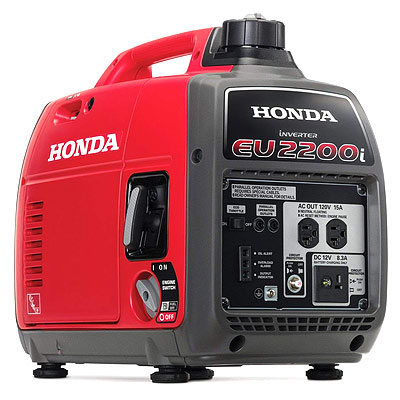 Honda 2200-Watt 120-Volt SUPER QUIET Portable Inverter Generator
(view on amzn)