Work Glove Size Chart – How To Find Glove Size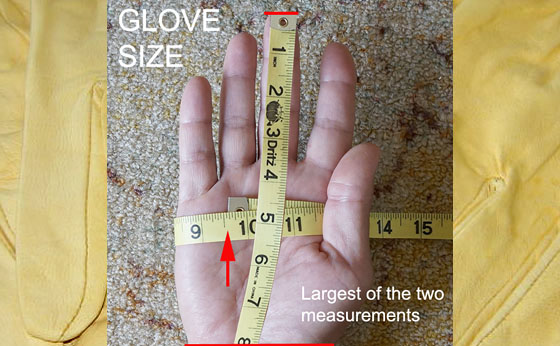 Are you wondering how to know your glove size before buying a pair of work gloves? The glove size charts below should help…
Good quality work gloves are absolutely essential for protecting one's hands from the countless harsh and abrasive tasks of a 'working' daily life. It is an essential item for me. I keep lots of them. Depends of the general use tasks, the season, and other factors.
By the way, an ordinary cut can quickly lead to infection (many people used to die this way before antibiotics!). It's a smart precaution to wear work gloves. It really should be a required prep item!
Here's how to find out your glove size:
How To Measure Your Glove Size
Measure the circumference of your dominant hand (right handed or left handed) which tends to be slightly larger.
Use a soft flexible tape measure (sewing tape measure) around the palm. Wrap it around the fullest part of your palm – excluding the thumb – as shown.
Then measure from the tip of your middle finger to the bottom of your hand.
Your glove size will be the larger of the two measurements.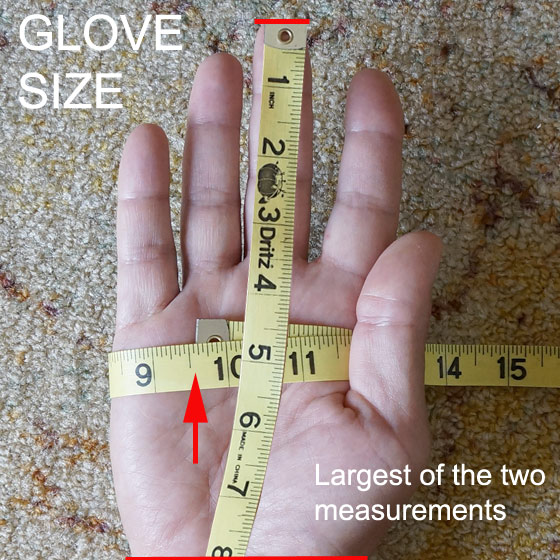 Glove Size Chart
 Some manufacturers indicate glove size in inches while others size their gloves by Small, Medium, Large, etc.
Here's a general purpose glove size chart to help you determine your own size. Scroll down further for specific Wells Lamont.
 If your measurement falls between two sizes, size up.
MEN'S Gloves
XS (7)
S (7 ½ – 8)
M (8 ½ – 9)
L (9 ½ – 10)
XL (10 ½ – 11)
XXL (11 ½ – 12)
WOMEN'S Gloves
XS (6)
S (6 ½)
M (7)
L (7 ½)
XL (8)
UNISEX Gloves
XXS (6.5)
XS (7)
S (7 ½)
M (8 ½)
L (9)
XL (9 ½)
XXL (10)
XXXL (11)
The fit of a glove comes down to personal preference. Some like a snug or tight fitting glove while others a looser fit. I suppose some of this depends on what you're using them for. A tight fitting glove provides a better tactile response for example.
Personally, I typically like a glove that's not too tight. So I often up the glove size by one unit.
Even good quality work gloves will wear out. So be sure to have more than just one pair!
Gloves might be a very overlooked prep item in one's storage of goods and supplies. Consider the tasks at hand in a world in which you are required to do more yourself.
Some gloves will be necessary for very heavy work while others for medium duty work. Some tasks may require better dexterity and tactile sensation for handling tools and such.
Quality gloves will be made of materials that will hold up better to abuse than ordinary cloth gloves. Pay attention to the materials that the gloves are made of.
The palms of good heavy duty work gloves will often have thicker leather or even a double layer, as well as extra stitching or double stitching. Cowhide is the most common leather, although not as good or durable, or with the dexterity of Goatskin or Pigskin leather gloves.
My favorite work gloves are generally those from Wells Lamont. They've held up well. I keep pairs for the summer, and insulated gloves for the winter.
>> Wells Lamont Work Gloves
(view on amzn)
Wells Lamont Glove Size Chart (Men's)
(XS) 6 – 6½
(S) 7 – 7½
(M) 8 – 8½
(L) 9 – 9½
(XL) 10 – 10½
(2XL) 11 – 11½
(3XL) 12 – 12½
Wells Lamont Glove Size Chart (Women's)
(S) 6 – 6½
(M) 7 – 7½
(L) 8 – 8½
[ Read: Thinsulate™ Gloves – How it Works ]