Yard Cart Wagons For Homesteading and Preparedness
Yard carts and wagons of various types, sizes, capacities, weight ratings, dump carts, or regular utility carts.. I sure do get a lot of use out of those that I have around here! They're pretty much necessary equipment for a functional homestead.
I take advantage of wheels as much as possible. More and more, the older I get :-)
Yard carts make it much easier to transport heavy 'stuff' (or any stuff) from point A to point B. Or simply making fewer trips back-and-forth by hand.
I like the Gorilla yard cart / wagon
Just yesterday I used my Gorilla Cart to haul bags of garden soil from my storage area over to a few new garden beds that I'm building. And it reminded me of this article originally published back in 2018. It's a timeless subject, so I'm going to update and republish it..
As a prepper and/or homesteader, don't overlook the utility of yard carts, wagons, and wheelbarrows that will assist you in many ways – moving 'stuff' around.
A yard cart or wagon that can be pulled, pushed, rolled. Some of my yard carts / wagons can be pulled behind my 4-wheeler, mower, or my golf cart with it's attached hitch – while others require human-power. There are so many use-cases for each!
Some things are just too heavy or cumbersome to carry. Why not take advantage of the wheel? The heavier the task, the more I appreciate our yard carts!
I have one particular yard cart wagon that we use quite often (pictured below). I've had it for many years and it has performed very well, given all the transport it has done during that time. What a work horse..
I'm thinking about getting another one of these too (the next model up – a little bigger and no-flat tires) (this one on their amzn storefront) which is supposed to be easier to assemble too – though my original pictured below wasn't difficult – just sayin.

My Gorilla Cart gets the most use around here for light to medium duty. The dump functionality has been a tremendous convenience. Assembly required, but it was easy enough..
Gorilla Cart, 600 lb capacity
(amzn)
I'm ordering the following no-flat tire/wheel upgrade for my gorilla cart, It works for others too – but check tire diameter and axle specs before replacement.
10″ flat-free tire set 5/8 axle bore
(amzn)
Gorilla Carts – All Models
(Gorilla storefront amzn)
So many uses for my yard cart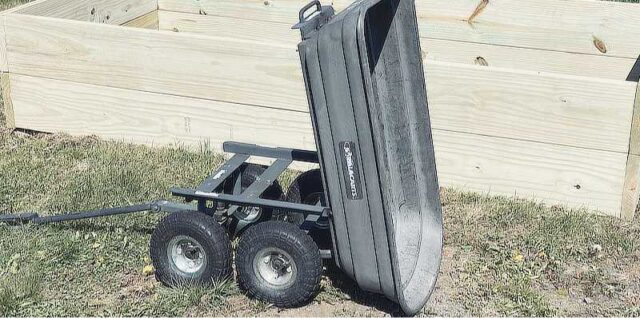 We use it during garden weeding / maintenance.
Hauling those rocks that keep coming up out of the ground every spring – a common thing here in New Hampshire, the Granite state.
It's great for simply loading up with tools and 'stuff' for working on any given project out on the homestead.
Hauling bags of wood pellets from the shop to the house when needed.
Harvesting from the gardens.
Hauling firewood.
Getting a chainsaw and associated supplies out to that fallen tree from yet another wind storm.
Rolling a fresh battery over to my tractor storage area to jump start my ATV (guess I need a new battery).
And so much more.. of course
From a preparedness standpoint, there may be plenty of uses too. Think about how you might move 'things' from here to there during a time if-and-when other means of transportation are not so available (e.g. SHTF?). Are you planning to carry everything?
Here's just one potential use as it pertains to a top priority concern for survival.. hauling water. In case you ever have to source it externally.. Transporting water from it's source to your home. Water weighs 8 pounds per gallon! An ordinary yard cart or wagon would be a tremendous asset in this regard. What better way to haul 5 gallon jugs of water weighing 40 pounds each?
[ Read: Aqua-Tainer 7 Gallon Water Container ]
From the river, stream, pond, spring, lake, or your neighbors pool – transporting water from here to there would be no easy task, without a yard cart.
Tips:
Yard carts with larger diameter wheels are lots easier to roll around in the field. Larger wheels decrease the rolling resistance.
Skinny tires will 'sink' more in soft or muddy terrain versus fat tires (more surface area in contact with the ground).
A yard cart with 4 wheels will distribute weight much better than a wheelbarrow with one or two wheels.
You might modify a yard cart and build up the sides (DIY project) to hold more. Add tie-downs.
Keep tires inflated. It makes a big difference in hauling effort!
Not exactly a yard cart tip, but thought I would mention the difference between using a 1-wheel wheelbarrow versus a 2-wheel wheelbarrow. Love the 2-wheel version!
Another thing I've used a good bit around here is an ordinary medium duty 2-wheel hand truck. Another invaluable 'tool' on wheels in my opinion.
[ Read: Best Bicycle for Preparedness? ]