I Choose Not To Be A Victim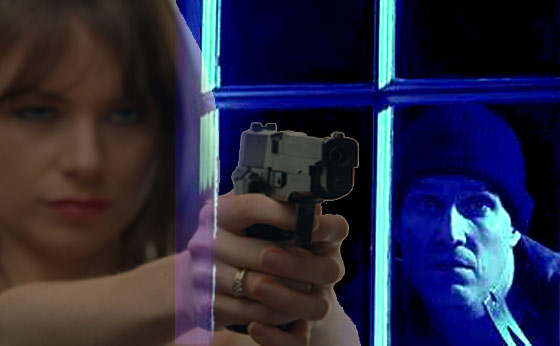 Paul, 52, was sitting in the driver's seat of his vehicle in a hospital parking lot when a stranger approached and started to get into the passenger's seat. Paul quickly pulled out his handgun and pointed it at the attempted carjacker. "They said he didn't have a weapon but I didn't know that, you don't have time to think about it. … You're either a victim or you're not," said Paul. "I chose not to be a victim." He held the man at gunpoint until police arrived. The 33-year-old man had been cited earlier that day for disorderly conduct after pounding on the door of a stranger's home. He was arrested and charged with attempted carjacking, as well as with tampering with a fire alarm.
(WBZ-TV, Nashua, NH)


Billy, 78, was at home when he heard his wife scream. McCall grabbed his .380-cal. handgun and went to his wife's aid. He found that a man had forced his way into their home and seized his wife in a choke hold. The armed intruder fired at Billy striking him in his stomach. Billy returned fire, causing the intruder to flee. The assailant was later dropped off at a local hospital where he died. He had sustained gunshot wounds to his abdomen, leg and chest. Billy is reported to be in stable condition and is expected to survive the gunshot wound he sustained during the home invasion. His wife was reportedly uninjured.
(Independent Mail, Anderson, SC)

Gareth was asleep with his wife shortly before midnight when he heard a loud bang inside their home. An intruder had gained entry to their home by using a tree branch to break in through a bedroom window. Gareth realized there had been a break-in and retrieved his handgun. He discovered the intruder in the hallway outside of their bedroom. Gareth was forced to fire when his repeated warnings went unheeded. The intruder's wounds proved fatal. Gareth and his family were not injured.
(Dallas Morning News, Cedar Hill, TX)

David, 69, retrieved his revolver before opening the door to a stranger around 8 p.m. The 31-year-old stranger claimed he was having car trouble and asked to use David's telephone. David was suspicious of the stranger even before spotting the handgun he carried. The stranger then forced his way through the front door and a scuffle ensued. Three of the assailant's accomplices were waiting outside when they heard three gunshots. They then witnessed their co-conspirator stumble out of the home with a bullet wound to his groin before fleeing. Three of the four assailants were later arrested and charged with numerous counts. The injured trespasser was said to be in critical condition and was being treated at a local hospital. David was unharmed.
(Times-Tribune, New Milford, PA)

Jason was home with his two young daughters when he heard someone inside his home. In an effort to protect his children, Jason grabbed his Glock 19 and confronted the two intruders, who had already begun to ransack the home. Jason fired four rounds causing the intruders to flee through the back door. They managed to get away with a cell phone and two MacBooks. "You can't replace my kids," Jason said. "All I was thinking about was my kids' protection."
(WSB-TV, South Fulton County, GA)
Glock Reference Guide

Around 3:30 p.m., a woman who was home alone heard noises that prompted her to investigate. She saw a man attempting to gain entry to her home through a window. The resident warned the man to stop. When he continued through the window, however, the woman ran to the next room to retrieve her handgun. She fired once, striking the intruder in the chest. He fled the scene, but collapsed in the street nearby. The gunshot wound proved fatal.
(The Detroit News, Detroit, MI)

Scott's fiancee heard a disturbance in the living room of their home. When she went to investigate, she was surprised to find an armed intruder wearing a hooded sweatshirt and face paint. Scott found himself at gunpoint after responding to his fiancee's scream. The intruder demanded Scott's wallet and to open a safe in their bedroom. When Scott's fiancee realized that their children had awakened due to the disturbance, she took action in an effort to protect them. She grabbed a walking stick and swung it at the intruder giving Scott enough time to grab his own firearm. Scott fired, causing the intruder to flee. Although the suspect left a trail of blood, he is reportedly still at large. Scott said, "I wanted to save my family. That's what's precious to me."
(WTHR.com, Bloomington, IN)

A 23-year-old man was the victim of a home invasion that involved three armed suspects—two women and a man—who forced their way into his home and demanded cash. In an effort to defend himself, the homeowner drew his own gun and fired multiple rounds. The male suspect was pronounced dead at the scene, while both women fled. One of the female suspects was located after seeking medical attention for a gunshot wound. It was last reported that the suspect remained hospitalized and in critical condition, while the third suspect remains at large. The resident of the burglarized home was unharmed.
(Contra Costa Times, Cherryland, CA)

You will rarely hear, see, or read about these "armed citizen" stories in the mainstream news, other than possibly a snippet on a deep embedded page of your local newsprint.
Reason being: Stories like this do not fit the gun-grabber's agenda.
There are lots, and lots, and lots of stories similar to these throughout the country in which law abiding citizens use a firearm to defend themselves in situations where they would likely have been hurt or even killed. These are situations where there is not enough time for the police to get there (or to dial 911 in the first place), and immediate self-defense decisions need to be made.
You have a choice.
I choose not to be a victim.
Stories summarized from 'The Armed Citizen'