New Hampshire Is Now A Constitutional Carry State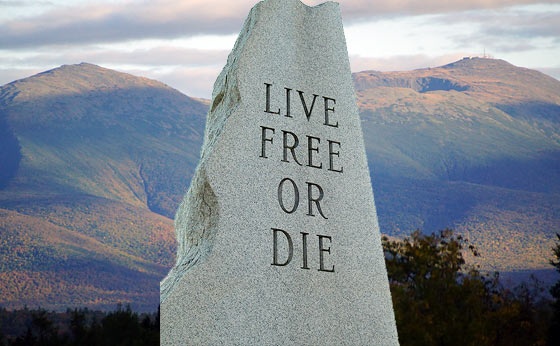 As a New Hampshire resident I am pleased that the current state government saw fit to align with the U.S. Constitution and its 2nd Amendment.
Governor Chris Sununu Signs Constitutional Carry Legislation.
Concord, NH – Governor Chris Sununu today signed Senate Bill 12, Constitutional Carry legislation, into law. Governor Sununu delivered the following statement:
"SB 12 ensures New Hampshire citizens are guaranteed the fundamental right to carry a firearm in defense of themselves and their families, as prescribed by Article 2a of our state constitution," said Governor Chris Sununu.
"This common sense legislation aligns our concealed carry laws with that of our neighboring states of Vermont and Maine and states across the country. This is about safety. This is about making sure that the laws on our books are keeping people safe while remaining true to the Live Free or Die spirit that makes New Hampshire the great state that it is. This is a commitment I made to the people of New Hampshire and I am proud today to fulfill that commitment, signing SB12 into law."

List of Constitutional Carry states:


A license is no longer required to carry a loaded gun under a jacket or in a purse in New Hampshire, making it the 11th state that doesn't require a license or permit in most cases.
Note: State law bars anyone who has a restraining order against them or a felony conviction from possessing a gun. Federal law goes further, also barring anyone convicted of a crime punishable by imprisonment exceeding one year, drug users, certain people with mental illness, or someone convicted of misdemeanor domestic violence, among several other categories.
States that have constitutional carry
Alaska
Arizona
Idaho (residents only)
Kansas
Maine
Mississippi
Missouri
New Hampshire
Vermont
West Virginia
Wyoming (residents only)
States that have a limited form of permitless concealed carry
Montana (outside city limits)
New Mexico (unloaded weapon & loaded magazine, vehicle carry)
Oklahoma (residents of constitutional carry states)

Molon Labe vinyl decal sticker

If you 'carry', the following article should be of interest:
Self Defense Threat And The Tueller Distance 21-Foot-Rule