Hardiness Zone Map and Frost Dates for your Growing Season
Your growing season is basically determined by your climate. Growing season factors include your geographical location, elevation, temperature range, first and last frost dates, daylight hours, and rainfall.
The growing season is often summarized as the days between first and last frost.
In parts of the northern United States this might be roughly April/May to about October. In milder regions it might be roughly February/March to November or longer.
Here are a few online tools to help determine finer details of your growing season.
Planting Zones
The USDA Agricultural Research Service updated and revised their Hardiness Zones Map for the United States during 2012. It's now more specific with finer resolution and specific interactive information with granularity to your local region.
The Plant Hardiness Zone Map can be used as a tool to determine which plants are most likely to thrive at a location.
Plant Hardiness Zones Map KEY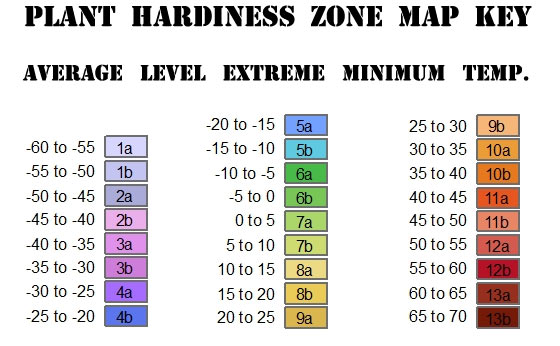 .
While looking at the map 'key', you can see how the zone numbers are scaled to finer detail with the alpha subsets (e.g. 6a, 6b, 7a, 7b, etc.). The temperature represent the extreme minimums for that given zone – kind of a worst-case scenario.
You can select State, Regional, or National views, in various resolutions. You can view, download and save, and even print the maps:
For even finer resolution:
Interactive Hardiness Zone Map
You can zoom in right to your town – providing an additional level of granularity of local variations. By clicking on any point within the map you will be presented with more information about that area – the specific average (extreme) cold temperature, latitude-longitude, etc.
First and Last Frost Date
Your planting zone is a good guide, but more information is better. Knowing the fist and last frost date for your region will help you narrow down the time of your growing season.
Just enter your zip code (or city, state). The results will also include the number of growing days available (based on average frost dates).
Unfortunately after checking my location, it just said "year-round risk".
(sad face)
An excellent book: Joy of Gardening
A few crop suggestions for planting very early, early, or thereafter:
Very Early Spring
onions
peas
spinach
Early Spring
beets
broccoli
cabbage
carrots
kale
lettuce
potatoes
radishes
After Last Frost Date
beans
corn
cucumbers
eggplant
melons
peppers
pumpkins
squash
tomatoes