Cookie Recipe With Cacao Powder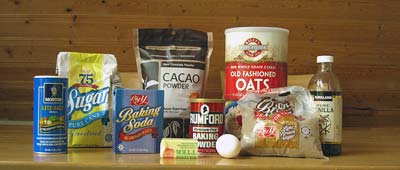 Since I just recently discussed our Cacao powder and it's benefit as a 'superfood', I thought I'd share this yummy Cacao Cookie recipe with you. For this recipe, we will be using quite a few of our food storage ingredients. This is another reason that I thought you would like this recipe. These cookies with Cacao powder are delicious and they are also versatile. You can add your own favorite ingredients. For example, sometimes I'll add some nuts, or a tablespoon of flax seed or some 'white morsel' chips. Be creative!

Here's the recipe for 2 dozen Cacao Cookies:
– 1/2 stick butter, softened
– 1/2 cup sugar
– 1/2 cup brown sugar
– 1 large egg (or 1 Tbsp dehydrated egg powder and 1 Tbsp water)
– 1/2 teaspoon vanilla
– 3/4 cup wheat flour
– 1/2 teaspoon salt
– 1/2 teaspoon baking powder
– 1/2 teaspoon baking soda
– 2 tablespoons cacao powder
– 1/2 cup rolled oats
Drop by tablespoonful onto your greased baking sheet and bake at 350 degrees for 10 minutes.