Dehydrated Strawberries with my Excalibur Food Dehydrator
When strawberries are in season, take advantage of it! Dehydrated Strawberries!
Buy on sale when the market is flooded with fresh strawberries and use a food dehydrator to preserve them for later!
Strawberries are a great 'sweet tooth' addition to your preparedness deep pantry.
When Strawberries are in Season:
Most commercial strawberries in the U.S. are grown in California or Florida, where the strawberry growing season runs from January through November. The peak season is April through June.
Here's how we dehydrated strawberries at home:
First, we use the Excalibur Food Dehydrator. Yes it's expensive, but it has lasted for many years and I'm happy that I bought it. No doubt it will outlive me…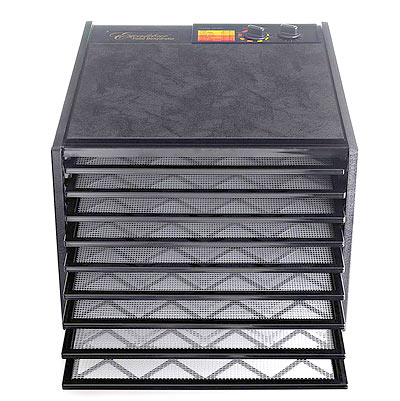 Here's an article I wrote about: Food Dehydrator Basics.
 
Excalibur Food Dehydrator
(view on amzn)
Another popular (Best Seller) dehydrator is the Nesco Dehydrator:
Nesco Food Dehydrator
How I Dehydrated Strawberries With My Excalibur
First, use FRESH good quality strawberries. Important! If they're starting to get old, your results will reflect that, and they won't taste so good.
Rinse. Hold the stem end, and slice.
Try to maintain a consistent width (about 1/4″ or less) when slicing.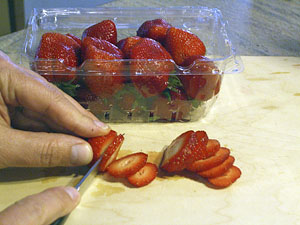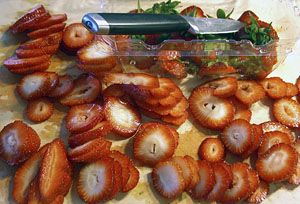 1 pound of sliced strawberries fits perfectly on one tray of the Excalibur food dehydrator. So with nine trays, we're talking about 9 pounds of strawberries!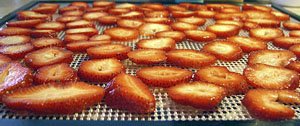 Dehydrate strawberries at 120 degrees for about 10 hours. Time will vary depending on the moisture content of the strawberries.
They're done when each strawberry slice feels in-between leathery and brittle.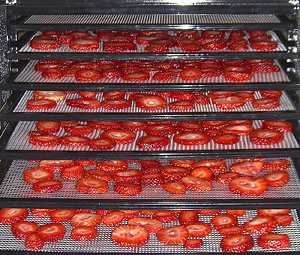 When finished, store them in an air tight container.
Canning jars work quite well for this! For even longer shelf life, you could apply a vacuum to the jar using a Jar Sealer Accessory for a vacuum sealer equipped with a external hose port.
Jar Sealer Kit
(amzn)
[ Read: Home Dehydrated Food Shelf Life ]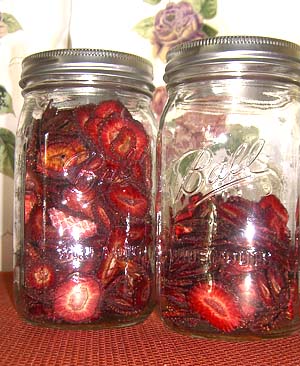 Here is a favorite example of one use for dehydrated strawberries:
They can be used in cereal. Yum! Add them to a bowl with some milk and let soak for about 15 minutes to soften them up. Then add cereal and enjoy the flavor – tastes like fresh picked strawberries! Delicious!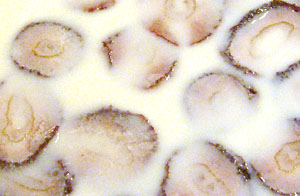 When you dehydrate foods, all of the nutrition remains 100 percent intact. Only the moisture is drawn out. This is a very healthy way to preserve and store food.
By the way, a side benefit while dehydrating strawberries is the wonderful aroma that fills the house. Mouth watering…