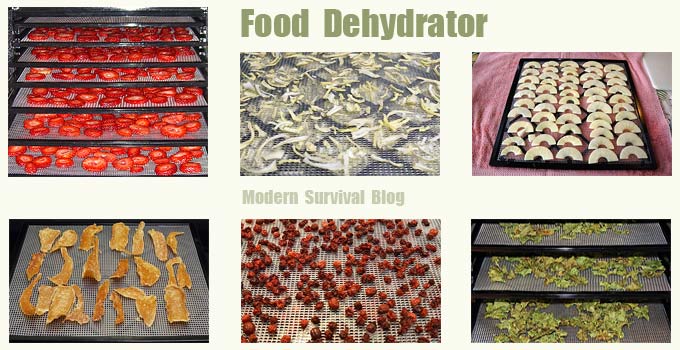 A food dehydrator is essentially an oven.
However unlike a conventional oven it's a low temperature oven.
Why do they call it a food dehydrator?
Because it's designed to draw out the moisture from food. To dry it out.
Why would you want to dry out your food?
Because certain foods that have been sufficiently dried out will be able to preserve without freezing or refrigeration. Foods that have been properly dried with a dehydrator will retain most of their nutrients.
How does a food dehydrator work?
It's an enclosed space that typically contains food trays, a heater, a circulating fan, adjustable temperature control, and possibly a On/Off timer.
Typical operating temperatures are as follows:
125 ℉ (Vegetables)
135 ℉ (Fruits)
155 ℉ (Jerkey)
My Food Dehydrator:
Excalibur Food Dehydrator
Good Use For A Food Dehydrator
To save money on groceries
To preserve foods without refrigeration
How? By purchasing certain foods while they're on sale.
While you might ordinarily do this anyway (buy foods while they're on sale), 'fresh' foods require near immediate consumption or refrigeration or freezing for later.
One option is to dehydrate fresh foods. No subsequent refrigeration required. However you will need to store the product in an air-tight environment for longest shelf life. We use canning jars for this.
A side benefit of dehydrating foods: Building up a food storage inventory that doesn't require electricity to maintain.
Examples of Food Dehydrator Foods
Example: You're in the grocery store and you notice that frozen broccoli is on sale. You might grab a handful of bags and subsequently dehydrate them rather than keeping in your freezer. Although we have two chest freezers, we've done this on occasion with certain frozen vegetables. It works!
Example: My favorite onion goes on sale during a particular time of the year (Vidalia). I buy a lot of them, slice them, and dehydrate them! Enough for the rest of the year!
More: Dehydrated Onions For My Food Storage
Example: Your Kale is growing like crazy in your garden. You can't eat it all in time. Dehydrate some and make Kale Chips!
More: Kale Chips: Dehydrate & Make Your Own
Example: Thanksgiving has come and gone and the grocery stores have put Cranberries on sale! Buy some and dehydrate!
More: How To Dehydrate Cranberries
Example: Those delicious strawberries are in season. They're so good! Buy a whole bunch of them and dehydrate for mouth watering snacks at any time later on…
More: When Strawberries Are In Season, Get Out The Food Dehydrator
Example: Got an apple tree? Or do you have a favorite apple? That's right, you can slice them and dehydrate them too…
More: How To Dehydrate Apple Slices With A Dehydrator
Example: Chicken breast goes on sale. Maybe it's time to make dehydrated chicken strips!
More: Homemade Dehydrated Chicken Strips
More: Safe Jerky Temperature In A Home Dehydrator
Maintains Nutrition
Note: Fresh food that has been dehydrated may be significantly more nutritious than having purchased canned processed food with all those added non-pronounceable ingredients.
More: Dehydrated Food: Testing Dryness And How To Know When It's Done
Note: Consuming dehydrated foods will not be the same as eating them fresh. They can be reconstituted to an extent, but there's nothing like fresh veggies… Just saying.
Another popular food dehydrator:
Nesco Food Dehydrator