Peak Refuel Freeze-Dried High Protein Meals With 100% Real Meat
Peak Refuel! Their freeze dried meal pouches are quite impressive. Why Peak Refuel? First, their generous proportion of high protein – 100% real meat. They do not use TVP or any other filler. Their meals always contain 100% USDA inspected meat. Peak Refuel claims they have nearly twice as much meat as the others… and I believe them. I've tried it. Their meals taste great!
It's freeze dried. Fully cooked. Just add hot water to the Mylar packet and it rehydrates quickly in about 10 minutes.
Made in USA
All growers and suppliers for Peak Refuel ingredients must go through an extensive screening process before we choose to do business with them. We pride ourselves on quality and make sure everyone who plays a role in Peak Refuel can meet our high standards.

~ Peak Refuel
Why am I writing about Peak Refuel? Because in my opinion, Mountain House freeze dried pouches have been at the top of my quality list. Well guess what… Now it's Peak Refuel.
Bob over at ReadyMadeResources.com (long time advertiser here at Modern Survival Blog) sent me half a dozen meal pouches to try. And no, they are not paying me to post this. I'm posting this for the benefit of whomever may come across this article in the future… I am quite impressed. For a number of good reasons! Keep reading…
Peak Refuel freeze dried meal pouches are designed for backpacking, camping, outdoor activities. Lightweight, high quality (for real) food packed with real protein and beneficial calories and nutrition. Not only do I look at this from the perspective of backpacking (outdoors, etc..), but also from the standpoint of emergency survival food (kits, etc..). I've tried lots of this type of survival food. And I've been disappointed many times over. However not this time…
Peak Refuel Protein and Calories
I'm going to use just one of their meals as an example. Lets simply talk about Beef Pasta Marinara.
Beef Pasta Marinara
Beef crumbles with pasta noodles in marinara sauce.
47 grams of protein per pouch! That's the first thing that really stood out in my mind. We need protein. Especially when exerting oneself with calorie-burning activities. This brand gets their protein from 100% real meat. Not TVP or fillers. It's the real deal. I like that. And it tastes excellent.
1,040 calories. The best thing is that these calories come from higher quality ingredients (e.g. real meat, and the pasta which all tasted like homemade) compared to other manufacturers who stuff lower quality fillers in there. You can taste the difference. It's obvious.
6 grams weight. This one is only 6.35 ounces. That's light weight for backpacking a meal! (Because it's freeze-dried).
Here's a photo that I took right after opening a meal pouch – which clearly shows how many beef crumbles are in there. The rest of it includes spiral noodles, vegetables and spices.
I believe this particular meal from Peak Refuel suggests a cup and a third of hot water, or thereabouts, having just reached a low boil. It's pretty easy to pack a small ultralight fuel stove for backpacking (like this BRS titanium ultralight) along with a small ultralight pot (e.g. this one from TOAKS).
Dump the hot water directly into the meal pouch, and re-seal the closure. It's kind of like a zip-lock seal. Wait 10 minutes. Here's another photo: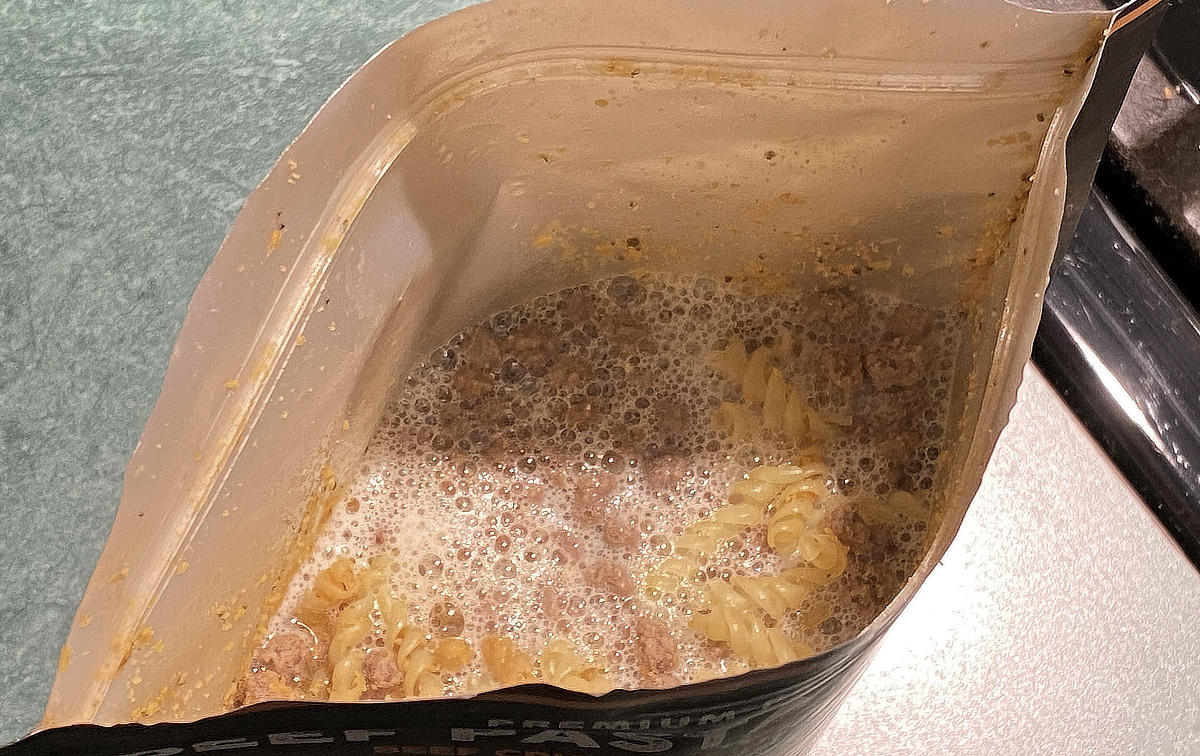 Then, either simply eat out of the pouch (civilized with a spoon of course), or, even more civilized in a bowl. Either way, it's yum!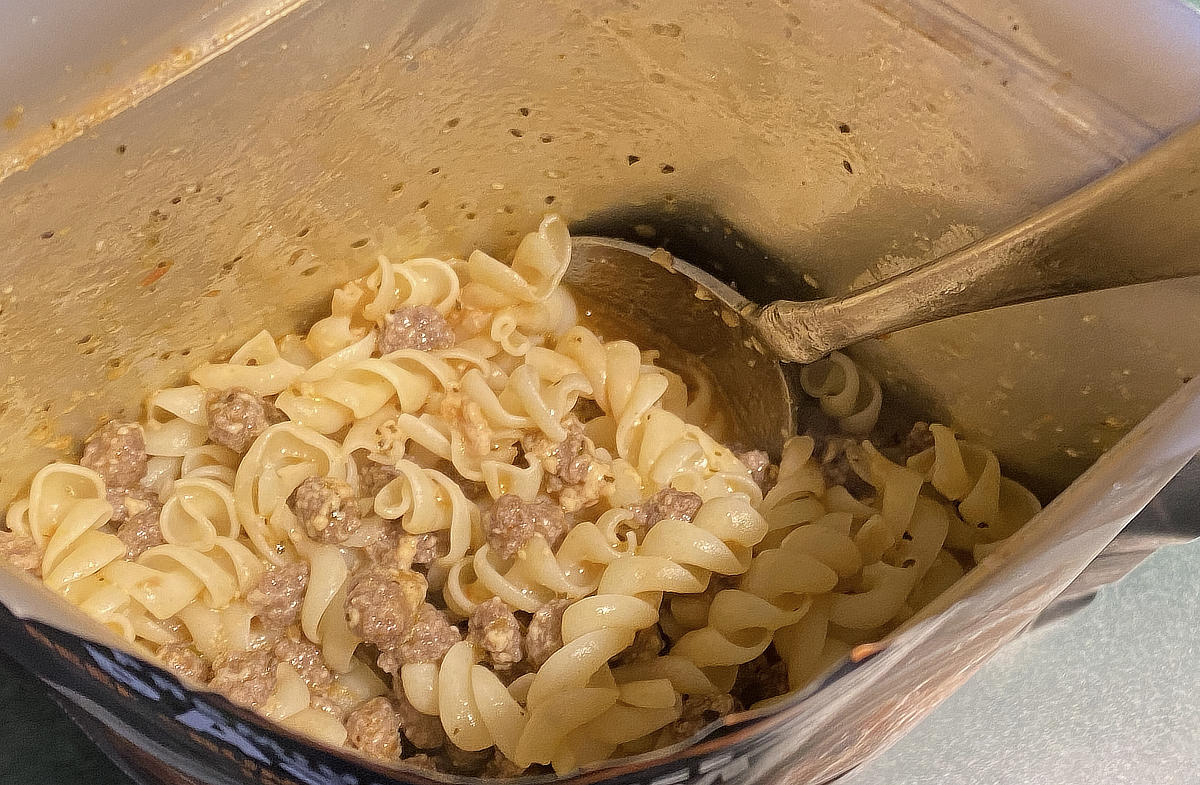 Pictured below, about half a meal pouch in a bowl: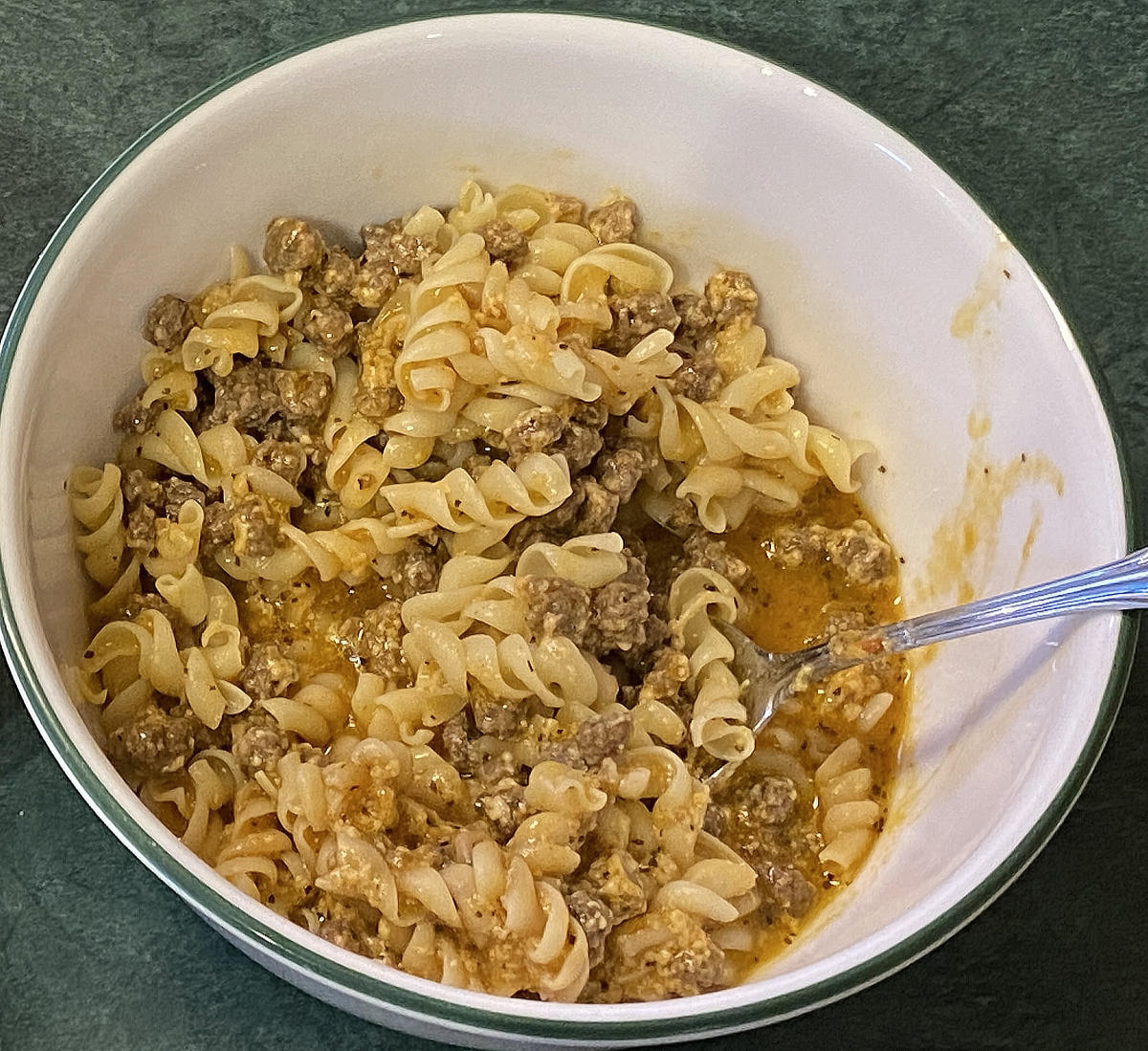 Peak Refuel FAQ
What is the shelf life? Peak Refuel pouches have an unopened shelf life of 5 years.
Can the meals be cooked from the pouch? Yes. Peak Refuel pouches are food grade. You can cook and enjoy your meal directly from the pouch.
Here's another thing that I noticed… Almost every other food of this type seems to have a fairly high amount of salt content (you can taste it). Whereas Peak seems to have a lower salt content. I look at this as a good thing, and it exposes more of the natural flavor of what's inside.
Where to buy Peak Refuel meals?
Peak Refuel makes LOTS of varieties to check out. I suggest that you purchase through one of their authorized dealers, ReadyMadeResources (at no extra cost to you!). This will indirectly help support my work here. Thanks. Oh, and tell 'em you came from Modern Survival Blog…
[ Read: How Long To Boil Water ]
[ Read: How Much Protein? ]