How Much Protein You Need
Do you have a long term food storage for 'just-in-case'? How much of that food has any significant amount of protein? Carbohydrates are fairly cheap and easy to store. But what about proteins sufficient enough for your daily needs as a human being? And how much protein do you need?
What is protein?
Protein is a macro nutrient necessary for the proper growth and function of the human body. Among other things, proteins are also the building blocks for muscles. Therefore we all need protein – in varying amounts – to live a healthy life.
Proteins are part of every cell, tissue, and organ in our bodies.
How much protein do you need?
There is considerable debate over the amount of protein that a person needs to consume each day for optimal health and well being.
Recommendations vary. Additionally, the advice may depend on the diet-lifestyle orientation of the advisor (or doctor). For example, those who lean toward a vegetarian diet – will likely suggest a lesser requirement for daily protein intake – in order to fit in with the fact that there's not much protein in veggies. Mainstream sources may simply follow RDA guidelines (listed below). While others may advise higher protein intake than that (as does my own doctor).
I'm not here to debate the exact right amount, one way or another.
However, I did read (some time ago) according to the Centers for Disease Control (CDC), in general it's recommended that 10–35% of your daily calories come from protein. Take it for what it's worth… It's a guideline.
Also, another reference is from my own doctor. He consumes approximately 100 grams of protein a day, and recommends being sure to get enough protein in one's diet. He generally recommends 80-100 grams of protein each day, 20-30% calories from carbs, and 20% calories from fat. That's a fairly low carb and low fat diet. I have a feeling he gets some extra protein from protein powder, since he 'works out' too.
Anyway, point being, protein is important. Very important. And within the context of food preparedness, maybe you should also consider how much of it is protein versus carbs, etc… Carbs are easy and inexpensive, whereas proteins may present some challenges (more advice below).
Recommended Dietary Allowances (RDA) of protein needed each day – for different age groups
Grams of protein needed each day:
WOMEN age 19+ (46 grams)
MEN age 19+ (56 grams)
Children
1 – 3 (13 grams)
4 – 8 (19 grams)
9 – 13 (34 grams)

Girls ages 14 – 18 (46 grams)
Boys ages 14 – 18 (52 grams)
The following list indicates the amount of protein in various foods (grams and percentage).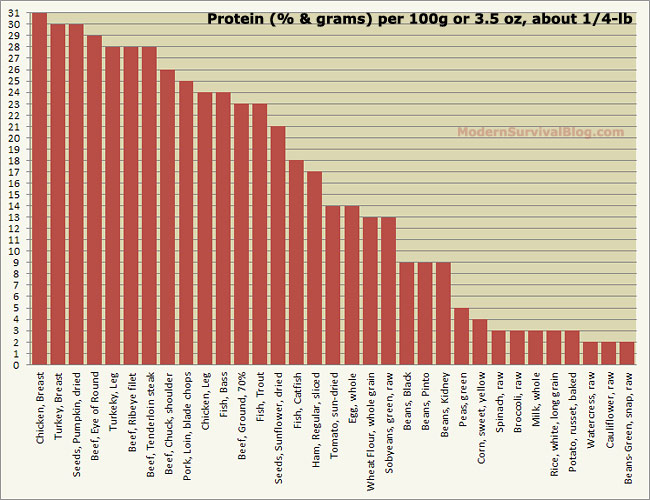 List of protein (grams) in foods
Your own research may vary a bit, because there are variables in the exact food type. However the following list should give you a pretty good overview.
Percent protein by weight, and number of grams
per 100 grams (3.5 ounces, or about 1/4-pound) of food.
Chicken, Breast (31)
Turkey, Breast (30)
Seeds, Pumpkin, dried (30)
Beef, Eye of Round (29)
Turkeky, Leg (28)
Beef, Ribeye, Tenderloin (28)
Beef, Chuck, shoulder (26)
Pork, Loin, blade chops (25)
Chicken, Leg (24)
Fish, Bass (24)
Beef, Ground, 70% lean (23)
Fish, Trout (23)
Seeds, Sunflower, dried (21)
Fish, Catfish (18)
Ham, Regular, sliced (17)
Tomato, sun-dried (14)
Egg, whole (14)
Wheat Flour, whole grain (13)
Soybeans, green, raw (13)
Beans, Pinto, and others (9)
Peas, green (5%)
Corn, sweet, yellow (4)
Spinach, raw (3)
Broccoli, raw (3)
Milk, whole (3)
Rice, white, long grain (3)
Potato, russet, baked (3)
Watercress, raw (2)
Cauliflower, raw (2)
Beans-Green, snap, raw (2)
The Takeaway
If one doesn't have a source of 'meat', it looks like one would need to consume quite a lot of particular protein-rich vegetables, eggs, wheat, (see list above) etc.. to get the recommended daily intake of protein each day.
Another easy-to-store source of protein is protein powder. Mrs. J and I do supplement to some extent with the following product (for example)…
Optimum Nutrition Gold Standard
(view on amzn)
It would be a good exercise to calculate your protein consumption needs – and figure out if you have enough protein in your 'deep storage'.
A chest freezer is a great way to store meats. Also, it's easy, and works great with vacuum-sealed meats. Stores perfectly for several years and more.
[ Read: Vacuum Sealer Uses – Things You Can Seal With A Food Saver Machine ]
[ Read: The Best Food To Keep In Your Chest Freezer For Preparedness is… ]
Home canning your own meats is another option to consider:
[ Read: Pressure Canning Chicken | How To Do It Yourself ]
Canned Premium Chicken Breast
Canned Keystone Ground Beef
(view on amzn)
[ Read: Best Canned Meats For Survival ]
[ Read: Rice & Beans, A Survival Combination ]