Survival & Preparedness Lifestyle Reference Books & Novels
Survival books. It all starts with this classic post-apocalyptic thriller novel, a great motivator! "One Second After" by William Forstchen. Yes, the scenario could happen today…
ONE SECOND AFTER
>> One Second After
(view on amzn)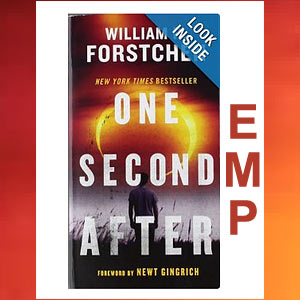 Survival Books – Novels
Here's an article in which I list ten popular novels in the genre (among the many good books!)…
[ Read: 10 Survival Novels ]
THE ENCYCLOPEDIA OF COUNTRY LIVING
One of the first preparedness reference survival books that I bought was "The Encyclopedia of Country Living" by Carla Emery. It's filled with knowledge. It's now up to the 50th Anniversary Edition:
>> Encyclopedia Of Country Living
(view on amzn)
THE BACKYARD HOMESTEAD
By Carleen Madigan, "Produce all the food you need on just a quarter acre!".
Brimming with information from Storey's extensive library on growing and preserving, it is a trusted reference for fans of independent living everywhere, and the cornerstone of The Backyard Homestead series.
>> The Backyard Homestead
(view on amzn)
THE SURVIVAL MEDICINE HANDBOOK
The most popular medicine handbook among the preparedness world, written by Joseph Alton (MD) and Amy Alton (ARNP).
>> The Survival Medicine Handbook
(view on amzn)
BUSHCRAFT 101
Dave Canterbury's treasure trove of world-renowned wisdom and experience of wilderness survival techniques. The ultimate resource reference book for the backcountry.
>> Buschcraft 101
(view on amzn)
Survival Books – Reference
Here's another article in which I list 10 popular "survival reference" books (among the many)…
[ Read: 10 Preparedness Reference Books ]
Being self-reliant. Being more self-sufficient. They are both sought-after attributes of the preparedness-minded. Obviously there's lots to it. But you might start by simply browsing the following reference book titles of a search for "self sufficient".
>> Being Self Sufficient
(view on amzn)
[ Read: 20 Survival Preparedness Books ]