Make Fire in the Toughest Conditions with Magnesium Bar and a FireSteel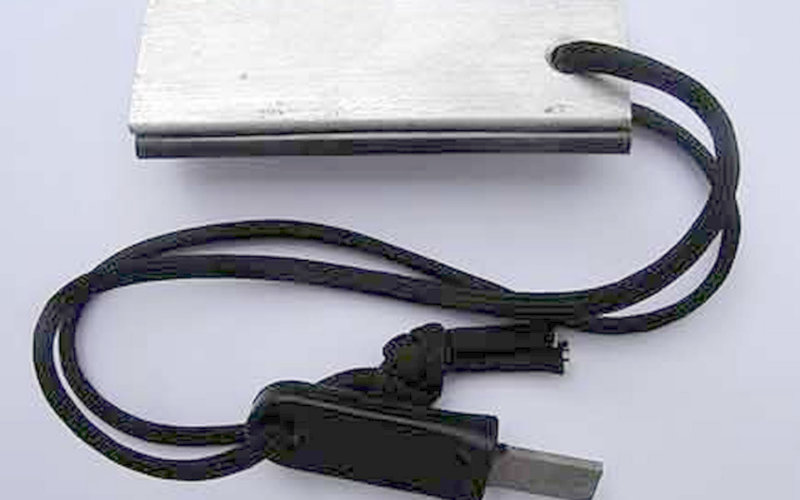 I discovered that FireSteel.com also makes a unique magnesium bar fire starter. I'm highlighting it here for your (fire starter) interest. It's a special combination of a soft magnesium bar along with their highly effective FireSteel rod. Here's more information:
The popular MagSlab™ FireStarter by FireSteel.com combines a unique special soft magnesium slab with built in FireSteel, a genuine Super Scraper, and two feet of 550 paracord (thousands of survival uses) as a lanyard.
This a true value in any survival or outdoor kit.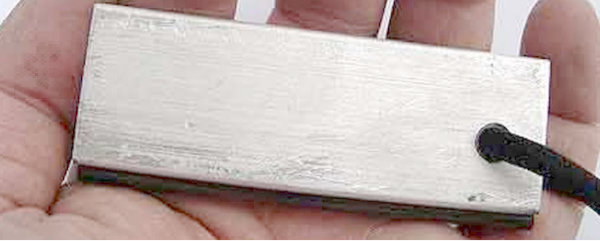 How To Use MagSlab Magnesium Fire Starter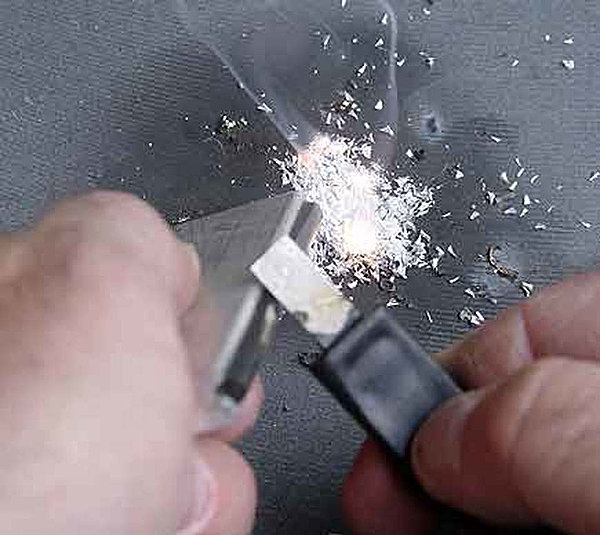 To use the magnesium as tinder, simply scrape a small pile of shavings off the soft magnesium bar. (Use the attached Super Scraper). Gether them into a small pile, about what would fit on a coin. 
Flip the MagSlab over and use the same scraper/striker to scrape the 3/16th inch by 3 inch FireSteel rod along its length. Aim the sparks at your pile of magnesium shavings. 
When a spark from the built-in FireSteel hits the shavings, the magnesium will easily catch on fire. It will burn at a temperature of more than 4000 degrees F (2200 °C).
Make sure to have some additional natural tinder and kindling handy to add to your burning magnesium to build your fire.
Magnesium Advantage as Fire Starter
A big advantage to carrying a piece of magnesium for tinder is that it will not become damp or wet. It will burn even if you have totally immersed it in water.
It's another great combination for starting fires under just about any conditions.
FireSteel.com is a sponsor of our site and I would appreciate it if you visited them to have a look: MagSlab Fire Starter Kit by FireSteel.com
Add a Larger FireSteel Rod for Backup
*Note: I recommend you also carry a larger FireSteel.  While the built-in FireSteel on the MagSlab FireStarter is excellent as a backup, the larger FireSteels are easier to use and give a correspondingly greater shower of sparks when scraped.
( View all of their FireSteel rods here )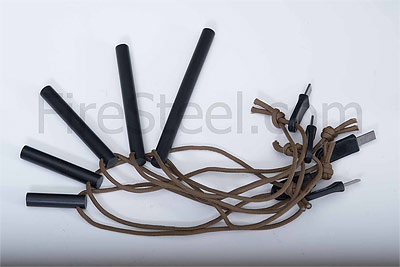 Specifications for this Fire-making Kit:
Slab of soft magnesium that burns at 4,000 degress F: 3-inches long x 1-inch wide x 3/8ths-inch thick
Built-in FireSteel that makes 5500 F (3000 C) sparks that will start a fire in the toughest conditions: 3/16ths inch diameter x 3-inches long
Super Scraper – specially designed to maximize the amount of sparks from your FireSteel, also useful for scraping shavings off the magnesium slab.
All attached to a Lanyard Cord made from 24-inches of genuine 550 paracord made to military specifications (a million and one uses).  Color may vary.
Features
Genuine FireSteel, Magnesium Bar, Super Scraper, and 550 paracord
Huge, robust sparks that you expect from a FireSteel
Easy to use and safe (Common sense required when using any fire-making gear).
Premium FireSteel formula that takes your firemaking to a whole new level
5500 F (3000 C) sparks that will start a fire in the toughest conditions
Continue reading: A Fire Starter Kit List
How To Start A Fire When Wood is all Wet